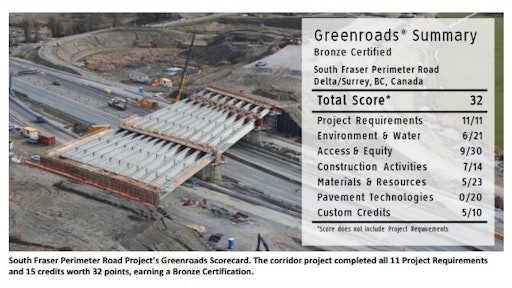 Greenroads Foundation is pleased to announce that the $1.26 billion CAD South Fraser Perimeter Road (SFPR) Project, part of Canada and British Columbia's multi‐billion dollar Asia‐Pacific Gateway Program, has become the first major project outside of the United States to achieve Greenroads Certification. The Project award was announced during the annual conference of the Canadian Council for Public‐Private Partnerships in Toronto.
The SFPR (www.sfprhighway17.ca) is a new four‐lane highway that spans across approximately 38 kilometers of the Lower Mainland Area south of metropolitan Vancouver along the south side of the Fraser River from the existing Highway 17 at Deltaport Way in south Delta to 176th Street (Highway 15) in Surrey. The primary purpose of the project was to improve mobility and efficiency within the overall Metro Vancouver roadway network and relieve congestion on local community roadways.
The SFPR was designed, constructed and financed under a Public Private Partnership concession agreement between Partnerships BC (a British Columbia Crown corporation) and Fraser Transportation Group (FTG). Detailed design development by FTG began in 2010. Construction was substantially complete and opened for traffic in December 2013, six months ahead of schedule. FTG will operate and maintain the new Highway 17 for 20 years until 2035.
"FTG deserves commendation especially because of the strong performance in credits earned for sustainable construction including quality control practices, workzone safety management, and environmental stewardship," says Executive Director Dr. Jeralee Anderson.
The project is a combination of both new and reconstructed alignments using mostly asphalt pavements with approximately 20 concrete structures, cycling and transit improvements, utility relocation and installation,
retaining walls, and a variety of structural foundation work and grading. Ecological improvements include several wildlife crossings, preservation and restoration activities, and a variety of stormwater management facilities throughout the corridor.
The project team included several design and construction partners:
Dragados Canada, Inc.
Ledcor CMI, Ltd.
BelPacific Excavating and Shoring Limited Partnership
Vancouver Pile Driving, Ltd.
Stantec

Murray MacKinnon, vice president of sustainability at Ledcor CMI described his experience with the Greenroads Certification process.
"We began by discovering that Greenroads was familiar to us because of our extensive experience in green building construction, so we knew that benchmarking our business‐as‐usual practices for infrastructure was critical to understanding how to do more good and less harm on those projects," he says. "The success of the pilot project was instrumental in showing the FTG executive that certification was achievable, and that level of support and encouragement was instrumental. The SFPR now forms a known basis from which all FTG Partners can progress for measuring and managing our strategic social, environmental and financial goals."  
Cindy Knappett, project records coordinator for FTG noted that Greenroads Certification was a major learning experience for the entire group. "It really helped that the team had an enthusiastic outlook and to identify team leaders for the various credits," she says. "With such a large project team, it was important to have open communication between all partners, and Greenroads staff, and to target credits which were realistic for SFPR. It was also valuable to have team members trained by Greenroads staff so that they were more familiar with the website and resources in order to tackle all components of the certification process."  
Some unique features of the project include:  
A comprehensive quality and environmental management program for the lifecycle of the project
An extensive and continual consultation program with the First Nations and the neighboring residential, business and agricultural communities. Use of native plantings with no irrigation.
A broad safety audit program that was employed by the contracting team during design and construction, including safe workzone practices
Widened shoulders for bicycle connectivity throughout the entire expressway SFPR also employed several innovative approaches to earthwork management that included use of expanded polystyrene forms (EPS) and lightweight fill, mechanically stabilized earth (MSE) walls, and some special foundation and grading work that helped the Project reduced overall site disturbance, increased aesthetics, and reduced total construction emissions due to transportation of materials.
ABOUT GREENROADS
The Greenroads Rating System is a collection of sustainable roadway design and construction best practices that address water, environment, access, community impact, construction practices and materials. There are 11 "project requirements" that must be completed in order for a roadway to be considered a Greenroad, as well as 37 "voluntary credits" that a project team can choose to pursue. After a rigorous review process, the Greenroads Foundation then assigns a project score based on the number of points earned by meeting the requirements and achieving credits. This score translates to one of four certification levels: Bronze, Silver, Gold and Evergreen. Currently, over 60 registered Greenroads Projects are pursuing certification around the world in 7 countries and 8 states, valued at over $5.7 billion (USD). To date, Greenroads has certified 27.5 centerline miles, 46 miles with bicycle access, and 10 miles of sidewalks, including the SFPR.