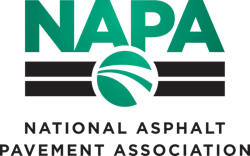 The National Asphalt Pavement Association (NAPA) will offer its 2015 Asphalt Sustainability Conference West! from October 13–14 at the Marriott Portland Downtown Waterfront in Portland, OR.
From alternative energy to water conservation to livable communities, the western states have led the way in developing frameworks and means for realizing our sustainable future. When it comes to the surfaces we drive, bike, and walk on, asphalt pavements provide the greatest potential for ensuring sustainability from construction through use and beyond.
The NAPA 2015 Asphalt Sustainability Conference highlights new thinking, technologies, and practices that ensure the sustainability of asphalt pavements. Embracing sustainable asphalt pavements provides pavement owners, the travelling public, and communities with economic, environmental, and social rewards, and it can create a competitive edge for asphalt mix producers. 
A sustainability program for your organization will help:
Improve your environmental profile and products
Save costs
Gain competitive advantage
Earn trust with neighbors and community members 
By attending the NAPA 2015 Asphalt Sustainability Conference, you will learn:
What sustainability really means
Why it is increasingly important to the future of your company and community
How sustainability is measured
Asphalt's advantages for achieving sustainability, drivability, and performance goals 
The conference will provide invaluable learning and networking opportunities for contractors, DOT personnel, construction managers, environmental managers, engineers, designers, specifiers and decision-makers in the road construction industry as they explore sustainability's new frontier.
Optional Tour to Hopworks Urban Brewery (HUB), a sustainable brewery in Portland, OR
Portland, OR, is a craft brewery nirvana to the beer enthusiast. On October 13, from 10:00 a.m. - 12:30 p.m., prior to the start of the conference, there will be a tour of Hopworks Urban Brewery (HUB) which has a great sustainability story. Tour includes transportation, private tour, and lunch. More details will be sent to you prior to the event. To learn more about the brewery, check out its website Hopworks Urban Brewery.  Cost is $60 early bird registration and $65 after Sept. 18.