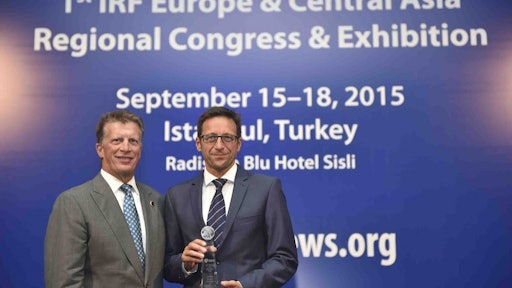 At the Radisson Blu Hotel, Istanbul Sisli, Shell Bitumen accepted the 2015 Global Road Achievement Award for Research from the International Road Federation (IRF). The awards ceremony was attended by thought leaders from across the industry and fellow award winners including the UAE Ministry of Public Works, CECI Engineering Consultants, the Australian Department of Foreign Affairs & Trade and the Indonesian Directorate General of Highways, Ministry of Public Works and Housing. Frank Beer, Shell Bitumen's Regional Technical Manager, Europe & Africa, accepted the award on behalf of the Shell Bitumen team.
"It means a lot to the team to be recognized for our efforts to bring this innovative product to market so that our customers can benefit from this technology. It has been a pleasure to attend the awards ceremony as part of the 1st Europe & Central Asia Regional Conference and meet so many great people from our industry," said Frank.
The award was given to recognize the research and innovation that resulted in the commercialization of the bitumen odor-neutralizing product, Shell Bitufresh. The selection was made by an independent, international panel of judges with expertise across major road and highway disciplines.
"It is a great honor for all of us at Shell Bitumen to be recognized by a world renowned industry body like the IRF. Shell Bitufresh is just one of over 40 patented technologies we have developed throughout our 90 plus years in the bitumen business," said John Read, Shell's General Manager for Bitumen Technology.
Shell Bitufresh is a bitumen additive that has been specially formulated to reduce the odor of bitumen, helping to improve working conditions for workers and to reduce odor nuisance for neighboring local residents. Unlike other products that simply mask the odor of bitumen, Shell Bitufresh actually works by reacting with the source of the smell to neutralize the odors.
Shell Bitufresh is specially formulated:
To reduce bitumen odors for a period of at least two weeks
for no impact on bitumen performance
to work across all bitumen grades including polymer modified bitumen and oxidized grades
Shell Bitufresh is currently available in 17 markets around the world.