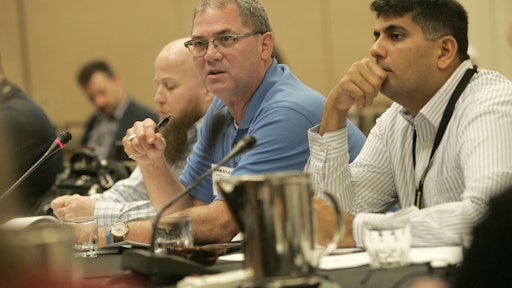 The Asphalt Pavement Alliance (APA) announced the addition of Dan Staebell as its first Regional Director today at the 2016 World of Asphalt Expo. The hire comes as the APA expands its education and field deployment efforts. Staebell, based in Manchester, Iowa., will lead these efforts in the Northcentral region, which stretches from Missouri to Minnesota and Ohio to Iowa.
Staebell has been involved with the asphalt industry since 1980 when he got his start as an estimator and project manager. He has worked for the Asphalt Pavement Association of Iowa, Koch Pavement Solutions, and Flint Hills Resources, marketing asphalt products and services regionally and nationally. Most recently, Staebell has served as director of pavement surfaces for Mathy Construction Co. since 2010.
"We are excited to have a person of Dan's caliber as the APA's first Regional Director. He knows the strengths of the asphalt pavement industry inside and out, and he is aware of the competitive challenges we face," said APA National Director Amy Miller, P.E. "Dan is ready to move quickly to support the State Asphalt Pavement Associations and asphalt mix producers in the Northcentral region."
"This is an exciting opportunity," said Staebell. "Asphalt pavements are the backbone of our transportation network and I look forward to working with our partners and customers to ensure that the public continues to enjoy the smooth, high performing drivability that asphalt pavements offer."
The APA's Northcentral region includes Illinois, Indiana, Iowa, Kansas, Kentucky, Michigan, Minnesota, Missouri, Ohio, and Wisconsin. As APA Regional Director, Staebell will work in close cooperation with the Asphalt Institute (AI) in Lexington, Ky., the National Asphalt Pavement Association (NAPA) in Lanham, Md., and the region's state asphalt pavement associations, asphalt producers, and suppliers.