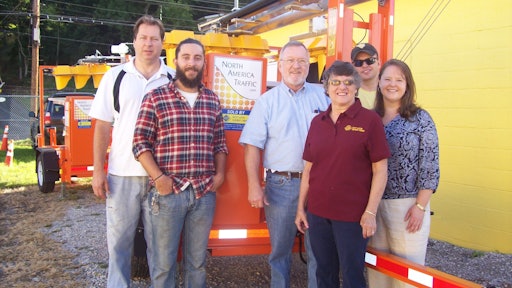 One of the most experienced road construction supply houses in the Appalachian region has added portable traffic signals from North America Traffic (NAT) to its sales and rental fleet.
Safety Caution Equipment Co. Inc., (SCE), based in Charleston, WV, was recently appointed as NAT's authorized dealer serving the state of West Virginia.
NAT manufactures a complete range of solar-assist portable traffic signals and automated flagger assistance devices (AFADs). North America Traffic is known as a leading innovator in the portable signals field.
According to Jordan Sherlock, General Manager of North America Traffic, his firm hand-picked SCE to represent the company in the state.
"We saw opportunity in West Virginia, but we needed a qualified dealer to establish our products with contractors and government buyers in the state," he says. "The mountain roads and passes in the region frequently need repairs and re-routing. We needed a dealer who knows the area and knows the people in it. From that standpoint, Jim Matheney and the team at SCE are the ideal choice for us."
Quick start for sales and rentals
Established in 1966, SCE built its business supplying traffic control signs, signals and safety supplies along with road-marking equipment. Jim Matheney, vice president of SCE, has been in the road building business for 40 years, as both a contractor and as an equipment supplier. Recently, Safety Caution Equipment accepted an offer from another equipment vendor who wished to purchase the road-marking fleet. SCE's portable signals were sold as part of the package so, as Matheney says, "We had a clean slate when North America Traffic approached us."
Now, Safety Caution Equipment will offer sales and rentals of North America Traffic's complete line of equipment. "It's a good fit for our business and for our customers," says Matheney. "NAT portable signals are DOT-approved for West Virginia. We provide statewide service, and this line rounds out the range of products we can deliver to improve safety on road building projects."
Sherlock reports that Matheney already has orders for NAT signals in progress. "We can hit the ground running in West Virginia, because Jim has plenty of past experience and our products are very user-friendly to set up and configure," he says. "Jim understands the conditions his customers work under; he knows the purchase and approval processes at every level. And for contractors bidding on federal projects, Safety Caution Equipment is able to offer DBE credits for the rental or purchase of traffic control needs."
Matheney sees his connection with NAT as an important step toward new growth for his company with a clear focus on traffic control. "Portable signals were a good business for us before," he says, "And it will be even better now."