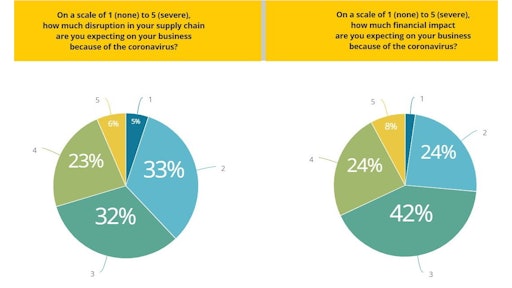 American Road & Transportation Builders Association

Many of the businesses and public agencies that design, build and maintain the nation's critical transportation infrastructure continue to work while taking necessary precautions to protect their workforce from COVID-19, according to a new survey of American Road & Transportation Builders Association (ARTBA) members.
How Is the Road Building Industry Coping with Coronavirus?
With a few exceptions, transportation design and construction projects continue across the country, but survey respondents say they are feeling the effects of the pandemic. More than two-thirds are experiencing changes or adjustments to project schedules.  Nearly 75% are expecting some or major financial impacts on their businesses.
When asked what messages they wanted to deliver to Congress and the Trump administration relating to the next coronavirus relief bill, the most common refrains: pass a strong multi-year transportation funding bill to help the economic recovery, "keep workers working" and don't shut down projects.
U.S. Chamber Stresses Need for "Essential Infrastructure" During Quarantine
The survey also showed transportation construction firms have taken additive measures to protect the health and safety of their workers.  Nearly 80% are rotating office employees between work and home or allowing them to work remotely. 
Respondents said they are taking additional project site safety and health measures, including more regular cleaning of portable toilets (78%), third-party cleaning (70%) and improved handwashing stations (61%). 
The March 23-27 survey, initiated by ARTBA Chief Economist Dr. Alison Premo Black, included 225 respondents representing the association's eight membership divisions: contractors, planning and design firms, traffic safety and equipment manufacturers, materials and services firms, public officials and university professors/researchers.  
A link to the full results can be found here.