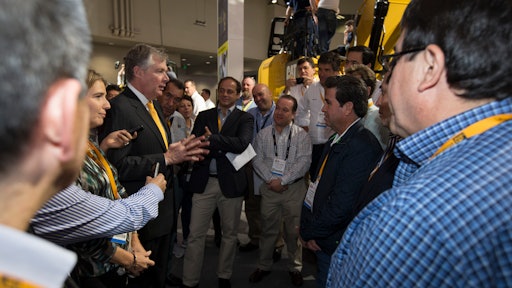 As the world's largest construction equipment supplier, Caterpillar tends to have a pretty good pulse on the market. So the positive statements expressed by Doug Oberhelman, chairman and CEO, about North American construction activity at a CONEXPO-CON/AGG press conference last week came as welcome news.
According to Oberhelman, the North American market is showing the best growth signs seen in March in four years. Previously, while the industry started out strong, by March/April "the politicians had convinced us the world was going to end and the economy tapered off," he notes. "This year, housing is much stronger. The debt ceiling is not an issue this year. Bad weather helps our companies. We're standing in the best position we've had for a slow, sustained recovery in North America."
Video: Caterpillar CEO Talks 2014 Outlook
Global Recovery a Mixed Bag
From a global standpoint, the recovery is a bit more uneven. Europe is seeing improvements, though, as experienced in North America, it is emerging from a very deep hole. However, Oberhelman believes, "Most of the bad news in Europe is behind us. I wouldn't expect a great boon in 2014, but I don't expect major road bumps."
Other regions are also showing signs of strength. "The Middle East is doing very well and oil prices have held up. Africa is showing signs of somewhat faster developing economies," says Oberhelman.
China is also showing signs of recovery. "[China has] been through a fairly rigid downturn the last couple of years. We're doing lot better in our industry, but I wouldn't expect it to be the big boon that we're used to," Oberhelman says of construction equipment demand in the country. "They're dealing with some important issues at the government level."
While South America is holding up well under the downturn in the mining industry, Australia has seen "very anemic" growth. "Government changes may turn into positive changes, but we'll see," Oberhelman comments. The rest of the Asia-Pacific remains mixed, with Indonesia in particular proving especially anemic, as well.
Overall, Oberhelman describes the global construction market as a fairly mixed bag, with North America leading the way. He believes its slightly stronger economic growth prospects in 2014 could help improve prospects for the rest of the world.
"Our U.S. contractors are more optimistic at this point than they have been for a while. I'm guardedly optimistic," he states. "It doesn't take much to cause a significant ripple effect. Maybe slightly less guarded than a year ago."
He adds that the company continues to work on its cost structure to adjust to the extreme business cycles that have become the "new normal" for the industry. "We seeing cycles that are more frequent and much deeper," he points out. "We are keeping our eyes on every cost and everything we can so that no matter which way it goes, we're [prepared]."
Federal Funding and Its Effect on Market Trends
With highway bill reauthorization looming this fall, Oberhelman was encouraged to hear the president talk about a multi-year highway bill. "We really need multi-year financing. But where does the financing come from?" he asks. "There is a lot of talk about public-private partnerships, and tax reform could have an impact, but I hold very little hope for that this year."
He notes that the U.S. is perhaps "most antiquated in the world" when it comes to public-private partnerships. "It takes fairly significant changes for it to happen, which I'm skeptical about on the federal level," he indicates. "Many states are doing better." He believes the need for infrastructure investment must be revived to make it more of a priority at the federal level.
The uncertainty stemming from a weak economic recovery and lack of federal infrastructure investment has changed the dynamic when it comes to equipment replacement cycles. Many fleets have been aged well beyond previous practice.
"As we've seen the replacement cycle extend, we've seen a growth in demand for rental assets like we haven't seen before," Oberhelman observes. "As customers deal with uncertain futures, it pressures us to provide solutions. It pushes higher demand for rental. If we saw sustained three- to four-year growth in the economy, we would likely see a return in the replacement cycle. But the demand right now is for rental services."
Consequently, rental worldwide is growing as a percent of Caterpillar's business. "If we aggregate all Cat Rental stores together, it is the largest rental fleet [globally]," Oberhelman asserts. "We're quite happy with our model with being independently managed in their customer territories."
Caterpillar CEO Believes in the Future of Rental
Video: Terex CEO Ron DeFeo Predicts Strong Construction in 2014
Video: Road and Transportation Building Outlook for 2014
Video: AGC 2014/2015 Construction Outlook
Video: ARTBA Economist Explains the Likely Fallout from a Drained Highway Trust Fund
AED: Obama Budget Proposal Fails to Offer Long-Term Infrastructure Investment
Companies in this article