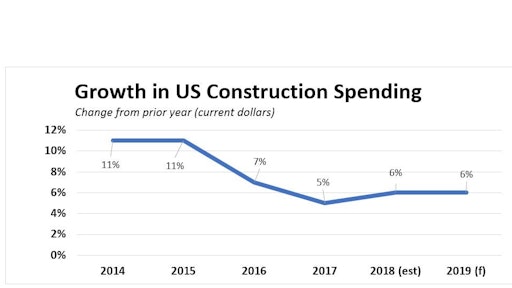 Data: FMI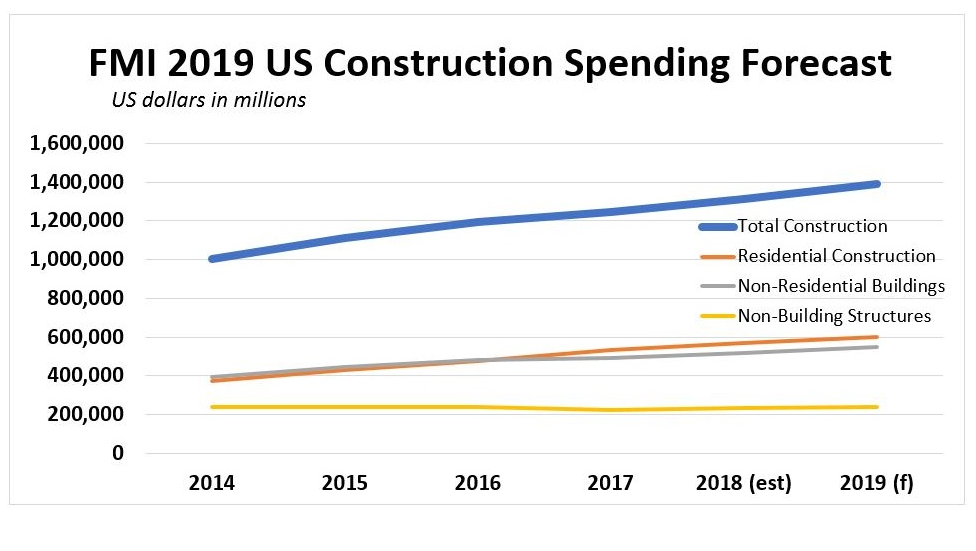 Overall construction growth, which has been slowing since 2015, won't pick up any steam in 2019 as housing shortfalls negate gains in non-buildings sectors, according to economic forecasts analyzed by ENR.
After several years of mostly increasing numbers, construction starts are not expected to change next year, says Dodge Data & Analytics in its 2019 Construction Outlook. Dodge reports that construction starts grew 3% increase in 2018, but starts for 2019 are expected to rise only 0.2%, to $808.3 billion.
"During the 2012 to 2015 period, total construction showed an annual growth in the 11% to 14% range, which was then followed by some deceleration in 2016 and 2017 as total construction starts advanced 7% each year," says Robert A. Murray, senior vice president and chief economist at Dodge Data & Analytics. "This deceleration was expected, since expansions typically register slower growth as they mature."
Material prices also are expected to remain higher through 2019, says Murray. While the U.S. Bureau of Labor Statistics' producer price index reported restrained increases in the years following the economic downturn in 2008, prices rose 3.6% in 2017. For the first nine months of 2018, prices are up 6.5% overall, with most of the increases coming from metal materials, as aluminum mill shapes, copper wire and steel mill products each posted double-digit increases.
An FMI Corp. market forecast predicts next year's total value of construction put-in-place to increase 5.6% to $1.4 trillion, roughly the same as this year's escalation of 5.5%. Its outlook also calls for an increase of 6.2% in non-residential construction, up from last year's 5.3% rise.
FMI expects housing to grow 5.9%, slowing down from the 6.7% rate last year. FMI principal Jay Bowman remains optimistic about next year's market performance. "Certain markets may not be as positive looking, but we still think 2019 will be a good year," he says.
More Resources:
ENR: Construction Markets Will Slow in 2019
Moody's: U.S. Homebuilding Outlook Downgraded to 'Stable' as Headwinds Increase
ABC: 2019 Will Be Another Strong Year for Construction Industry
ARA Moderates Equipment Rental Growth Forecast Through 2019