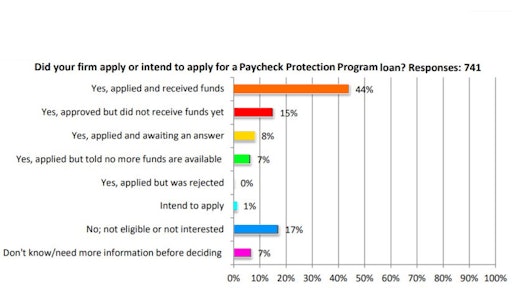 Associated General Contractors of America
UPDATE April 24, 2020: President Trump signed the $484 billion coronavirus relief package today to replenish the popular small business Paycheck Protection Program, support hospitals and COVID-19 testing. The first round of PPP funding was gone in two weeks. If you need support keeping your best people, get together with your lenders and submit your applications ASAP. 
Construction was the business sector that received the most money from the $349 billion first round of the Small Business Paycheck Protection Program administered in just a couple of weeks by the U.S. Small Business Administration. The program was designed to keep those employed by businesses with 500 or fewer workers off the unemployment rolls – part of a $2.3 trillion coronavirus aid package that President Donald Trump signed into law on March 27.
Treasury Department's Paycheck Protection Program Fact Sheet for Borrowers 
If you meet certain requirements under the program, up to 100% of the loan proceeds may be forgiven, and there will be no income tax implications. Notably, the SBA will fully forgive all loans under the Paycheck Protection Program, provided that all borrower requirements and documentation are met.
On April 23, a week after all of the initial $349 billion in PPP funding was committed, the U.S. House of Representatives sent another "interim" coronavirus relief bill worth $480 billion to President Trump for his expected signature. The new bill infuses $310 billion into PPP. The legislation also allocates $60 billion to the Economic Injury Disaster Loans Program, which covers forgivable grants for small businesses.
About 178,000 construction firms have been approved for loans from the initial $349 billion PPP program. Construction loans total $44.9 billion; more than 13% of that first tranche of funding.
A large share of Associated General Contractors member firms promptly received loan funds under the new Paycheck Protection Program, enabling many of them to hire or retain employees despite a surge in project cancellations, according to an AGC coronavirus survey released April 24.
"Most contractors report they have applied for the new federal loans, which are intended to enable small businesses to keep employees on their payrolls," said Ken Simonson, the association's chief economist. "This program has already delivered funds to nearly half of the survey respondents, and many of them have already brought back furloughed workers or added employees, even though more clients are halting and canceling projects."
InsuranceJournal.com points out the construction sector represents less than 9% of overall employment among U.S. firms with 500 or fewer employees, according to U.S. Census Bureau data from 2017, the latest available.
Dispersal of the first PPP funds had bigger problems than a suggestion that construction might have received a disproportionate share.  
A recent National Small Business Association survey of nearly 1,000 small-business owners shows that larger businesses had better luck than their smaller counterparts. While 52% of surveyed companies with 20 or more employees said they received approvals, just 18% of the U.S.'s smallest businesses – those with 10 or fewer employees – were approved for PPP loans. The survey was conducted by the National Small Business Association, a small-business advocacy group in Washington, D.C., between April 15 and 18.
The PPP application for self-employed individuals and independent contractors wasn't even become available until April 10, less than a week before the program ran out of money. Banks tended to provide loans to their existing customers, and many of them added restrictions such as requiring borrowers to hold both a checking and credit account with them to qualify. 
Worse yet, chain restaurants and hotels got into the program through a loophole in the initial legislation designed to support the food-service and hospitality companies. The Washington Post reports the Shake Shack chain says it will give back its $10 million in PPP funding, but it's unclear whether others will too. Ruth's Chris Steak House, a chain with 150 locations, received $20 million in PPP funds. The sandwich chain Potbelly, which has more than 400 locations, reported receiving $10 million.
Inc. reports that the latest stimulus measure will allot around $60 billion to smaller financial institutions. That's good news for smaller companies, because smaller banks tend to serve smaller businesses.