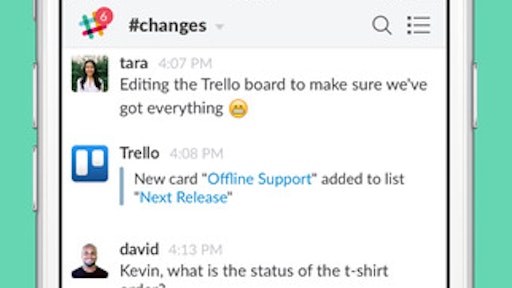 Mobile app: Slack
Developer: Slack Technologies, Inc.
Cost: Free
Available on: Apple, Android and Windows devices
Keep team communication in one, searchable place with the Slack mobile app. The communication app can even help construction companies cut down on the amount of emails being sent back and forth by keeping all messaging in one convenient place.
With Slack, team communication can be organized into channels. Users can create channels for specific projects, topics, teams or more. Private channels can also be created for sensitive information. Private channels allow the user to invite only team members they want to view the information.
In addition to messages, Slack can also share images, PDFs, documents and spreadsheets. Just drag and drop them into the app. Users can also add comments are star files for later reference, and all files – just like messages – are searchable.
The Slack mobile app makes searching easy, too. All messages, notifications, files, etc., are automatically indexed and archived for searching. Slack also indexes the content of every file so a user can search within documents.
The free version of the app is available for an unlimited amount of users and an unlimited amount of time. It provides capability to search and browse the 10,000 most recent messages. Slack users can upgrade to paid plans for extended message history, unlimited integrations, file storage and customizable data retention policies.
App features:
Real-time messaging, file sharing
Supports one-to-one and group conversations
Integrates with tools such as Dropbox, Google+ Hangouts, Twitter and more
Inline images and video with rich link summaries to give context without leaving the app
Instantly synced across all devices
Configurable notifications for desktop, mobile push and email