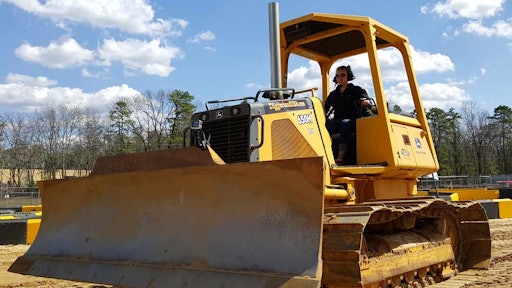 Diggerland USA is North America's only construction themed adventure park. At Diggerland children and families can drive, ride and operate real construction equipment. Now the New Jersey-based theme park has opened Diggerland XL, an adults only addition to the park. At Diggerland XL, adults 18 years and older can have "unrestricted fun on giant pieces of construction equipment."
The Diggerland XL experience offers adults a 90-minute or a three-hour package. Guests choose from a combination of three machines: a full-sized wheel loader, an excavator or a bulldozer. Prior to operating the equipment, guests received a 30-minute one-on-one instruction session from a heavy machinery foreman.
In addition to having the opportunity to operate these machines in close to real construction site situations, operators also get to play heavy machinery games such as excavator basketball and a water wheel loader challenge.
So, is this a good thing or a bad thing for the construction industry?
On the one hand, exposure to operating construction equipment — for both children and adults — could be a new way to get people interested in working in the construction industry? Could a theme park be a solution to the skilled worker shortage the industry is facing?
On the other hand, could this be downplaying the responsibilities of operating these machines? Yes, the guests are receiving operating instructions, but they are only operating these machines for fun. Could that cause a backlash of more stolen construction equipment because adults want to play on them and have fun? What if it does spark interest in the construction industry, but machine operators thing they can operate real world construction equipment in the same manner they can at the theme park?
And could promoting construction equipment operation as fun be detrimental to safety and the safe operation of construction equipment in the real world?
Granted, those scenarios are probably very rare possibilities, but they are possibilities none the less.
While Diggerland and Diggerland XL could be a new approach for introducing a new generation to careers in the construction industry, could it also be sending the wrong message and ultimately be detrimental to our industry?
What do you think?
Could Diggerland benefit the construction industry?
Could it be a safety concern?
Do you think it will have no effect or impact on the industry at all?
Share your thoughts in the comments section below.