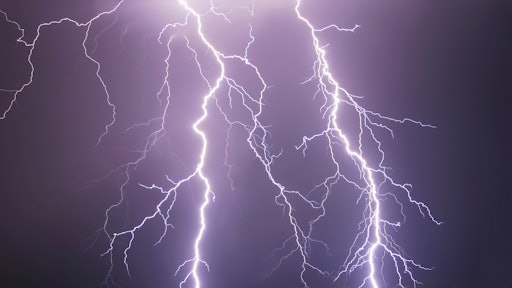 Lightning Safety Awareness Week is June 23 through June 29 this year. True, lightning may not be the culprit of as many construction industry fatalities and injuries as other hazards, but construction workers are at risk for lightning related safety hazards. After all, much of the construction season takes place during the summer when lightning and storms are more common. And often, we as workers put the importance of our job ahead of "just a little storm".
Did you know:
All thunderstorms produce lightning
Lightning often strikes outside the area of heavy rain
Lightning may strike as far as 10 miles from any rainfall

It's important to make sure your construction workers are trained on lightning safety and put that training into practice when lightning is spotted at an outdoor jobsite. Lightning is an occupational hazard for the construction industry. Anyone who works outdoors during storm season needs to have a lightning safety plan. Employers and crew leaders should check weather reports every day before starting on the job.
Prepare Your Construction Sites for Severe Summer Weather
How To Create a Lighting Plan for Night Construction
The number one safety tip is to get inside as soon as you hear thunder. Large enclosed structures with plumbing and electrical wiring are the safest places. If this is not available an enclosed metal vehicle such as a car, truck, van or school bus is a suitable alternative.
Buildings with exposed sides are not safe shelter. Additionally, construction equipment, tractors, golf carts, vehicles with open cabs and convertible vehicles are no safe alternative either.

The National Weather Service advises that if you can't get to a safe building or vehicle follow these tips:
Avoid open areas

— do not be the tallest object in the area

Stay away from isolated tall trees, towers or utility poles

Stay away from metal conductors like wires or fences. Lightning can travel long distances through metal.

If you are with a group of people, spread out. This could prevent multiple casualties or injuries.
OSHA has some other safety suggestions:
Do not go back outside too soon after a storm has passed

If a storm is approaching, do not start any activity you cannot quickly stop

If you hear thunder, even in the distance, get to a safe place immediately

If the worse does happen and someone at your jobsite is struck by lightning it is important that get medical attention immediately. A lightning strike victim is safe to touch, since the human body does not store electricity.
Additional lightning safety tips from the National Weather Service...
Just for fun
On a less serious note, here are some additional fun holidays and observances during the month of June. Do you celebrate any of these?
June 4 - National Cheese Day
June 7 - National Donut Day
June 12 - National Jerky Day

June 15 - Smile Power Day
June 21 - Take Your Dog to Work Day

June 22 - National Chocolate Eclair Day
June 26 - Forgiveness Day
June 29 - Waffle Iron Day
Did you like this blog? Read more Construction Toolbox blog posts on ForConstructionPros.com.
Also, check us out on Facebook and connect with us via Twitter.