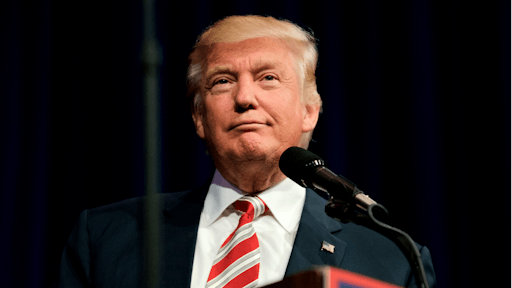 ISTOCK/GETTY IMAGES
UPDATED 6/11/2019 2:40 pm
President Donald Trump has discontinued threatening to impose tariffs on Mexico that were supposed to take affect Monday after the two countries reportedly signed a deal on Mexican migrants into the U.S.
According to Bloomberg, Mexico has agreed to expand deployment of its national guard with priority to its southern border, and to care for illegal asylum seekers crossing the border who are returned back to Mexico until their claims in the U.S. can be resolved.
According to The New York Times, expanding the program allowing asylum-seekers to remain in Mexico while their legal cases proceed is the centerpiece of Trump's deal. The initial Migrant Protection Protocols were negotiated in December.
A federal judge has already blocked the Trump administration from implementing the Migrant Protection Protocols, but an appeals court later said it could move forward while that legal challenge -- based on migrants' access lawyers -- proceeds.
Mexico's promise to deploy up to 6,000 national guard troops on its border was larger than the country pledged when striking that agreement back in March.
"We'll see if it works," the president said, approving the deal before announcing it with a tweet.
Politico reported that two of the Trump administration's top agricultural trade officials told Congress on Tuesday (June 11, 2019) they had no details of any agreement with Mexico to buy more U.S. farm goods that President Donald Trump tweet promised over the weekend.
Trump tweeted Saturday that "MEXICO HAS AGREED TO IMMEDIATELY BEGIN BUYING LARGE QUANTITIES OF AGRICULTURAL PRODUCT FROM OUR GREAT PATRIOT FARMERS!"
Mexican officials indicated they had made no such commitment.
Jonas Oxgaard, agricultural industry analyst at Sanford Bernstein expressed skepticism to Politifact about any sort of special deal. He pointed out that Mexico has no state-sponsored agricultural import program.
"It's not possible for the Mexican government to sign a deal like that," Oxgaard said.
Trump may have been referring to continued trade as a result of not imposing the tariffs he had been threatening, but there are no tariffs to remove under NAFTA or the as-yet-ratified U.S.-Mexico-Canada Agreement to encourage Mexico to increase agricultural trade
Ag sales to Mexico have been looking promising since a few weeks ago when Trump ended the steel and aluminum tariffs on Canada and Mexico. Until then, Mexico had counter-punched with its own tariffs on American goods, including pork.
The Mexican government could increase demand for U.S. corn by as much as $2 billion annually if it were to expand use of ethanol-blend gasoline into Mexico City, Guadalajara and Monterrey, where it is currently prohibited. A technical regulation, separate from Friday's immigration agreement, is already under consideration.
At a morning news conference June 10 in Mexico City, Mexican Foreign Minister Marcelo Ebrard was asked if the understanding on immigration included the agricultural deal Trump had mentioned.
"There is no agreement of any kind," Ebrard said. "It is an immigration agreement. There's no commercial (element) in this document."
Trump followed his tweet about a farm deal with a tweet that referenced ". . . some things not mentioned in yesterday's press release, one in particular, were agreed upon. That will be announced at the appropriate time . . . "
He has repeatedly declined to elaborate out of an abundance of courtesy.