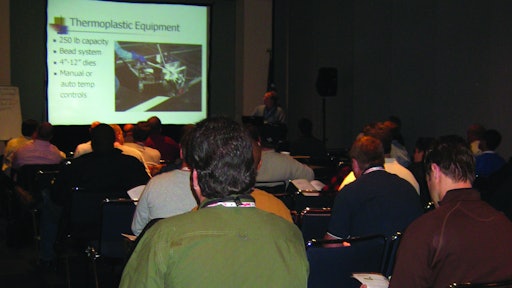 Arriving at a trade show without a plan can be a costly mistake as time out of the office should be spent efficiently. Preparing for one (or more) days at a trade show saves both time and energy. Knowing how to attend a trade show, gather information and turn these efforts into a highly profitable experience requires some planning and organization. Following these guidelines can help:
Determine objectives and establish a plan
Attendees should be sure to check the expo website, review the show program and sort through invitations to chart a strategic course for your time at the event. By reviewing seminars in advance you can decide which are most important for you and are less likely to miss something that would have proved valuable. Also, most conference programs offer "early bird" discounts, and some even offer discounts to contractors who take a large number of classes, so a little pre-planning can save you money.
Plan your exhibit floor visits. Whether a trade show floor is large or small you want to make sure you visit the booths you want to visit. So a little planning not only assures that you won't miss a vital manufacturer or supplier - it also saves some wear and tear on your feet.
Plan on making more than one visit to the exhibit floor. Often the exhibitor you want to see will be busy with other prospects, but by planning a second day on the floor you can assure yourself of making contact. If you don't plan for that second visit there's a good chance you won't get back out there!
Don't overlook exhibitors just because you don't know them. Most trade shows boast new exhibitors every year - and they might just be selling the tool or piece of equipment or upgraded material that could bring more to your bottom line. These exhibitors are salespeople, so they will try to sell you their product. But let them! They are experts in what they sell and they just might be able to help you grow and improve your business. So expect the unexpected and don't be afraid to wander into a booth just to see what's on display.
Know what to expect from seminars.
Too often contractors attending seminars expect that everything they hear in a session will be a revelation. That is rarely the case. Only in instances where you are attending a session covering a topic you know nothing about should you expect everything you hear to be "new." Instead, consider these approaches for each of the sessions you attend:
Small changes can have a huge impact. Rather than expect to learn something that will immediately add 5% to your bottom line, look for small improvements that can be repeated throughout your company. Maybe you can learn a time-saving tip that will save a common laborer 5 minutes on every job. If you have three laborers on a crew and your crew does two jobs a day, you just improved productivity by 30 minutes. If you run two crews that's 60 minutes more productivity every day, and if you work 150 days a year that's 9000 minutes (18.75 eight-hour days) more productivity each season - and that's just with one small improvement. If you can learn one or two more similar tweaks you can make just think of how much more work you can get done - with the same size crew!
Be open to new ideas. Too often contractors attending a session refuse to "buy in" to the presenter's approach - whether it's a technical topic or a business management idea. Keep in mind that there are many ways to skin a cat, and what the presenter is discussing will work for some businesses - and might just work for yours. Also, if you don't like the presenter's entire approach don't be afraid to cherry-pick the parts you do like and apply them to your own operation.
Don't be afraid to take a "basic" seminar even though you're an experienced professional. Oftentimes some of the basic steps on a job or in managing a business get forgotten or put aside simply by accident, and attending an "introductory" session might re-open your eyes to something you used to do. Also, even if you don't learn anything new you will get some nice positive reinforcement that what you and your crews are doing is pretty good.
Ask questions. Too often attendees have questions they want answered but are hesitant to ask them in a group. Don't be shy; the other attendees are there trying to learn just like you are, and the presenter was hired by the trade show specifically to help answer your questions - so ask away! If you don't want to ask publicly don't be afraid to buttonhole the presenter afterwards. Most enjoy talking one-on-one with their audience and will be more than happy to tackle your specific issue.
Talk with other attendees. This is a major advantage of attending trade shows and conferences because you can exchange problems and ideas with people who do what you do but who do not compete with you - so you are both more likely to open up to help solve each other's problems. Pay attention to who asks questions, to who answers questions, and introduce yourself to those people at breaks or after a session.
Take notes. Many seminars today provide handouts to help you follow along and to make it easier to retain and review what was discussed. Your notes or questions in the margins will job your memory when you get back to the office and help you apply what you learned from the seminar.
Ask your questions
Wear comfortable shoes and choose literature/premiums carefully.
It almost goes without saying, but a comfortable pair of shoes is essential. Also, attendees should be selective about the literature and premiums they choose. By the end of the day, carrying a heavy load can not only be uncomfortable, but can make it difficult to find the relevant business information collected.
Keep the show guide for future reference.
The event's show guide can be used throughout the year as a quick reference to exhibiting companies, their products and services.
Keep handouts from seminars or future reference.
Most handouts today revolve around a presenter's Power Point presentation, so they provide solid reminders of what was covered. Plus, if you took notes in the booklet you have a handy reference guide that can be a detailed reminder of the specific topic. And, many handouts include contact information for the speaker, so if you have any questions in the future the handout will give you a starting point for contacting him or her.
Complete seminar evaluation forms.
Not all programs provide you an opportunity for "grading" a speaker or seminar but take advantage of those that ask you to complete evaluation forms. Don't be afraid to let the program organizers know what you think, but also temper your comments as these or speakers who are brought in to help you and others. Comments and insights that can assist them and help them improve will be appreciated. Also, if the evaluation form offers a chance for you to suggest future educational topics take advantage of that opportunity. Programs rely on their attendees to help make sure the educational sessions are timely and important, and chances are if you're interested in a topic someone else is too.
Recap and review educational sessions.
Plan a meeting for when you and those who attend the trade show return. Ask each person who attended to summarize what he or she learned in seminars, and if a specific topic requires more time or holds special interest consider holding a separate meeting just for that topic. If you want more detail about a topic consider bringing one of the convention speakers to your office. Many speakers are willing to visit your site to present the same or similar seminars (some will charge a fee and some might do it for travel costs).
Recap and review your visits with exhibitors.
When you're working the exhibit floor keep a notebook with comments (including contact information) about each company you visited. It's often easiest to do this right in the program guide for the show. Have each person draft or present a verbal summary of what he or she learned about various tools, equipment, or materials. Depending on the level of management involved in the meeting this can be the starting point about replacing or adding new equipment, changing material suppliers, and expanding the services you offer.
When contractors take advantage of the significant value associated with the educational side and the exhibit floor of trade shows, the process of improving a business - whether it be fine-tuning management operations, adding a new service, or upgrading a piece of equipment - is shortened and made easier and more effective. many of the lengthy and costly parts of the buying and selling process are eliminated. Dealers, distributors, manufacturers and industry professionals can meet one-on-one with people they might otherwise find too expensive or too time consuming to visit.
If saving time and money is something contractors want to accomplish at the same time that they grow their business, then a well-planned visit to the industry trade show should be an integral part of every business strategy.