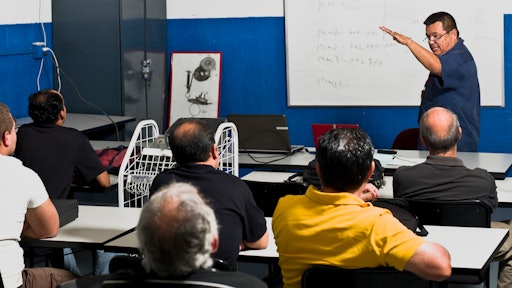 iStock
Attending an annual conference or trade show is a great idea. Conferences and the exhibit floors that usually accompany them can (and often do) provide you with ways to improve your production, streamline your operation and ways to increase your profit.
But how much you get out of a conference is related directly to how well you prepare for one. Here are a few things you can do to get more out of the time and money you spend at your industry events.
1. Evaluate the educational program
It still amazes me how many contractors just plan on going to a convention and will sign up for "something" once they arrive. Not only is this poor planning, it speaks volumes about how that contractor runs his or her business or project. Most conventions offer descriptions of all sessions, and you should plan in advance which you will attend.
2. Select employees carefully
After you've studied the conference offerings, consider which employees you will be sending. Attending a conference should be viewed as an honor that will produce good results for both the individual and your company, and you should send employees who understand that.
3. Select attendees carefully and provide expectations
After selecting people to attend a convention, and after selecting the sessions he or she will attend, ask each person to identify what his or her goals or expectations are for learning. Have them write this down for you and have them keep a copy for themselves.
Three questions you might require them to answer once back in the office are:
In general, what did you learn?
Specifically, what did you learn that would help you improve your individual work?
From a broader standpoint, what did you learn that can help us improve as a company?
Also, don't send too many people to the same session. Send employees to attend as many different sessions as reasonable and then have them each take notes and bring what they learned back to the team.
4. At the conference host a daily debriefing
Before heading out to dinner have a brief meeting and ask each person to briefly discuss what he or she learned in classes, including how what they learned can help your company. This keeps interest alive, places a bit more accountability on each person to listen with more focus during the classes attended and encourages them to begin thinking in broader terms.
5. Meet the speakers
Don't be shy about approaching the session speakers — they are there to assist you. Ask questions that might not have been addressed or that you wanted to ask privately. Ask for recommendations on articles and books to reinforce what was discussed.
6. Prioritize what you've learned
Make a list of everything you learned at your convention, then prioritize the list. Why? Because most contractors leave a conference with dozens, evens hundreds of ideas and you just can't implement them all. Prioritizing helps get you started implementing.
So send as many workers as you can to your next regional convention. Just make sure to plan in advance so you can maximize the impact of what your convention has to offer.
*This article was originally published in 2012 and republished in 2019.