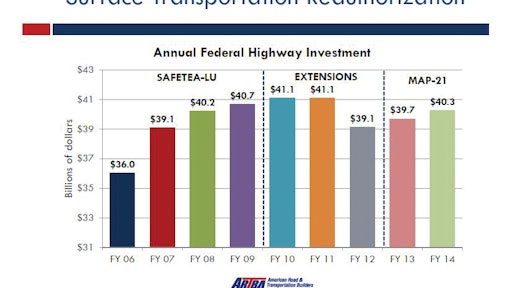 U.S. politics is currently serving the construction industry a pair of fiscal cliffs.
There's the one everybody is obsessing over in the countdown to the end of the year, when expiration of the Bush-era tax credits will coincide with an 8 percent federal spending cut across the board. It's the so-called sequestration prescribed following Congress' failure to reduce the federal deficit in 2011.
The Congressional Budget Office says this cliff will take about $600 billion to service the national debt out of the economy, likely plunging it into recession and lifting unemployment above 9 percent.
Then there's the transportation industry's own fiscal cliff, which can scarcely be expected to compete for attention because we aren't scheduled to run over its edge until September 2014.
If something's not done to increase revenue to the Highway Trust Fund (which funds the federal transportation program), the next highway bill will have to be cut to match trust-fund revenues.
"Highway investment in 2015 will have to drop from $40.4 billion about 57 percent down to $17.3 billion," says Dave Bauer, senior vice president of government relations at the American Road & Transportation Builders Association (ARTBA).
"We are going to be right back into the same dynamic that lead to multiple extensions (and a short-term reauthorization) when MAP21 expires in September of 2014," Bauer adds.
The 2012 elections leave pretty much the same people who gave us MAP21 making decisions about federal transportation programs for 2015.
But Bauer says that's not all bad.
"MAP21 got unprecedented levels of bipartisan support in both the house and the senate – at least unprecedented in terms of any other major bills that were considered in 2012. That reinforces the support on Capitol Hill and in the public arena for federal transportation investment. And it further reinforces the desire of members of Congress to see an appropriate federal role in this area."
He is encouraged by the fact that vocal minorities in Congress were not able to diminish the federal role in transportation, and failed to pull off substantial funding cuts with MAP21. And reforms in the legislation require states to allocate the funds they qualify for each year, rather than allowing them to be banked. It should improve the flow of money to projects.
But Bauer also notes that MAP21 doesn't include guarantees – that had been customary in previous transportation authorization laws – that authorized dollar figures would not be subject to the annual appropriations process.
"That means there will be annual discussions about whether or not to adhere to the investments called for in MAP21 even though they are fully paid for," Bauer says.
So after a three-year fight to get a two-year authorization bill, every year the annual decisions to write those checks will be debated in Congress.
"As an example: the six-month continuing resolution that Congress passed in September, instead of incorporating the $600-million increase in highway investment that was called for in the MAP21 legislation, that resolution continued the 2012 level of investment. So the $600-million bump is basically put on hold, we hope, until the latter part of fiscal year 2013."
This Congress is as likely to delay action on the first fiscal cliff – the one we face on December 31 – as its members were to temporarily extend SAFETEA-LU rather than pass substantial new legislation. Bauer thinks there will be resolution by the end of 2012.
But don't be surprised if a stop-gap measure passes to preserve the temporary tax cuts and postpone the impact of sequestration for some weeks into the new Congress convening in January.
If there is a silver lining in all this, it's that negotiations to resolve the most pressing fiscal cliff offer the best opportunity for dealing with transportation's precipice.
"It should not be overlooked that in the past 30 years, all Highway-Trust-Fund revenue enhancements have occurred as part of broad tax and budget legislation, not in surface transportation reauthorization bills," Bauer says. "And it is at least on peoples' radar screens as part of these discussions."