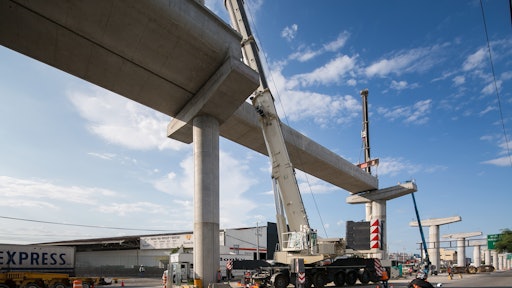 The challenge:
Erecting a third Monterrey Metro passenger rail line in Mexico above highway bridges, over pedestrian bridges and between power lines.
The players:
Alstom Mexicana
Constructora Garza Ponce
Constructora Moyeda
The process:
The Monterrey Metro (generally referred as Metrorrey) rapid-transit rail system runs partially underground and partially elevated to keep it independent of other traffic, and accommodates more than 480,000 passengers each day. To continue to alleviate the traffic situation in the city, a third Metrorrey line is under construction.
When completed, Line 3 will connect the Line 2 terminus at General Zaragoza northeast to Hospital Metropolitano. Its 26 trains and 9 stations are expected to serve an additional 280,000 passengers daily. A consortium of Alstom Mexicana, Constructora Garza Ponce and Constructora Moyeda, a leading construction company in northeast Mexico that specializes in the design and construction of civil works (particularly bridge) projects, was awarded the contract by the State of Nuevo León to construct the nearly 5-mile-long elevated metro line.
Mobility and capacity
According to Arturo Moyeda Morales, CEO of Constructora Moyeda S.A. de C.V., having this project in the heart of Monterrey offered crews some unique equipment challenges. Crews needed cranes with the capacity to erect U girders, as well as with the mobility to lift at one end of the job in the morning and then move a couple of kilometers during the day to erect in different locations in the evening.
Each U girder weighed 507,063 pounds, the heaviest precast pieces ever erected in Monterrey, and measured 121 feet in length, 6 feet in height and 17 feet wide. The girders had to be placed to heights between 49 and 72 feet.
"We chose to use two Terex all terrain cranes — an AC 350/6 and an AC 500-2 — because they had the capacity to lift the girders (386-ton capacity and a 210-foot main boom length for the AC 350/6, and 551-ton capacity and a 184-foot telescopic boom length for the AC 500-2)," said Moyeda, "and the cranes are roadable, needing only six flatbeds each to transport the counterweights. In addition, a crew of 12 people can set up the cranes in just three hours.
"Once a crane was moved," continued Moyeda, "and we had the go-ahead from the transit authorities, a lift could be done in less than 30 minutes per girder. It was the right equipment for the job."
To aid Constructora Moyeda with the project, Terex provided Moyeda and his crews with a specialized training session on the cranes before work began, as well as have provided a good working relationship and after-the-sale support to the company.
Site restrictions
Another unique challenge that crews faced while working in the confined spaces of the Monterrey metropolitan area was that Line 3 was to be erected above highway bridges, over pedestrian bridges and between power lines. Existing traffic patterns, old drainage lines and main water lines were also factors the consortium had to consider as they planned for, prepped and executed the project plan.
 The original project proposal required the use of a launching gantry; however in order to use this method of construction, it was imperative that the construction sequence was done consecutive from pier to pier. If one pier could not be constructed due to interference all erection would have had to be halted. To circumvent this issue, Moyeda and his crews used the Terex cranes to construct a viaduct, in different fronts at the same time, so maintaining the continuity with a launching gantry was not needed.
"Most of the lifts were done with minimal traffic interruptions and in very confined spaces, with a number of underground and aerial obstacles," said Moyeda. "On top of those site conditions, we also had to keep our crews productive in the Monterrey weather conditions, where temperatures can reach 115°F in the summer."
According to Metrorrey, Line 3 was due to be commissioned in August 2015.