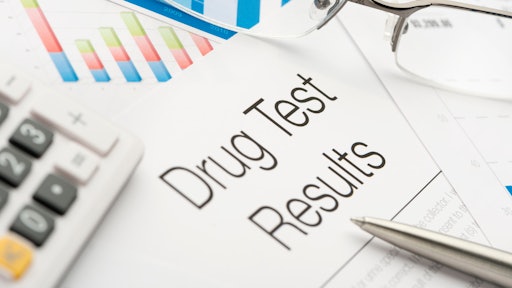 GettyImages
The construction industry has a problem with drug and alcohol abuse. This is not news. It's an unfortunate reality the industry needs to face, address and try to improve. Construction workers work long hours in physically demanding jobs. And often, societal influences have trained us that drugs and alcohol can make us feel better when dealing with stress and problems. And so our employees and co-workers turn to substance abuse, and too many employers and co-workers look the other way.
Detox.net recently analyzed data from the National Survey on Drug Use and Health and found, unsurprisingly, that the construction industry is one of the top industries for drug and alcohol abuse. While these results may not be surprising, they should be unacceptable to construction contractors because the health of safety of your employees should be a top priority.
The data broke down drug and alcohol use by industry into percentage of working adults who have used a specific substance. According to the data:

Illicit drug use by industry, construction is third highest industry on this list at 12.95%

Heavy drinking by industry, construction is #2 at 16.02%
Substance use disorder by industry, construction is #2 at 16.07%
Marijuana use by industry, construction is #1 at 60.33%
Heroin use by industry, construction is #1 at 4.42%
Pain reliever abuse by industry, construction is #1 at 22.63%
(read the full report from Detox.net...)

The legalization of marijuana has added another wrinkle to drug use in the workplace. In 2016, AEMP reached out to its members to find out how they were handling the legalization of marijuana and the topic of drug use within the company. Many construction companies adopted stricter zero tolerance policies, random drug testing and pre-employment drug and alcohol testing. Holding company-wide meetings to discuss these policies is also good practice. Many managers were concerned about the "bleed over" from personal life into the work place, especially with a seasonal workforce. Being under the influence while working construction impacts safety, job performance and even potential for lawsuits.
How to Keep Drugs and Alcohol from Cutting Construction Productivity and Safety
The American Road and Transportation Builders Association (ARTBA) is also concerned with abuse in the workplace. "Contractors are rightfully concerned with maintaining safe, drug-free construction sites. But the tight labor market, combined with the ambiguous, changing legal environment, are posing a major challenges to that goal as the construction sector copes with the epidemic of opioid addiction and increased legalization of marijuana use," ARTBA points out.
"The way the courts are trending matters, and court decisions are trending in favor of employees," says Dena Calo, a partner with Saul Ewing, Arnstein & Lehr.. "A number of my clients believed federal (statutory) language protected them, but in most states, that's no longer true."
How to Avoid Drug Use in Construction Work Zones
Construction companies certainly don't want drug and alcohol use to have a negative impact on the business. But keeping your employees healthy should be an equal concern. Contractors and managers need to be aware of signs of drug and alcohol abuse. One recommendation is to work with a local occupational health clinic for education on how to spot symptoms of drug and alcohol abuse. If you suspect an abuse problem, don't brush it under the rug. If managers and coworkers ignore a problem it will likely get worse, having a negative affect on the individual, coworkers and the business.
While treatment for abuse is promoted as the best option to help someone with an abuse problem, a 2018 Wired article claimed that addiction rehab is broken, particularly for opioid addiction. According to Wired, "A 2015 study found that opioid addicts who received only counseling were twice as likely to die from a fatal overdose than their counterparts who received medications for opioid use. Fewer than half of the 12,000 licensed addiction treatment facilities in the U.S. offer medication for treating opioid addiction."

The Wired article explores if technology — particularly apps — can help with addiction treatment and recovery.
Addiction Rehab is Broken. Can Technology Fix It?
The Travelers Companies is also trying to help injured construction workers reduce opioid use through a combination of its Early Severity Predictor model and its comprehensive pharmacy management program.
The Early Severity Predictor is Travelers' proprietary predictive model that helps forecast which injured employees are at higher risk of developing chronic pain, while the pharmacy management program monitors drug interactions, excessive dosing and abuse patterns to reduce the risk of opioid dependency.
Travelers Helps Injured Construction Workers Reduce Opioid Use Nearly 40%
"Identifying safe and effective alternatives to treat injuries and prevent chronic pain will help injured employees avoid the risks associated with opioids while helping our customers better manage the related medical costs," says Rick Keegan, president of Travelers' Construction group.
The data backs it up that construction companies (and the nation as a whole) need to do more for their employees to try to combat and prevent drug and alcohol abuse. What's important to remember is this data isn't just numbers, these are people — your people.