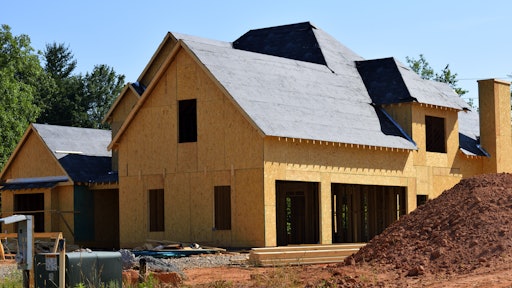 Pixabay
Home builders continue to retain confidence in the single-family housing market even as concerns about building costs increase. According to the August National Association of Home Builders (NAHB)/Wells Fargo Housing Market Index (HMI), confidence in the market for single-family homes rose one point for the month to 66, maintaining the steady 64- to 66-point level seen over the past four months.
"Even as builders report a firm demand for single-family homes, they continue to struggle with rising construction costs stemming from excessive regulations, a chronic shortage of workers and a lack of buildable lots," said Greg Ugalde, NAHB Chairman and a home builder and developer from Torrington, CT.
The continued confidence in the housing market may be in part the result of the Federal Reserve's recent decision to cut the benchmark federal funds interest rate, with builders anticipating the move to spur further building and buying activity. However, this has yet to be seen.
"While 30-year mortgage rates have dropped from 4.1% down to 3.6% during the past four months, we have not seen an equivalent higher pace of building activity because the rate declines occurred due to economic uncertainty stemming largely from growing trade concerns," Robert Dietz, NAHB Chief Economist, noted.
Ongoing Struggle with Affordability
Higher costs have affected American's home buying power. Median new home sales prices have steadily increased, but average income levels have not kept pace. In fact, a report published by real estate market database ATTOM Data Solutions indicated that median home prices in the first quarter of 2019 were not affordable for average wage earners in more than 70% of the nation's largest counties.
The average salary now required in the U.S. to afford a new home ($2254,800 median price) is nearly $60,000, with several major metro areas far exceeding this level. For example, the average salary required to afford a home in Denver, CO ($446,600 median price) is roughly $90,000. In San Jose, NM, which has the highest affordability cost of the 50 major metro areas reviewed, an income level of nearly $240,000 is required to afford the base cost (principal, interest, taxes and insurance payments) of a median-priced ($1,220,000) home.
While not the only issue affecting housing affordability, rising construction costs have become a major contributor. Bureau of Labor Statistics data shows raw materials costs have risen 20.2% since the 2008 financial crisis, and the price of key building components, such as steel and lumber, have fluctuated broadly due to changing demand and ongoing trade disputes. 
The impact of labor and subcontractor shortages on home prices is particularly significant. A 2018 NAHB survey showed 84% of the organization's members view labor availability and cost to be their biggest issue for the foreseeable future. In June, all 50 states posted construction unemployment rates of less than 10%, with the national rate averaging just 4.0%. Skilled workers, such as those in the craft trades, are in particularly high demand.
This demand, coupled with the shortage of available workers, continues to drive construction wages upward. At $30.73, the average hourly earnings for construction are now 10% higher than those for all private-sector employees.
Overlooked on economy? Rising paychecks for blue-collar workers are shrinking the wage gap
Home builders, seeing their costs climb, have been forced to pass these costs on to home buyers. Yet, while this has negatively affected new home sales and housing starts to a degree, builders surveyed in the latest HMI appear undaunted.
"Although affordability headwinds remain a challenge," Dietz acknowledged, "demand is good and growing at lower price points and for smaller homes."