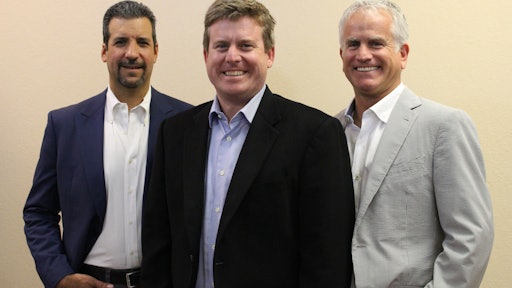 Contractors looking to connect with the industry's best suppliers across several channels now have an option with the introduction of the Decorative Surface Solution Group (DSSG), a buying/marketing group serving four distinct markets—interior/exterior architectural concrete, site and structural concrete, large commercial flooring contractors (in the space), and non-traditional flooring contractors.
"These alternative surfaces to traditional flooring are relatively young and still somewhat fragmented," says President and CEO, Curt Thompson. "We see an opportunity to bring both suppliers and contractors together to improve the overall industry and help capitalize on the tremendous growth in these segments."

The DSSG was founded by three business partners with unique yet complimentary backgrounds. Thompson is a long-time flooring industry veteran who has run businesses/brands on the manufacturing side as well as one of the largest wholesale flooring distributors in the country. This blend of experience has given him insight into the benefits of buying groups on both the supplier side and the customer side. Jonathan Vasquez and Mike Price are the other partners, as well as owners and founders of Bay Area Concretes (Livermore, California)—one of the leading architectural concrete contractors in the country.
"We want to help continue to develop the concrete and alternative surface category by growing the best-in-class on the supplier side and the contractor side," Thompson says.

It's important to note, this model is not new. It has been a highly effective approach in other traditional markets like retail (Carpet One) and commercial (Starnet). Thompson says participation in DSSG takes vision on both the contractor and the supplier level.

How does it work?
As an organization, the DSSG strives to establish relationships with the best suppliers in each of the four categories the group participates in. Many of these suppliers cross over and serve multiple channels. Once these relationships are established the DSSG will work to negotiate best-in-class pricing and programs to support its members. In turn, members work to support these approved suppliers wherever possible in their business. There are added incentives based on purchases that members can enjoy as they continue to grow their business. Additionally, relationships have been developed with less traditional suppliers (think insurance, etc.) that help members with their day-to-day businesses.

Contractor members
Thompson says the group's target members are not identified by size but rather their position in the markets they serve. "A mid-size contractor in a small to mid-size market has as much to offer and benefit from the group as a large scale operator in a large market. Obviously, the smaller contractors can see the benefits of the collective group's buying power, which can have a substantial impact on their bottom line."
For larger contractors, these benefits are scaled up based on their volume.
Thompson says there are key attributes they look for when considering a contractor for membership – willingness to share their knowledge, shared vision of the market, excellent financial standing with the supplier community, and generally good business people that others will enjoy being around.

Supplier members
The DSSG looks for suppliers that are best-in-class. In fact, much of the feedback received from the group's charter members helps drive the conversation with prospective suppliers. In each product space, the group select's a couple of options and pursues these suppliers.

"Contractors like some level of choice so we help narrow this down for them by identifying which suppliers we think can support them the best," Thompson explains. "Some of our suppliers are regional in nature but the majority of them serve North America. Suppliers can participate at different levels financially but it's ultimately up to them to provide a compelling sales story to our members. Naturally the up-front sales process of getting in the door is greatly reduced by their participation in DSSG."
Benefits of DSSG
The benefits to member contractors can be categorized in three areas – margin improvement through consolidated purchasing of best-in-class products, process improvements, and peer-to-peer networking.

"Our team works every day to deliver key relationships with the best suppliers across multiple categories," he says.

For suppliers, it's all about positioning themselves as best-in-class with the group's members. Supplier partners see their selling cycles reduced by being a DSSG approved vendor. Additionally, many of the group's suppliers see opportunity across new categories where their products may be a great fit but have had less exposure there.
How to join DSSG
To become a member, the group has established a vetting process beginning a general question and answer dialogue. Ultimately, the prospective member is presented to the group's Charter Members for approval. There is a fee involved to join the group, which immediately vests the member in the process of embracing the group's suppliers and processes.

Prospective supplier member go through a similar process.

The concrete industry and the surrounding products (terrazzo, epoxies, etc.) continues to gain market share from the traditional flooring products every day.
"We think it is critical that our industry remain focused on improving our deliverables so this expansion continues. The time is perfect to help start consolidation at the contractor level and the supplier level," Thompson explains. "Working together will help our industry grow."

Ed. Note: Contractors interested in joining the DSSG can contact Curt Thompson directly at ct@dssgteam.com.