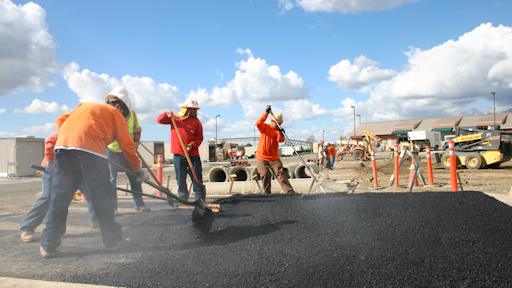 Just a few short years ago the unemployment rate was in the double digits and construction workers were there for the picking. Of course many of those available were the less-qualified or less-desirable employees as contractors used the recession to cull their labor force of weak sisters.
But the economy has picked up, and most contractors (and manufacturers) can attest to 2014 and certainly 2015 as being darn good years, with the outlook for 2016 just as solid. Work is more plentiful, there is less competition, margins are higher – and it's all there for the taking if you can find the workers to get the job done.
But that's the problem: people willing to work construction just aren't as plentiful as they used to be. So what's going on? Why can't you find the workers you want – need – and, more importantly, what can you do about it?
In this Special Report Pavement takes a close look at the labor issue for paving and pavement maintenance contractors. Our goal is to provide a snapshot (though in deference to the Millennials maybe we should say "selfie") of the industry and where it stands as far is its current and future labor force is concerned, and we hope to provide some insights into what contractors can do to strengthen their company's workforce – which will strengthen the industry overall.
First, there's little argument that there's a labor shortage – some might even term it a crisis – in the construction industry, which includes the paving and pavement maintenance industry. In addition to aging workers retiring, low- and mid-level construction workers left the construction workforce when they were laid off during the recession – and instead of waiting for the industry to rebound they found work outside the construction industry. And they didn't come back so the pool from which contractors are drawing workers has become smaller.
So where should contractors look and what steps should they take to find the workers they need? What mistakes are common and how can they be avoided? And once you've made a hire how can you meld your workers into a team and retain the people you want? This Special Report hopes to provide some answers.
The first thing to remember in hiring is that you often probably are hiring at least two different types of people: those who want to work in the field and those who are looking for a management or at least a supervisory role. Those groups require different skill sets and different personalities so they need to be approached differently from one another.
"When hiring laborers I want to hire people who will show up to work, who will do what they're asked to do and who are interested in learning," says Brad Humphrey, Pinnacle Development Group and National Pavement Expo (NPE) presenter. "That's the basic outline for your field workers."
NPE speaker Jeff Stokes, president of Next Level Contractor System, agrees. "If you're looking for a laborer on a sealcoating crew you probably want a guy who shows up and can be trained quickly," Stokes says. "Then if he shows he can do it you can try to keep him and move him up to operator and even crew supervisor -- if you're lucky."
Finding Management Employees
Humphrey says that management-level jobs require more brain power than a laborer, so he recommends looking for prospects at junior colleges, technical schools and other organizations that focus on trades.
He says engaging with any educational facility is a good avenue if you're looking for an estimator, manager or salesperson. "But probably not a superintendent or foreman because for those people you're looking for someone who is familiar with the work and with the job," Humphrey says.
And he suggests thinking at least a little outside-the-box thinking when pursuing those prospects.
"Even people involved in computer-assisted design (CAD) might be valuable because some of those CAD folks are very numbers oriented. They're adept with technology and at the very least they might become good estimators," Humphrey says.
Humphrey says other places to look include military bases, big box stores such as Lowes and Home Depot or other hardware stores where people might be working that have managerial skills and leadership skills and might be interested in a change.
Another option for management employees is via hiring websites. There are numerous construction-related websites (such as workable.com, indeed.com, constructionjobs.com, ihireconstruction.com, www.snagajob.com, www.constructionjobforce.com, and ziprecruiter.com) that accept postings from contractors and many of whom also accept resumes from job seekers.
"People are using them much more and should be using them," Stokes says. "A contractor using day labor or needing an extra body is not going to use them because they're using Craigslist or local man power organizations. The people you find on those websites are generally more employable because you already know they are savvy enough to know to look for work through these websites."
Stokes adds that as Baby Boomers near retirement age and even retire they form a pool of experienced workers who might be willing to work 20-30 hours a week as they wind down or even in retirement "and contractors should take advantage of them," Stokes says. "Those older guys probably aren't going to want to be sealcoating with a squeegee or even on a rig but they could be great project managers, supervisors or even salespeople."
Stokes adds that it's important to keep in mind that well over half the available jobs are never advertised. "That means companies are hiring from other places and using other non-advertising means," Stokes says. "So people looking for work are looking using other means as well."
For that reason alone he says it's important to always be on the lookout for new hires. "Put feelers out there all the time," he says. "Use Craigslist, ads, use your own website, use word of mouth. It's important to always be looking."
Hiring Laborers and Field Workers
Humphrey says that timing – when you hire field workers – can be especially important to your success.
"If you wait until the middle of the season and you need a body you're going to take the first body you can," Humphrey says. "That might work out and it might not. But you know you're not getting the best you can because the better workers have already got a job – probably working for your competition. So timing is crucial to hiring the best people you can."
Humphrey says that given those job requirements – in which labor is essentially untrained -- contractors should be putting their company name out in public to generate as much attention as possible.
He says job fairs, career days and even organizations that work to promote trades in general provide a perfect opportunity to get your business and the industry in front of employable people who probably don't know about paving or pavement maintenance. "Many of these kids aren't going to college and they're going to be looking for work. By letting them know you're out there you increase the chances you'll be able to bring in a young and hardworking kid you can train," he says.
Humphrey cited one client who regularly connects with high school football and wrestling coaches, asking about responsible kids who might want work and who are reliable.
"We're all busy but if you want to start finding those people who are responsible and show up and work hard and who might be developed into a foreman or estimator then you need to take the time to do it," he says. "Go seek out opportunities and not just at high schools but at job fairs and career days.
"The best thing a contractor probably can do is establish in house a physical, technical training program," Humphrey says. "If you're going to bring in people that might have the right attributes you're looking for in an employee you need to train them to keep them. Of course the argument is then they might leave and take what they learned somewhere else. But what's the alternative? Having a bunch of employees who can kind of handle the work but aren't really good at it and who aren't promotable to supervisory levels?"
Stokes says that hiring equipment operators and others at the same crew level are probably going to come from a source people don't like to admit: Your competition.
"You're probably going to end up stealing equipment operators and people of that skill level from somebody else. Nobody likes to hear it but everyone knows that's the case," Stokes says. "It's not that you necessarily actively pursue them but if you have a good company and word gets out about it and you are in need of a good operator and word gets out about that, then you're going to get some calls from people working for your competition."
Impact of Company Culture
That's why, Stokes says, the company culture that a contractor develops is so important to the hiring process.
"Contractors that have a good culture and have processes and systems in place are not having a labor problem," Stokes says. "The culture is important because then you can rely on referrals from existing employees who talk up your company because they like working there. And other people will want to join your company because they heard it's a good place to work.
"If you can create a really good culture and are able to provide people enough hours you're going to get all the help you want."