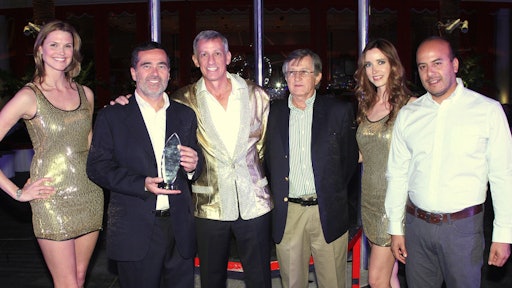 Putzmeister America, Inc. (Putzmeister America) recognized six of its top international distributor partners with its annual "International Distributor of the Year" awards at a special VIP event in Las Vegas during the 2014 CONEXPO trade show.
BEKA S.A. won International Spare Parts and Pipe System Distributor of the Year; IMOCOM and BEKA S.A. both won International Thom-Katt Distributor of the Year; Tekno Bomba S.A. won International Mortar Machine Distributor of the Year; and Construmac won International Large Line Distributor of the Year. Pompaction Inc. was also recognized at the ceremony, with the award for Domestic Large Line Distributor of the Year. Dave Adams, Putzmeister America's president and CEO, presented the awards.
"Our distributors are vital to our company's success and customers' satisfaction," said Adams. "We appreciate all of our distributor partners for their continued support and look forward to many more years of collaboration and innovation."
"We are fortunate to have a dedicated dealer network in the America's who are partners in our mutual success at Putzmeister," added Marcos Aguilar, vice president of sales? for Latin America and the Caribbean. "Recognizing their 2013 achievements amongst their peers and in front of our customers is a great pleasure."
Gerald Karch, CEO of Putzmeister Holding GmbH, also spoke at the event, thanking customers for their loyalty, and congratulating Putzmeister's partners on their accomplishments.