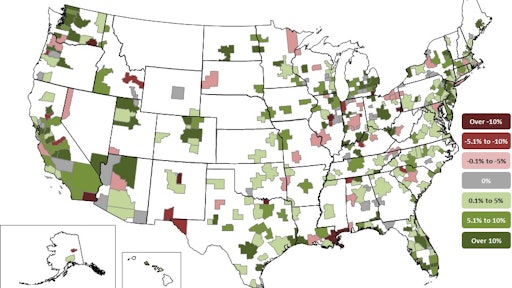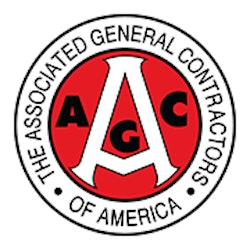 Construction employment expanded in 249 metro areas, declined in 56 and was stagnant in 53 between March 2014 and March 2015, according to a new analysis of federal employment data released by the Associated General Contractors of America. Association officials said the new data comes as many firms remain worried about tightening labor markets and declining public-sector investments in infrastructure and other projects.
"Many firms are caught between trying to cope with labor shortages while also wondering whether Washington will figure out how to pay for needed infrastructure reforms," said Ken Simonson, the association's chief economist. "Even as construction demand is likely to continue growing, there is plenty for most firms to worry about during the coming months."
Seattle-Bellevue-Everett, Wash. added the largest number of construction jobs in the past year (12,400 jobs, 17 percent), followed by:
Denver-Aurora-Lakewood, Colo. (11,400 jobs, 13 percent)
Houston-The Woodlands-Sugar Land, Texas (8,600 jobs, 4 percent)
Dallas-Plano-Irving, Texas (8,400 jobs, 7 percent)
The largest percentage gains occurred in:
Wenatchee, Wash. (33 percent, 600 jobs)
Merced, Calif. (25 percent, 400 jobs)
Atlantic City-Hammonton, N.J. (23 percent, 1,000 jobs)
Beaumont-Port Arthur, Texas. (22 percent, 3,900 jobs)
The largest job losses from March 2014 to March 2015 were in:
New Orleans-Metairie, La. (-3,300 jobs, -11 percent)
Gulfport-Biloxi-Pascagoula, Miss. (-1,800 jobs, -17 percent)
Cleveland-Elyria, Ohio (-1,600 jobs, -5 percent),
Nassau County-Suffolk County, N.Y. (-1,200 jobs, -2 percent)
The largest percentage decline for the past year was in El Centro, Calif. (-22 percent, -700 jobs) followed by:
Weirton-Steubenville, W.Va.-Ohio (-19 percent, -400 jobs)
Gulfport-Biloxi-Pascagoula, Miss. and Santa Fe N.M. (-15 percent, -400 jobs)
Association officials said that while the outlook for the construction industry remains positive for the rest of the year, labor shortages and federal infrastructure funding shortfalls remain worrisome for many firms. They continued to urge federal officials to act on measures outlined in the association's Workforce Development Plan. They also urged motorists to take pictures of poor road conditions and bad traffic and tweet those images using the hashtag #DriveBetterRoads to help push for more federal infrastructure funding.
"While it is good to see the industry expanding in many parts of the country, many firms still have plenty of challenges to cope with," said Stephen E. Sandherr, the association's chief executive officer. "Getting Congress to fund needed infrastructure investments and make it easier for firms and school districts to set up construction training programs would certainly help the industry."