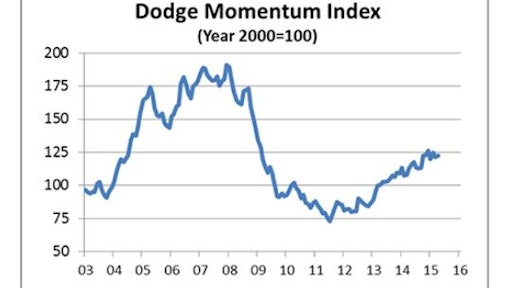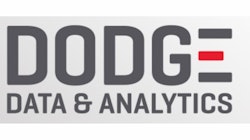 The Dodge Momentum Index rose 0.8% in April to 122.6 (2000=100) from March's 121.6, according to Dodge Data & Analytics.
The Momentum Index is a monthly measure of the initial report for nonresidential building projects in planning, which have been shown to lead construction spending for nonresidential buildings by a full year.
April's timid rise shows planning activity beginning to edge up after retreating 2.5% in March, continuing the up-and-down pattern present so far in 2015. Although planning statistics have essentially plateaued in early 2015, the latest month's Momentum Index is 8.5% higher than April 2014.
Planning activity for both the commercial and institutional sectors posted modest gains in April, with commercial-building planning up 0.5% and institutional buildings up 1.2%. The commercial-building sector continues to be helped by improving occupancies and rents, while institutional buildings benefit from passage of recent bond measures. Dodge expects a more sustained upward trend in the Momentum Index as 2015 progresses.
The slight increase for the commercial sector was supported by three sizeable projects that entered planning – a $500 million expansion of the JW Marriott & Ritz Carlton Hotel in Los Angeles, CA; a $300 million Loews Sapphire Falls Resort in Orlando, FL; and a $100 million warehouse and office building project in Santa Fe Springs, CA.
There were also three institutional projects valued at $100 million or more that entered planning – a $150 million high school renovation in Beverly Hills, CA; the $100 million AltaSea Marine Research and Interpretive Center in Los Angeles, CA; and the $100 million Seattle Children's Research Institute in Seattle, WA.