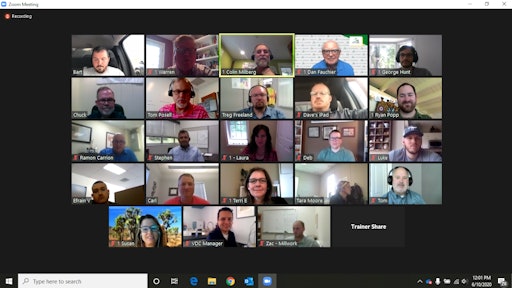 The Associated General Contractors of America
Like just about everything else, the pandemic has upended the construction world. The impact is felt not only on construction workers in the field, but also in training. Virtual training, often with simulators, has enabled working construction workers, as well as those preparing to enter the field, to continue growing their skills without worrying about social distancing, masks, etc., to guard against spreading COVID-19. In fact, the pandemic seems to have sped up the growing trend of virtual training.
That trend will continue only if the effectiveness of virtual training is deemed as productive as other training methods. In the past, simulators "were not taken seriously as a way to process competence, but as show and tell of what we do," says Debbie Dickinson, CEO of Crane Industry Services, whose specialties include training crane operators. "Now, simulators can be used in a sophisticated manner – from entry level training to the most complex lifts."
The leap in sophistication has come at an opportune time as it enables industry management to continue training workers in these unusual times.
Safety in a Changing World
One of the original draws to virtual training was safety. After all, learning on the job is not only costly but potentially dangerous to personnel, equipment and the site itself. With virtual training, mistakes are not harmful, but simply part of a learning process.
These days the lure of added safety has another benefit. Government regulations now require that companies consider employee safety from a health perspective: OSHA has issued new guidelines and recommendations related to the pandemic and safety.
"Every construction company has changed the way they staff and work due to the virus," says Brian Turmail, vice president of public affairs & strategic initiatives at The Associated General Contractors of America.
These staffing changes include ensuring that employees have greater physical distance to other employees, rescheduling shifts so employees are not so tightly confined, and operating with skeleton staffs. 
Ultimately, this leaves staff more geographically separated. "Training the scattered staff online is a great way to run the world in the pandemic because we don't have to bring them into a training facility," Turmail says.
Efficiencies in Training
Although a major impetus to providing virtual training was the safety factor, which was greatly compounded due to the pandemic, it's far from the only motivation.
"Even prior to COVID, people noted that travel overall has gotten to be difficult and time consuming," Dickinson says. It's also costly. "People started taking a hard look at when it is necessary to be physically together and what is the value of being together."
When people train from home rather than traveling to a conference or training facility, they have less downtime. The time away from the jobsite is lessened, and it is spent exclusively on training.
The changing workforce has also influenced the expansion of virtual training. Prior to the pandemic, one of the biggest stories in construction was workforce shortages. Due to these shortages, many construction firms were left to hire people with less experience than workers they hired in the past. These less experienced workers need more training.
"The responsibility for training workers with fewer skills falls on the construction companies," Turmail says, and "they can do a lot of that virtually with virtual reality." 
According to a January 2021 AARP article, unemployment in nonresidential construction increased 4.6% due to the pandemic. Therefore, one might think the larger pool of construction workers would enable firms to hire more experienced personnel. Turmail, however, notes this is not necessarily the case.
"The pandemic has contributed to some workforce shortages, as some workers are scared away and some have other responsibilities that keep them home," he says. 
Effective Virtual Training
So, conduct training virtually and people will show up? Simple.
Not quite.
Prior to COVID-19, the National Asphalt Pavement Association (NAPA) regularly offered webinars, including 15 in 2019. However, once the pandemic hit, NAPA ramped up its virtual training and saw the average number of attendees per webinar nearly triple from past years. 
Achieving that tremendous growth in attendance took planning.
"We focus on different groups and take information and package it, so it appeals to the audience," says Brett Williams, director of engineering and technical support for NAPA. "We also expanded partnerships and combined resources to grow our audience."
Yet, attending and learning from virtual training seminars do not always go hand in hand. 
"People have a 90% retention rate when they can do, demonstrate and discuss at the same time," Dickinson says. "If we give people the tools, then get them back on job and discuss it the next day – that's an invaluable lesson."
In terms of topics suitable for training, Turmail believes any kind of skills training can be taught virtually. 
Dickinson similarly believes virtual training can effectively teach a wide variety of topics, including safety, workplace ethics, standards, and certification training.
"The key is to give people the information that is directly relevant to what they are doing on the job site every day," Dickinson says. "It's the only way to get employee buy-in."
Then There's the Technology
Virtual training is only possible because the technology exists to deliver it. Basic platforms such as Zoom, Microsoft Teams and others can be effective in terms of delivering virtual training. 
"We use Zoom and integrate the live polling and breakout room options," Williams says. "It encourages interaction among the participants themselves and with the presenter."
In addition, NAPA shares videos and has found that drone videos are particularly helpful in engaging audiences.
Traditionally, simulators have been at the top of the mountain when it comes to virtual training. In the past they were cost prohibitive for some companies. Today, a variety of simulators are available to people via oculus headsets.
"These slip-on headsets can be put in your phone and act as simulators," says Turmail.
Everyone who owns a smartphone can use this technology as long as they have the app. The lower price point allows firms of all sizes to utilize the technology, and virtual reality and augmented reality are gaining in popularity.
"Social distancing has prompted more of our firms to turn to training that uses augmented reality and virtual reality," Turmail says. 
Into the Future
So, does the pandemic, the improvement in technology, and other factors spell the end of in-person training and meetings? Will training be all virtual moving forward?
Despite the cost savings and convenience of virtual training, it seems unlikely the future will be exclusively virtual.
"The pandemic has accelerated acceptance of virtual training, but I still think we are a handshake industry, and we want to meet face-to-face, even if it's with restrictions," Williams says.
Dickinson believes in-person meetings will resume in the future as well. However, "before we go through the time and expense of bringing people together, companies will ask 'can this be done virtually, does it accomplish what we need?'" 
She adds, "The pandemic has shown us that there's quite a lot we can accomplish virtually, and companies are getting a bigger bang for their buck by laying foundations virtually." 
With technology helping to make virtual training more effective and accessible, it will continue to grow even after the pandemic fades. The benefits are clear and are not dependent on the precautions due to the pandemic.