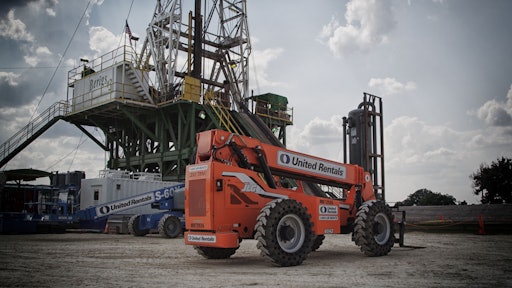 The modern recipe for vocational training begins with partnerships between industry, education and workforce development. The secret ingredient is the application of emerging technologies to move away from "one size fits all" and address specific training and safety goals.
This is exactly what's happening at the Energy Innovation Center (EIC) in Pittsburgh, Pa. As part of its mission, the EIC is assisting in job creation for the energy industry, with an emphasis on diversity and workforce development training for at-risk populations. In addition, the EIC acts as an entrepreneurial incubator: part research laboratory and part matchmaker between investors and industry partners.
21st century learning
United Academy, the training arm of United Rentals, and Serious Labs Inc., a simulator and game-based industrial training developer, are partnering in the creation of a curriculum for the EIC that will wrap gaming, simulation, short-form video and mobility into adaptable and measurable content. This idea of a curriculum based on emerging technologies is key to the 21st century learning concept.
One of the workforce training programs developed by the EIC is called the Energy Safety Passport, which standardizes basic safety awareness and worker competency in the upstream energy industry. "The process began with energy producers working together to standardize safety and environmental training," said Rich DiClaudio, the EIC's director of corporate workforce development. "The program is designed to streamline the process by which workers, vendors and subcontractors gain access to energy sites."
"Not everyone comprehends information in the same way," noted Jim Dorris, vice president–environmental, health and safety for United Rentals, the largest equipment rental provider to industries in North America. "Blended learning transcends disparities and bridges the generational divide between baby boomers still in the workforce and incoming millennial workers." United Rentals began addressing this need with the launch of United Academy in 2014.
"There's a reason why virtual reality games are so prominent in our society. It's a complete immersion in an environmental experience that can't be replicated elsewhere except in real life," Dorris said, adding that safety is a core value at United Rentals. In real life, a work environment such as oil and gas production comes with inherent risk. Immersive environmental instruction provides a risk-free way for workers to learn."
Prior to partnering with United Rentals, United Academy and Serious Labs, the EIC spent five months meeting with health, safety and environmental leaders from within the oil and gas industry. The challenge was to create training that meets the needs of a diverse population: individuals with graduate-level education, those who have no formal secondary education, and those who speak English as a second language. The goal was to provide a common jumping-off-point for employment with energy contractors and producers in the region. 
"We knew from the beginning that our approach to learning is a very efficient way to address this diverse audience," said DiClaudio. "Mixed media learning has strong metrics for retention of information. This led to our partnership with United Rentals and Serious Labs, to draw on their expertise in this area."
A new take on general orientation
The first course to be rolled out is a general orientation (GO) course that trains prospective workers on the basic safety, health and environmental knowledge that most energy contractors and producers require before granting access to worksites. The content was developed in collaboration with subject matter experts from the oil and gas industry.
"There are 35 key rules we amalgamated, that all companies in heavy industry follow, such as proper PPE, no smoking, no texting while driving," said Jim Colvin, chief executive officer of Serious Labs. "This is information that everyone needs, but nobody really likes to learn. Organizations often don't invest in quality instruction when it comes to GO material. It's simply a box to check." In the United Academy curriculum for EIC, an instructor will lead the GO course using graphical techniques to reinforce learning.
"As material is presented, teachers can isolate a learning objective – for example, hone in on worksite imagery, then pause to observe a 3D object," explained Colvin. Students are issued tablets, and games are used to drive home the learning objectives. Periodic knowledge checks give instructors feedback in real-time to assess what information has been properly understood and what needs to be revisited.
Getting ready for the next boom
The EIC approach is unique in that it's being driven by the specific needs of the oil and gas industry. "It's an opportunity for an industry to create its own standards and elevate safety collectively," said Dorris.
"We're listening to industry experts and determining the best way to develop that training," said Charlie Schliebs, a founding board member of the EIC. DiClaudio echoes that sentiment: "It relies on close collaboration in order to develop a training strategy for immediate or near-term employment opportunities for workers. During the prior energy boom, Pittsburgh wasn't prepared. Skilled workers came from elsewhere in the country to fill the labor needs."
In the first 12 months, the EIC expects 4,000 to 7,000 individuals to complete the GO course. "We expect this to climb to 10,000 to 15,000 a year in a full-fledged energy industry rebound," said DiClaudio. Meanwhile, there are other types of industrial companies interested in investing in the region, such as ethane cracker plants and natural gas utilities, with a need for industry-specific safety training.
The EIC has ample room to grow. By the end of 2016, with more than $100 million invested, the seven-acre, 250,000 square foot campus will be about 50 percent occupied. "It's important to not overstate our progress," noted DiClaudio. "If we're running a marathon, we're at about the first mile marker. Over time some programs will no longer be needed or new programs will need to be created to assist the individual worker along his or her career path."
What's good for the Pittsburgh area could be good for industries elsewhere in North America and around the globe. "At United Rentals, we're interested in making sure the idea is scalable," said Dorris. "If we can replicate the oil and gas training approach in other verticals, we'll have created a new future for safety training."
United Academy is the safety training and certification management arm of United Rentals. It's comprehensive course library can be utilized by employers and workers industry-wide via online or classroom training. http://unitedacademy.ur.com