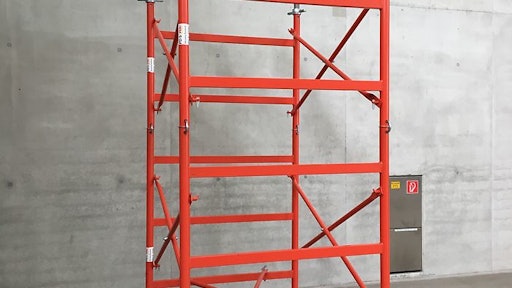 PERI
The PD 5 Shoring System is suitable for slab formwork and beams across all segments, bringing the smart features of premium products to traditional 10K shoring frames. This includes the PERI-UP gravity lock to diagonal brace connections as well as new double pins for vertical frame connections, resulting in less parts and pieces needed for assembly and less parts to lose than with conventional systems.
Square profiles of horizontal bars ensure compatibility with PERI's standard scaffolding parts, such as decks, for safer access during erection and dismantling
Enables ledger-to-ledger connections for bracing several towers together or creating a safe guardrail solution within the shoring towers
Towers can be braced using standard pipe bracing or timber with scaffold adapters.
Flexible in height and width to accommodate all building geometries and lightweight, with no piece heavier than 48 lbs.
Powder-coated frame system for shoring towers and slab tables
Load-bearing capacity of up to 12,000 lbs. per leg
Basic dimensions of roughly 4' x 5', 4' x 6.5' and 4' x 8' 3"
Request More Information
Fill out the form below to request more information about
PERI Formwork PD-5 Shoring System