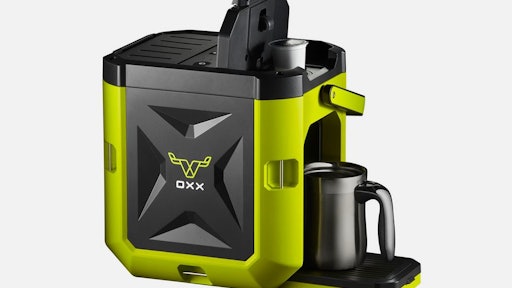 Coffeeboxx is a compact, portable single-cup brewing system designed to stand up to rugged conditions far beyond cozy kitchen confines. Maker Oxx says it is "field tested to meet standards no one dared to set: crush-proof, dust-proof, spill-proof, rust-proof, water resistant, impact resistant."
It uses the latest single-serve technology to deliver your favorite coffee anywhere you work and play, and have access to 120V AC power. Coffeebox is ready for market after three years of design, testing and certifications, and nearly fully funded on Kickstarter. The company is finalizing production expects to put product in funders' hands by March 2015.
Coffeeboxx will retail for $299, but Kickstarter backers can pre-order it at a $50 discount.
Say goodbye to lukewarm thermos coffee and hello to cup after cup of fresh, hot joe.
Compatible with any K-Cup style drink pod
Crush-proof chassis rugged enough to park a car on
3-ft. retractable heavy-duty power cord
Control panel sealed to IP55 standards to keep dust and water out
Large, sealed rubber buttons
Three brewing-size options: 8, 10 and 12 oz.
The largest (84.5-oz.) removable water tank on the market
Sealed water tank won't spill, even stored on its side
Separate on-demand hot water system for piping hot water with no coffee residue (for making oatmeal, soup or tea)
Weight: 11 lb. (dry)
Oxx is committed to building innovative products for people who work and play outdoors. Coffeeboxx is the first step toward that goal.