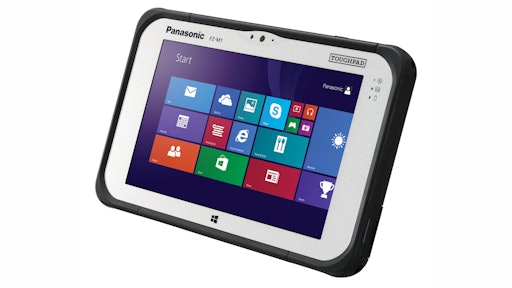 Continuing the countdown of the 12 Days of Construction Christmas...
On the eleventh day of Christmas... gift #11 Toughpad FZ-M1 Tablet
The Toughpad FZ-M1 tablet is a rugged, 7-inch fanless tablet powered by the fourth generation Intel Core i5 vPro Processor for enterprise-class performance. The 1.2-pound, 0.7-inch-thick tablet features hardware-enhanced security features, remote manageability and capabilities designed to increase end user productivity and data protection. The screen is a daylight readable WXGA display with anti-reflective screen treatment and a high-sensitivity, 10-point multi-touch screen that can be used with thick industrial-type gloves. The tablet is tested to meet MIL-STD-810G specifications for drops (up to 5 feet), shock, vibration, altitude, humidity and extreme temperatures.