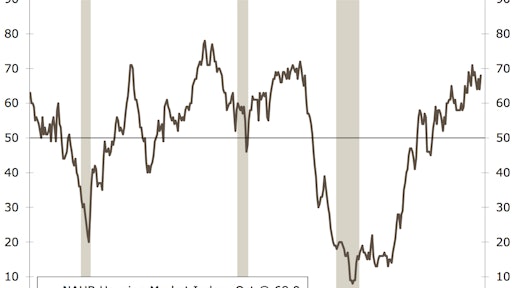 Wells Fargo Securities
The National Association of Home Builders/Wells Fargo Housing Market Index (HMI) rebounded in October, rising four points to 68 to its highest level since May and more than erasing last month's three point drop. Gains were broad based, as all three components rose during the month.
Derived from a monthly survey that NAHB has been conducting for 30 years, the NAHB/Wells Fargo Housing Market Index gauges builder perceptions of current single-family home sales and sales expectations for the next six months as "good," "fair" or "poor." The survey also asks builders to rate traffic of prospective buyers as "high to very high," "average" or "low to very low." Scores for each component are then used to calculate a seasonally adjusted index where any number over 50 indicates that more builders view conditions as good than poor.

While October confidence showed resiliency, longer-term hurricane issues may still cause problems. Potential concerns include higher materials prices and even keener labor shortages due to increased demand for repair work following the storms.
"It is encouraging to see builder confidence return to the high 60s levels we saw in the spring and summer," said National Association of Home Builders Chief Economist Robert Dietz. "With a tight inventory of existing homes and promising growth in household formation, we can expect the new home market continue to strengthen at a modest rate in the months ahead."

Both the current and future sales conditions indices rose five points to 75 and 78, respectively. Buyer traffic increased just one point to 48, reflecting continued low inventories of completed homes.
Confidence in the South rose by two points to 68 and the Northeast improved one point to 50. The Housing Market Index remains the highest in the West but was unchanged at 77 in October. The Midwest HMI also stayed put at 63.