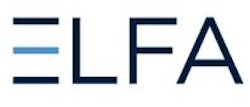 The Equipment Leasing and Finance Association's (ELFA) Monthly Leasing and Finance Index (MLFI-25), which reports economic activity for the $628 billion equipment finance sector, showed overall new business volume for November was $6.2 billion, up 38 percent from volume of $4.5 billion in the same period in 2010. Volume was up three percent from the previous month. Year-to-date cumulative new business volume is up 26 percent.
Credit quality metrics continued to improve. Receivables over 30 days were the lowest in over two years, decreasing to 2 percent in November from 2.2 percent in October. Charge-offs were unchanged from the previous month at 0.7 percent.
Credit standards remained steady as the number of lease applications approved decreased nominally to 76.2 percent from 76.3 percent the previous month. Up from 59 percent the previous month, 65.5 percent of participating organizations reported submitting more transactions for approval during the month.
Finally, total headcount for equipment finance companies in November was down 0.2 percent month to month and down 1.2 percent year over year. Supplemental data show that the construction and trucking industries led the under-performing sectors.
Separately, the Equipment Leasing & Finance Foundation's Monthly Confidence Index (MCI-EFI) for December is 57.2, down slightly from the November index of 57.4, indicating steadying optimism about business activity despite ongoing concerns about the global economic situation. For more detailed information on the MCI-EFI visit www.LeaseFoundation.org.
The MLFI-25 is the only index that reflects capex, or the volume of commercial equipment financed in the U.S. The MLFI-25 is released globally at 9 a.m. Eastern time from Washington, D.C., each month, on the day before the U.S. Department of Commerce releases the durable goods report. The MLFI-25 is a financial indicator that complements the durable goods report and other economic indexes, including the Institute for Supply Management Index, which reports economic activity in the manufacturing sector. Together with the MLFI-25 these reports provide a complete view of the status of productive assets in the U.S. economy: equipment produced, acquired and financed.
The MLFI-25 is a time series that reflects two years of business activity for the 25 companies currently participating in the survey. The latest MLFI-25, including methodology and participants is available at http://www.elfaonline.org/ind/research/MLFI/.
Companies in this article