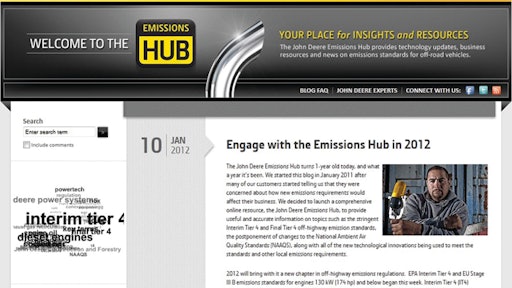 John Deere Power Systems and John Deere's Construction & Forestry division introduce the John Deere Emissions Hub, a blog developed to provide end users of off-highway equipment with regularly updated insights on emissions compliance and other resources.
The Emissions Hub was created to promote greater end-user understanding of how increasingly stringent emissions regulations impact their businesses. The blog will serve as a valuable information center for anyone connected to the construction, forestry, agriculture and turf industries.
"The Emissions Hub is intended to improve our customers' competitiveness in these challenging times by offering expert business resources, technology updates and news on emissions standards," said Geoff Stigler, manager of worldwide marketing for John Deere Power Systems. "Blog visitors will be able to explore our resources, provide feedback and return frequently for the latest news and regulatory requirements - obtaining all the information they need to develop strategies and make the right decisions for their businesses."
"Our customers are seeing increasing pressure to get their equipment up to speed as emissions regulation compliance deadlines approach," said Joe Mastanduno, product marketing manager, engine/drivetrain for John Deere Construction & Forestry. "As questions arise, the Emissions Hub blog provides a place to come for answers. We look forward to listening to our customers and providing valuable information and insight to make compliance an opportunity, not an obstacle."
In January 2012, what had been known as the Straightforward Blog became the John Deere Emissions Hub, residing at www.johndeereemissionshub.com. Visitors to the former www.straightforwardblog.com site will be redirected to the new address.