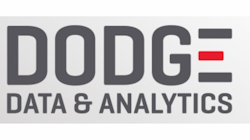 New construction starts in April rose 3% to a seasonally adjusted annual rate of $533.7 billion, according to McGraw Hill Construction. The increase maintained the upward movement established in March, which followed sluggish activity at the outset of 2014.
April gains were reported for nonresidential building and housing, while nonbuilding construction (public works and electric utilities) retreated. Through the first four months of 2014, total construction starts on an unadjusted basis came in at $153.8 billion, unchanged from the same period a year ago.
April's data raised the Dodge Index to 113 (2000=100), up from 110 in March and 102 during the first two months of 2014. For the full year 2013, the Dodge Index was reported to be 112, so April's increase brings activity back up to a level slightly above last year's average monthly pace. 
"With construction starts now climbing for two months in a row, it's become more apparent that some of the lackluster activity in early 2014 was due to tough winter weather conditions," stated Robert A. Murray, chief economist for McGraw Hill Construction. "On the plus side, nonresidential building is strengthening once again, after slipping in recent months. Commercial and manufacturing categories are regaining momentum, while institutional building is making the transition to an up-and-down pattern after its steady decline over the past five years. Multifamily housing continues to move at a good clip. 
"On the down side, this year's total construction volume is being restrained by a more subdued pace for public works, given the comparison to last year's elevated amount and the uncertain prospects for getting new transportation legislation passed. Another cautionary note is related to single family housing, which through the first four months of 2014 had yet to move beyond the modest erosion that emerged towards the end of last year."
Nonresidential building in April increased 14% to $202.8 billion (annual rate), registering a double-digit gain for the second straight month.  Much of the lift came from the often volatile manufacturing plant category, which jumped 146% in April.  The largest manufacturing plant project reported as an April start was a $3.0 billion ethylene plant in Texas, and other manufacturing plants that reached groundbreaking in April included a $290 million tire plant in Mississippi and a $200 million automotive plant in Michigan.  The commercial categories as a group increased 11% in April, led by gains for stores and warehouses after generally depressed activity in early 2014.  Store construction in April climbed 34%, reflecting the start of a $216 million shopping center in Honolulu HI, while warehouse construction surged 93% from a very weak March with the help of a $50 million speculative warehouse building in Ft. Worth TX.  Office construction in April slipped 8%, easing back from recent improvement, although April did include the start of a $196 million office building in Houston TX, a $120 million office complex in Santa Clara CA, and a $119 million office building for the National Science Foundation in Alexandria VA.  Hotel construction in April also eased back from recent gains, retreating 11%.
The institutional categories as a group dropped 11% in April, following a substantial 34% increase in March.  Healthcare facilities were down 11% after being boosted in March by the start of an $820 million hospital in San Diego CA.  The April pace for healthcare facilities was still fairly strong compared to the first two months of 2014, as groundbreaking took place for a $215 million replacement hospital in Ventura CA and a $120 million medical center expansion in Honolulu HI.  The public buildings category in April experienced a steeper 59% decline, after being lifted in March by the start of a $317 million federal courthouse building in Los Angeles CA.  Other April declines were reported for churches, down 7%; amusement-related work, down 19%; and transportation terminals, down 36%.  The educational building category, which is the largest of the institutional group, managed to grow 5% in April.  Major education-related projects that reached groundbreaking in April included a $251 million school of medicine building for the University of Buffalo in Buffalo NY, a $115 million science and engineering complex for Northeastern University in Boston MA, and a $90 million school of medicine building for the University of North Dakota in Grand Forks ND.
Residential building, at $214.4 billion (annual rate), grew 4% in April.  The residential increase was the result of another gain for multifamily housing, which bounced back 19% in April after slipping 9% in March.  April's level of activity for multifamily housing was 24% above its average monthly pace registered during 2013.  There were four large multifamily projects in the New York NY metropolitan area included as April starts – a $175 million apartment building in Queens, plus three apartment building projects in Manhattan valued respectively at $125 million, $106 million, and $95 million.  Through the January-April period of 2014, the top five metropolitan areas in terms of the dollar amount of new multifamily starts were – New York NY, Washington DC, Miami FL, Boston MA, and Los Angeles CA.  Single family housing in April slipped an additional 1%, and has now shown modest deterioration for six consecutive months.  April's level of activity for single family housing was 4% below its average monthly pace registered during 2013.  Murray stated, "There's growing concern that tight standards by mortgage lenders, particularly to first-time homebuyers, are holding back the single family recovery, and federal regulators are now looking at ways to encourage Fannie Mae and Freddie Mac to make credit more available to potential homebuyers."
Nonbuilding construction in April decreased 14% to $116.5 billion (annual rate), after posting gains in the previous two months.  The public works sector in April retreated 10%, as highway work dropped 23% while bridge construction fell an even steeper 43%, given the comparison to March that included the start of the $585 million Gerald Desmond Bridge replacement project in California.  Murray indicated, "While the Senate has made progress towards finalizing a new multiyear federal transportation bill, it's still uncertain whether the full Congress will be able to approve a new bill by the time the current two-year legislation expires on September 30.  In addition, concern about whether the Highway Trust Fund will run out of money by summer has caused state departments of transportation to more carefully consider going ahead with major projects."  The miscellaneous public works category, comprised of site work, mass transit, and pipelines, plunged 44% in April.  In contrast, the environmental public works categories showed healthy percentage growth in April.  River/harbor development jumped 84%, aided by the start of the $240 million Anacostia River Tunnel in Washington DC and the $200 million Rockaway Beach Boardwalks project in Far Rockaway NY.  Water supply construction in April climbed 57%, while sewer construction advanced 39%.  Electric utility construction in April dropped 29%, returning to its downward trend after registering a 170% hike in March.  There were a few large electric utility projects reaching the construction start stage in April, including a $750 million solar power facility in Nevada and a $350 million wind farm in North Dakota, but these were not enough to avert a pullback for the electric utility category.
The "no change" for total construction starts on an unadjusted basis in the first four months of 2014 relative to last year was due to a varied pattern by major sector.  Nonresidential building during the January-April period advanced 4%, helped by a 75% increase for manufacturing plants but restrained by these year-to-date declines – commercial building, down 3%; and institutional building, down 4%.  Residential building during the first four months of 2014 grew 3%, with multifamily housing up 13% while single family housing was flat compared to last year.  Nonbuilding construction during the first four months of 2014 dropped 10%, with weaker activity for public works, down 9%; and electric utilities, down 15%.  By geography, total construction starts during the first four months of 2014 revealed gains in the Northeast, up 6%; and the South Central, up 4%; while decreased activity was reported in the West, down 1%; the South Atlantic, down 5%; and the Midwest, down 6%