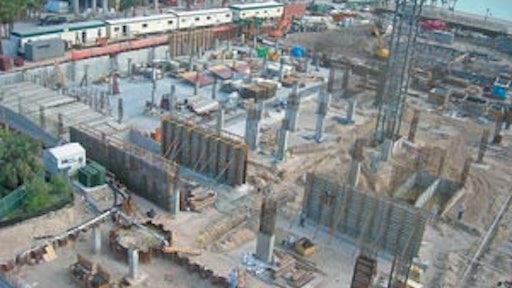 Mike Schneider is a veteran of the concrete industry, having spent the last 27 years with Baker Concrete Construction, helping that company grow to be one of the largest concrete contractors in the country.
He currently serves as the company's vice president of operations, but he also holds the office of president of the American Society of Concrete Contractors. He took office in 2004 and with a year left on his term, he feels like the association has accomplished a lot, but that there's still a lot of work to do. Concrete Concepts talked to Schneider about his time in office and what he'd still like to accomplish.
What are you proud of from your first year in office?
We've got a new strategic plan that we put together just before I came into office. That's been important because it's given us a road map of where we want to go. The position statements that ASCC has issued are also now being used in the industry. I've talked to architects, engineers and college professors about them and people are starting to take notice.
I think that's really important because as the voice of the concrete contractor, we need to be out there helping them. It's allowed us as an industry to say, "Here is what we think," and given contractors something to defend themselves with.
We've also set up a strategic alliance with the American Concrete Institute with a goal of having more contractors on the committees. Historically, ACI has had a lot of theoreticians. The people writing the rules didn't have to do the work. We're trying to change that, because we all have to live with the standards that come out of ACI.
What are you hoping to accomplish in this coming year?
We had our first organized membership drive last year. That's a start, but we're always looking for new members. What we're trying to do right now is go out and get some of the people in the industry that are good contractors, that are leaders, but haven't been involved.
We're also getting ready to publish a guide to flatwork. What it really addresses is "What are realistic expectations for concrete?" Concrete's going to crack, but we need to set the expectations for cracks, for tolerances, for finishing. It's all part of our mission of supporting the concrete contractor.
You talked about getting more members. What can ASCC do to bring in more contractors?
If we can get people to the CEO Forum or to the annual conference, we've got a pretty good rate of people that become members. Getting them to that first event is always the challenge.
We rely a lot on our members to get the word out. Our manufacturer members often will bring in contractors they work with. We're also starting to get some brand recognition out there. We're reaching that critical mass where we are known in the industry and that brings people in, as well.
Why should contractors join ASCC? What can they expect to get out of it?
We offer a lot of member benefits, such as safety information, seminars and publications. I think the biggest benefit is that it can help you become a better businessperson. Most of us got into this industry without a lot of knowledge on how to run a business. You can be as good technically as you want to, but without business knowledge, you're not going to succeed.
Most of the people that are involved in ASCC do it because they have a passion to give back to the industry. We're always willing to share our experiences. What we're trying to do is raise the bar. We don't mind bidding against good competition, but it's hard to compete against ignorance.
What you get out of the organization truly depends on how much you put in. Contractors that get involved on committees and come to events are going to really benefit from being involved.
Why did you get involved with ASCC?
I've been with Baker for 27 years, and from the beginning Dan Baker was involved in local associations. As I grew with the company, Dan always preached getting involved and doing work with the associations. The industry has been very good to me personally, therefore I have a desire to give back to the industry.
What do you see as the challenges facing the industry?
The biggest is probably going to be the workforce. The Baby Boomers are aging. They've been very productive, and their retirements are going to leave quite a vacuum in the industry. Young people are not coming into construction, so how do we replace those workers? Obviously, we have a growing number of Latinos entering the industry, but that can present language and training issues.
What's the solution?
Well, what we're doing at Baker is we being very active in construction career fairs for high school students. We "adopt" schools and work with coaches and advisers to identify potential co-workers. We are very proactive with training and apprenticeship programs. We are looking for anything we can do to get young people involved.
We also focus on creating a good place to work. Baker is 35 years old, and we have a lot of second generation and we're just starting to get into third generations of families working for us. We must be doing something right to have that kind of loyalty.
Any other challenges?
Construction is a risky business, and there has to be an equitable distribution of the risk. We are seeing a lot of the liability being pushed down from the owner to the general contractor to the subcontractors. At some point there's going to have to be a balance of that risk.
The problem is that we are a very fragmented industry, so it's hard to stand up for ourselves. There are more than 30,000 concrete contractors out there. As big as Baker is, we have less than 2 percent of the market. That's why associations, and having that national voice, is so important.
What does the future hold for ASCC?
We just need to continue to add more benefits for our members and keep listening to what they need. When the day comes that our members don't feel they're getting anything out of membership, that's when we know we're not doing our job.