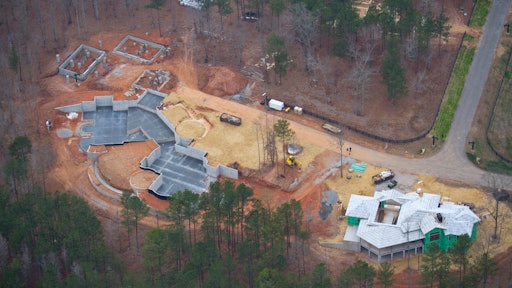 One of the winning entries in the Concrete Foundations Association (CFA) Projects of the Year awards was this monstrous foundation for a 19,942-square-foot home in Canton, Ga., submitted and built by Herbert Construction Co. of Marietta, Ga. Most residential foundations are drawn with primarily 90-degree corners, the easiest to form because any other angle requires special corner forms, special fillers and extra bracing. In this project there were a total of 2,682 vertical feet of corners other than 90 degrees.
The multifaceted structure included two garages separate from the main foundation area but attached by second-story framing to create a porte-cochere with an automobile court behind the garages. Additionally, 275 feet of retaining walls were also part of the project. There were a total of 935 cubic yards of concrete in the walls and footings and 35 tons of rebar. One of the most difficult portions of the project was the 385 lineal feet of radius walls with various wall heights of 14, 15, 16, 17, and 18 feet tall. 
"In several instances, circular walls intersected into other circular walls. In one instance, three circular walls intersected at the same point," said Doug Herbert, president of Herbert Construction Co. "Deep brick ledge in most of the curved walls further complicated the construction."
Amanda Morris, VP of operations, schedules all the crews, calculates and orders the concrete and schedules the pumps. She indicated that concrete scheduling was quite difficult on this project. "From a scheduling standpoint the job was much more difficult than usual because it was so out of the ordinary. We're not used to that many tall radius walls and it was hard to know how much wall we would get set each day. Each wall was a different radius and a different height."
Doug Herbert recognizes the marketing benefits of winning a national award such as this. "Winning this award brings our company national attention," he said. "However, the real benefit for us comes from publicizing it in our own building markets. We will incorporate this award into all of our sales and marketing efforts. This separates our company from all of the other concrete contractors in our area. It's a huge advantage for us."