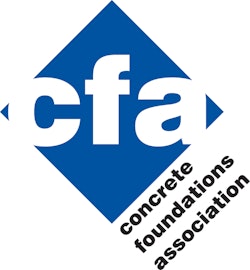 The Concrete Foundations Association (CFA) announced the winners of its Projects of the Year competition for 2012. The Projects of the Year represent the leading projects across the breadth of cast-in-place concrete solutions produced by association members as well as the technical challenges overcome by the professional craftsmen found throughout the North American markets.
Displayed through the Association's website and voted on by the many visitors to that site, winning projects were selected by the industry at large based on popularity and the established criteria. Projects were submitted in the categories of Single Family Residence less than 2,000 square feet, between 2,000 and 5,000 square feet and greater than 5,000 square feet; Commercial/Multi-Family; Non-wall Structural Element and Above-Grade Concrete Home. Projects were entered to the competition this year from the continental U.S. and represent some of the top projects ever recorded to the CFA.
Winners
Enter your projects
Projects entered annually to the CFA's Projects of the Year competition require only that the submitting company be a CFA member. This program seeks to recognize the craftsmanship and extreme construction creativity that exists in today's professional concrete contractor. Projects are submitted through the fall and are voted on during the weeks leading up to and during the World of Concrete each year. Voters are asked to view the project information and detailed photos and respond to the projects using a value scale of 1 to 10 to answer the following three questions:
How difficult would this project have been to estimate?
How difficult would this project have been to construct?
How likely would it be that you made money on this job?
As evidenced by these questions, the projects that are often submitted and win this prestigious competition are ones where creativity and expertise are applied but not often rewarded by financial success.
Visit the CFA Projects of the Year website for more about this year's winners, historical archives for the competition and more about how to enter.
Companies in this article