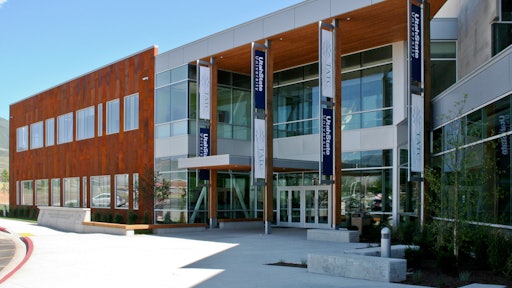 The challenge:
Constructing a building of tilt-up concrete as well as steel and brick and making sure the methods work together
The players:
Hughes General Contractors Inc.
The process:
The 73,751-square-footTooele Applied Technology College in Utah is constructed with both tilt-up concrete and a steel frame and brick veneer. To certify the cohesion of these methods, the contractor ensured the footings of each half were properly proportioned so everything matched up with the building line.
The facility's tilt-up portion was meant to appear as though it were cedar wood. To accomplish this, the contractor used unique tilt-up form liners, which were rough and jagged to imitate the appearance of boards. Whereas tilt-up panels are usually a uniform thickness, the panels for this project were uneven and had tapered, beveled edges. To preclude a perceptible difference of depth between concrete produced from separate form liners, the contractor provided an innovative solution by shaving off parts of the concrete to create, between form liners, smooth transitions that emulate rough sawn lumber.
Tooele Applied Technology College demonstrates that a structure composed largely of tilt-up concrete can have a light, airy, modern and comfortable feel. With high-end finishes and extraordinary attention to detail, the tilt-up complements a multitude of distinctive materials, all of which are symbolic to the community. These materials include reclaimed wood from the Great Salt Lake, corrugated metal panels, mineral rocks, hanging pendant lights and native landscaping. The board-form tilt-up, which resembles the boards of a barn, is a symbolic nod to the area's agricultural influence.