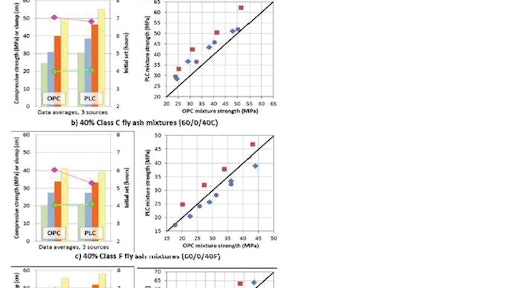 Sustainability has evolved into a vital necessity for business success, and a key to sustainability is innovation. One new and innovative product to help increase the use of SCMs in concrete is Portland-Limestone Cement (PLC). PLC is a more sustainable version of ordinary Portland cement (OPC) that is traditionally used, such as ASTM C150 Type 1.  Sustainability has been a focus of the recently developed ASTM C595 Type IL specification for PLC, and extended SCM use further adds to the benefits and metrics of a concrete mixture with respect to carbon footprint and embodied energy. PLC is now available across North America and is a viable and often preferred option for virtually any concrete project. Expanded SCM use and increased overall cementitious efficiency may also contribute economic benefits.
Since PLC is classified as a blended cement, there tends to be ongoing confusion on the extent that traditional SCMs can be used with PLC relative to how they're typically used with OPC. Despite this confusion, using PLC within the concrete industry has led them to encourage all to continue to make maximum beneficial use of SCMs with PLCs, with no changes to typical mix development and adjustment practices.
Ongoing research shows that in many cases due to excellent, synergistic interaction of PLC with the chemistry of certain SCMs, it may be possible to extend the use of SCMs and/or derive enhanced performance with PLC relative to that of OPC. PLC does not require the contractor or producer to accept or incur performance trade-offs.1 In fact, a special advantage of concrete mixtures using PLC and SCMs is that early strengths and setting performance often excel relative to the same mixtures with OPCs. These findings are echoed by the Construction Materials Research Center at Mississippi State University (MSU).2  
The following graph compares strengths, slumps, and setting trends of laboratory concrete mixtures with and without SCMs (OPC vs. PLC). The 50 percent total cement replacement (30 percent slag cement and 20 percent fly ash) mix was later used in the field, in a project for expansion and renovation of the MSU Davis-Wade stadium. Field data was consistent with the lab data, indicating higher strengths with PLC at almost all ages, but especially at 1 day.3
Higher early strengths generally benefit the contractor by helping to assure that scheduled removal of forms and/or shoring is possible, and also reducing the likelihood of any uncontrolled cracking.
As the demand for concrete with a reduced environmental impact continues to rise, so too will the use of PLC and SCMs in concrete mixtures.
Resources:
1Tim Cost, Thomas Matschei, Jay Shannon, and Isaac L. Howard, Extending the Use of Fly Ash and Slag Cement in Concrete Through the Use of Portland-Limestone Cement (2014), 9
2Tim Cost, Thomas Matschei, Jay Shannon, and Isaac L. Howard, Extending the Use of Fly Ash and Slag Cement in Concrete Through the Use of Portland-Limestone Cement (2014), table 2 and table 3
3Tim Cost, Thomas Matschei, Jay Shannon, and Isaac L. Howard, Extending the Use of Fly Ash and Slag Cement in Concrete Through the Use of Portland-Limestone Cement (2014), 7
---