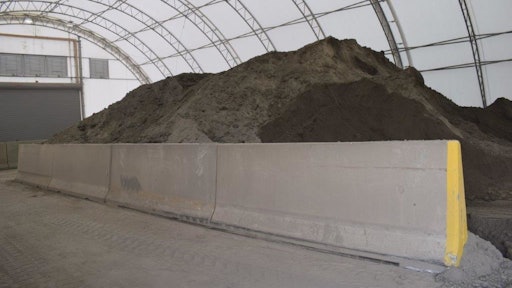 Eco Material Technologies
On one hand, with the retirement of coal-fired power plants the supply of fly ash has decreased. Fly ash is one of the most popular supplemental cementitious materials (SCM) in the industry, so it's right to cause alarm. On the other hand, while there were a lot of plants decades ago, they weren't as efficient as they could be. A lot of ash was produced; a lot of ash was discarded.
Companies like Eco Material Technologies are addressing this in developing proprietary technologies to not only get more fly ash SCM into the industry – but eventually start putting up some points on the board.
Eco Material Technologies (EMT) was the result of a merger of U.S. assets of Boral – one of the leaders in how fly ash and SCMs have traditionally been moved into concrete - and Green Cement.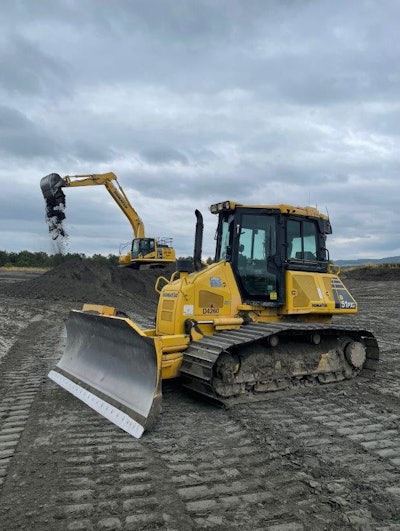 Boral has had quite the decade. The company was an amalgamation of several players in the fly ash industry such as fly ash marketer Headwaters Inc. (a 2016 merger for $2.6 billion), and JTM among others. Combined, Boral represented about half of the SCM market for fly ash. The company sold its North American assets – including other building materials companies – for $3 billion in 2021 to refocus its construction materials business in Australia. According to a Financial Review December 2021 report, "the sale price for the U.S. fly ash business was $755 million but may go slightly higher because of earn-out agreements connected with the completion and performance of the Kirkland natural pozzolan mining project in Arizona."
The intention behind the creation of Eco Material was to create a Herculean entity of sorts to provide both a strong foundation for SCMs while bearing the weight of pushing sustainable efforts forward. "We put these two businesses together to create a champion for the way that concrete is mostly decarbonized today through the use of SCMs like fly ash and also how we're going to do it in the future," says Grant Quasha, CEO of EMT.
There are two main parts. One is the creation of a longer term and more sustainable supply of SCMs and raw materials. The second is upgrading those sustainable supplies and materials to a higher performance factor. For Quasha, that means moving the traditional 20% replacement rate of a traditional portland cement to 50% and higher – potentially towards 100%.
That's no small goal.
Traditionally, EMT's business was working with utility companies for fly ash and ensuring that the material meets specification. The product is then sent to the ready-mix industry and precast manufacturers. While still the largest part of the company's business, coal fired utilities have been retiring pushing that market flat if not down.
In response, EMT has been getting more into the manufacturing of those materials in two ways. One, harvesting the waste ash that had been essentially thrown away over the last 50-70 years. Quasha estimates that there are over 2 billion tons of the ash in sites throughout the country.
"We have multiple projects where we're taking that material out with our technology, cleaning it up, and moving it into the market," he says. This often happens in conjunction with the utility companies. There are also natural – mineable - pozzolanic materials (volcanic ashes) that can be upgraded and used as an SCM.
To do so, EMT uses different technology solutions to produce an SCM along with fresh ash to producing a "greener" cement product. The company's ES EcoSystem Efficient Carbon Offloading technology is a proprietary solution that offers a lower-cost and greener process to reduce high carbon content in landfilled and ponded coal ash, bringing it up to required specification for use in concrete and other building materials.
Quasha explains there's predominantly two basic ways to improve the product. Since the number one issue or the limiting factor with replacement rates has been reactivity, ensuring any material added to the mix must not be deleterious to that reactivity. EMTs, he continues, increases that property and performance mechanically and chemically.
The mechanical component is essentially a proprietary milling technology within their mills. Equipment in the plants are specifically designed to get the material to the absolute best size fraction to allow for the best reactivity of the material. But that's harder than it sounds, he says. "You can't just keep crushing it until it's finer and finer and finer because there's actually a point at which you crush the amorphous glass beads and you increase water demand to where it's problematic."
Chemical packages are added depending on the intention of the material. This allows them to determine the replacement rate for a portland cement concrete.
The company is investing into automation, historically their processes remain reasonably manual. Every day, someone still checks on the quality of the inputs, doing analysis of all the raw materials to ensure they're treated correctly as they relate to the components of the material, etc.
Despite the complexities, at the end of the day, making cement and concrete is still a fairly straightforward process method that that hasn't changed much for a long time. It can't be overly complicated. And that's where Quasha sees the benefit, that the efforts are time-tested. "We're about 5% of the market for cementitious materials in the U.S. We're looking to grow but there's lots of other people that are trying to decarbonize cement and concrete."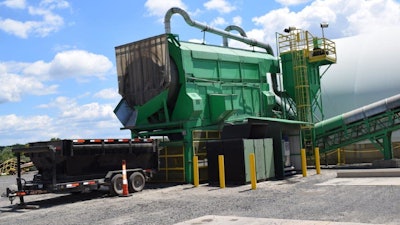 Fly Ash Availability
To set aside any worry, the concrete industry isn't going to run out of fly ash anytime soon.
According to Quasha, about 30 million tons of ash is being produced; Eco Material moves half of that and only half of that is used in concrete. Of the half that they don't move, half of that is put into concrete.
Of the roughly 105 million tons of portland cement is used annually, there's about 15 million tons of SCM – the majority of which is fly ash. Second is granulated blast furnace slag. In rough numbers, that's 120 million tons of cementitious material (portland cement and SCM). Of that, EMT's contribution is about 7 million tons of specification fly ash a year and similar amount of non-spec material not suitable for application.
Despite some retirements of coal-fired plants, "our production has been pretty steady," says Quasha. However, the entire market is only utilizing about half the material; the other half is non-specification. Even though plants have closed, two things have happened compared to 20 years ago that helps the industry find a new normal. One, technology has improved to allow a greater percentage of the ash produced to be at specification level quality. Innovations like EMT's Restore Air® technology helps to offset some of the declines. The technology takes an ash that would normally have gone into a landfill actually work to meet specification.
The second, prices have risen. There were times that in the past that ash was discarded because it wasn't economically efficient to transport it to a market that could use it. More recently, prices have risen enough to help keep the supply steady. As this can help offset some of the plant retirements, one of the biggest factors affecting the industry is the new sources of sustainable material coming into the market.
The two main new sources of supplementary cementitious materials are harvested ash and natural pozzolans. Quasha says that about 2 million tons of harvested ash will come into the market this year. In comparison, this was virtually nothing five years go. For example, he explains, EMT has 9 plants either producing, under construction, or very close to being in construction that will produce 4 million tons a year of what he calls "sustainable raw materials."
That adds to the 7 million tons they produce already but the goal is to be recycling about 20 million tons of material a year by 2030.
They're also looking at replacement rates in concrete across the country. Where one area specs 20%, Quasha says another – like the southeastern U.S. – are down to about 9% likely due to a lack of supply. Already addressing this EMT have three on-going harvesting projects in the region to supply an estimated a little over 2 million tons a year of material. The first of these projects is planned to start in December 2023, the next in 2024, and the third in 2025.
"A lot of people say, 'ash is going away, we got to figure something else out,'" says Quasha. "I actually posit that is what we're doing – and we're not the only ones doing it, I can tell you that the available ash and SCM supply five years from now will be greater than it is today."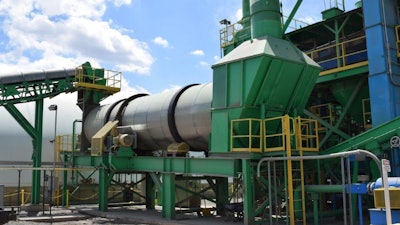 Change Happens
EMT has a plant in Central Texas. They opened it this year (2023). To Quasha's knowledge it's the world's first bottom ash harvesting, grinding, and blending facility. Aside from already moving their fly ash into the market, they've partnered with the power plant in utilizing the bottom ash as well.
Traditionally, straight bottom ash has been not as helpful for concrete. However, with the right technology, bottom ash can be blended with fly ash to create a product that is – reportedly – just as good.
"So, that's what we did," says Quasha. Of course, they worked along with the Texas DOT.
The facility blends about 600,000 tons a year of ground and harvested bottom ash being taken out of landfills to supplement what's coming off the plant with fresh fly ash. The product is being sold as Oak Grove Pozzolan. Providing environmental benefits, the plant no longer disposes of the product, which saves the money of trucking it away.
While the open plants are running for years or decades to come, the long-term plan is to transition to harvest and recycle the ash from landfills as they close. Quasha estimates that there's about 2 billion tons a year of ash sitting in the ground. Separately, he also estimates that there's 10s of billions of tons of natural pozzolans (volcanic ash).
With the readily available supply a fraction of what it once was, there's a myth that these materials are "going away." For environmental reasons and energy production moving to alternative methods, its decreased from the numbers in the past – but it's not going away. Companies like EMT are working hard to increase the supply, increase the quality of the material, and even increase its capabilities.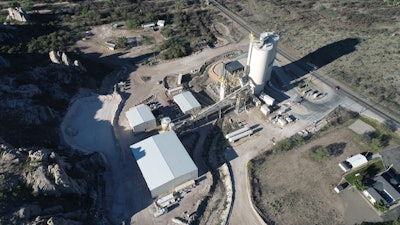 Case in point, in mid-October 2023, EMT announced its latest agreement with Georgia Power to harvest landfilled ash from Plant Branch, a coal-fired power plant that retired in 2015. Utilizing EMT's ES EcoSystem Efficient Carbon Offloading technology, EMT will harvest approximately 600,000 tons of landfilled ash per year from the plant in Putnam County, Georgia. The effort will remove and use more than 8 million tons of fly ash, doubling the production of the two companies' partnership, over a 15-year term.
Georgia Power is the largest electric subsidiary of Southern Company, America's premier energy company serving 2.7 million customers in all but four of Georgia's 159 counties. Committed to delivering clean, safe, reliable and affordable energy, Georgia Power maintains a diverse, innovative generation mix that includes nuclear, coal and natural gas, as well as renewables such as solar, hydroelectric and wind.
This follows last year's announcement with Georgia Power with the Plant Bowen. Construction of the fly ash harvesting plant at Plant Bowen has already begun and is expected to begin harvesting ash for processing by 2024.
The ash from Plant Branch will be used in concrete blends to repair and construct bridges, roads, and buildings in Georgia and Florida and will reduce dependance on imported materials with a proudly Made in the USA recycled product. Plant Branch will be the fourth ash harvesting and beneficiation facility operated by EMT and will add to the Company's portfolio of novel supplementary cementitious material projects that include natural pozzolan beneficiation as well as Green Cement production. Once the Branch project is complete, EMT will have over 3 million tons per annum of novel, beneficiated SCMs to help decarbonize the North American concrete market.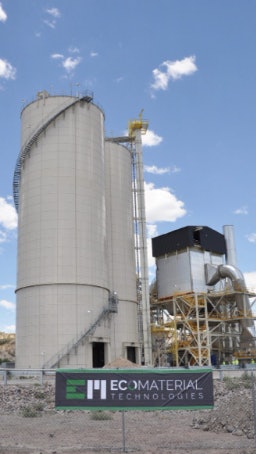 "Our partnership with Georgia Power through the Plant Branch project, should be a model for the rest of the country on how to efficiently re-use stored coal ash in a way that positively benefits the construction industry, local communities and the environment," says Quasha. "By doubling our output in Georgia and utilizing our ES EcoSystem Efficient Carbon Offloading ™ technology, the Plant Branch facility will help meet the need for high-quality, near-zero carbon SCMs and utilize ash for productive use."
EMT and Georgia Power have worked together for over 40 years to develop new approaches to improve environmental stewardship while offsetting both cost and carbon footprint in cementitious materials. Critically, EMT and Georgia Power are focused on economically addressing the issues around coal ash in a manner that will reduce waste, reduce emissions and reduce costs to Georgia Power's rate payers.
"As concrete manufacturers continue to work to achieve carbon neutrality in production, and power companies seek modern and innovative solutions for beneficial use of coal ash, this voluntary project in Georgia is a model for the industry, directly responding to both market and environmental needs," says Tom Adams, executive director of the American Coal Ash Association. "With the nationwide focus on improving American infrastructure including roads and bridges, demand for materials continues to outpace available supply, and collaborative projects such as this will be critical to bridging that gap in the future."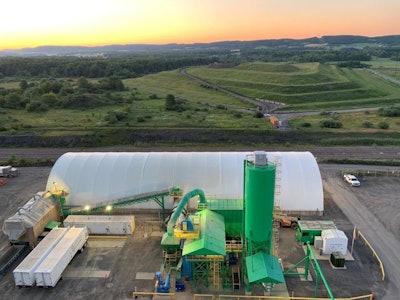 The Branch project is being facilitated with assistance from the Putnam Development Authority ("PDA"), which has provided incentives to EMT to encourage "fast track" development of the Branch project. "The Putnam Development Authority is proud to be able to assist in adaptive reuse of the Plant Branch site and resources by EMT," says Walter C. Rocker, III, Chairman of PDA. "EMT's plan to work with Georgia Power to bring new, high-quality jobs and significant investment to our community represents a turning point toward reinvigorating the former Plant Branch site as an economic driver for our community."
EMT is building a new plant onsite to harvest ash at Plant Branch with the plant's completion expected in under two years. In addition to construction and other temporary jobs, more than 30 full-time jobs will be created for operation of the facility.