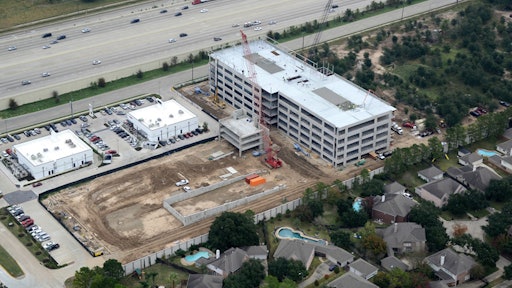 The challenge:
Construct a five-story office building with a tight jobsite and a 10-month construction timeline.
The players:
Hoar Construction LLC
Keystone Concrete Placement
The process:
Located in Katy, Texas, the Greenhouse Office Park was built as a speculative office building that the owner wanted to get on the market quickly to maximize the return on investment. Tilt-up concrete construction was chosen because it could fit the owner's 10-month construction schedule.
The five-story building used a 4 + 1 design – a four-story panel plus a one-story panel welded together. These large panels made for an extremely tight jobsite. The building was set only 40 feet south of the Interstate and just 35 feet north of a residential sound wall.
All the steel had to be erected and all the elevated decks had to be poured prior to removing the braces so panels were braced to the outside of the building footprint rather than to the slab-on-grade inside.
General contractor Hoar Construction LLC had to make two laps around the building erecting the panels – one for the four-story panels and the second lap for the one-story panels. The majority of the panels weighed more than 200,000 pounds.
To maximize tenant space on the first floor, the interior stair was designed to exit below grade. Hoar built an underground tunnel for egress, which required extensive waterproofing.
Project specifics
Project wall area: 33,820 sq. ft.
Project floor area: 210,000 sq. ft.
Project footprint: 42,000 sq. ft.
Tallest panel: 58 ft. 11 in.
Widest panel: 59 ft. 11 in.
Largest panel: 833 sq. ft.
Heaviest panel: 209,000 lbs.
Longest spandrel panel: 12 ft. 4 in.