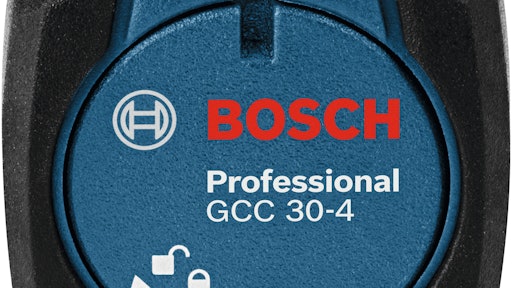 Bosch
Ever since the development of cordless tools and the integration of electronic controls into tools in the mid-90s, tool manufacturers have been able to evaluate tool usage at their repair centers. They did this primarily to find better ways to improve customer experience as they used tools in the field. It also helped them detect abuse. In more recent years electronic hardware has become both faster and cheaper, making it possible for manufacturers to introduce additional software services to increase productivity in the field. It's possible for instance to communicate with your tool to locate where it is or even change factory settings such as RPM and torque to increase jobsite productivity.
According to Eli Share, the IoT (Internet of Things) and Mobile Lead for Bosch Tools, Mount Prospect, Illinois, software solutions were originally conceived to improve product performance. "But the outlook now for additional value added solutions provided by manufacturers is endless."
Here are some offerings from three of the biggest tool manufacturers serving the US market; Bosch, Hilti, and Milwaukee Tool. They want to help make your jobsite more efficient, safe and productive. Their new asset management programs help you plan for the tools and equipment that are needed each day, help to be sure they are located where the need is, and they help to protect them from theft or damage.
Bosch
In January 2018 Bosch introduced a new program called BLUEHOUND. If offers contractors a way to keep track of their tools and equipment, assign them to their construction projects, and track them. Contractors start by setting up an account on a Bosch cloud website which can be accessed from anywhere there is access to the web. The heart of their system is cloud-based software that can be accessed by tablet or smart phone. BLUEHOUND uses Bluetooth technology with a communication range of approximately 100-feet between the tablet or smart phone and the tool or piece of equipment.
Using BLUEHOUND Contractors can track any tool or piece of equipment they own. A tool doesn't have to be manufactured by Bosch, it can be any manufacturers tool and equipment can include such things as forms, shoring systems, gas powered equipment—anything seen as important to the contractor.
Bosch thinks mid-sized to large construction companies are the ones who will be the most interested in this service. You can learn more about their BLUEHOUND program by doing a search for it on their website but they also have a network of sales representatives that market it to contractors. When a contractor decides to use BLUEHOUND they contact a field representative to help them design a program. Share says Bosch representatives help them set up their program on the Bosch cloud site and physically help them put tags on everything they want to track. He says a user doesn't buy hardware, they pay a registration fee and rent cloud service, the tags are provided.
Using BLUEHOUND, contractors can assign their assets to a project or multiple projects and then track their use. Smart phones or tablets that have the app for BLUEHOUND installed on them will record the "last seen location" of the asset every time they pass within 100-feet of it. Share says they are also working with a third party vendor who supplies "clips" that help locate assets more locally on large projects.
Bosch uses data that contractors input into their cloud service to help them refine their service, though they don't see anything that a contractor actually logs into their database.
Hilti
Hilti's asset management system is called "ON!Track" and Sean McMurrey, the company's Product Manager for ON!Track, says it was made available to the public three years ago in the U.S. They rent cloud space from Amazon Web Services (AWS) that Hilti consultants use to create databases for contractors' unique needs. Their program is the culmination of years' worth of study to understand where their customers' difficulties are. As a result ON!Track focuses on the following areas:
Documentation
Productivity and efficiency
Managing equipment deployment
Controlling theft

Controlling downtime as the result of equipment non-availability
Tracking equipment
Maintenance
Hilti defines assets as any equipment, tools, or commodities such as ladders (can be a group of ladders) owned by contractors. In some cases contractors can also track supplies such as concrete anchors for a project in order to know what the current inventory is. As a result Jason Dailey, the company's Director of Sales and Operations for Hilti's ON!Track, says that Hilti tools are usually a small percentage of what contractors list on their ON!Track account, usually about 5 percent.
The ON!Track program starts with a consultation between Hilti staff and the contractor. Hilti consultants help new clients design the system they want and help them tag all their equipment. Dailey says Hilti offers two systems for tracking; active tags that send out a signal that is picked up by Bluetooth technology, and bar codes. "Users are considered to be passive with Bluetooth technology because tags send out signals. Using bar codes is considered a passive system because a worker goes to a bar code tag and scans it," he adds. Both systems use smartphones to gather the data and move it to the contractor's cloud site. Hilti spends a lot of time with customers when they are setting up their ON!Track  account to ensure the program is set up properly and meets the needs of the contractor.
Theft control is one of the reasons contractors want ON!Track but Dailey notes that just the fact that workers become aware that tools and equipment are being tracked serves as a deterrent. As stated earlier, anyone with the smart phone app that moves within 100 feet of a Bluetooth chip automatically sends the location to the contractors cloud site.
Like Bosch, Hilti is experimenting with the use of gateways to strengthen Bluetooth signals on jobsites.
Hilti uses data information to further develop their software but doesn't know what contractors enter on their cloud site
Milwaukee Tools
According to Stephen Matson, Group Program Manager, Milwaukee Tool has a long history of working directly with contractors when developing new solutions. This allows them to not just create a new tool, but something more: an overall solution to specific needs contractors have on the jobsites every day.
Milwaukee® is perhaps the first power tool company to develop a tools and equipment asset management program. The development process started out with an aim to offer users protection and security for their tools, but the Milwaukee® team quickly saw an opportunity to also offer inventory management. The need for this type of inventory solution was further amplified when a University of Michigan study revealed that each person on a jobsite spends approximately 80 minutes waiting for tools, equipment, or product. The asset management program that evolved is called "ONE-KEY."
ONE-KEY helps you keep track of tools that you own, it provides inventory control, keeps maintenance records and tells you when maintenance is needed, it tells when certifications must be updated (some tools require this), it can include all tools and equipment that a contractor owns, it can track when a tool is being used and when it was used last, and it can allocate tools and equipment to a project and who is responsible for them. In addition, in Milwaukee battery operated power tools One Key allows users to create optimal tool settings for a given task. Using an app on the workers smartphone, workers can use drop-down menus to find their job task and settings such as rpm and torque are changed. For example if you are attaching drywall to wood studs you can set your drill/driver for that application. The drill/driver automatically shuts off when the screw is installed to the right depth.
ONE-KEY also uses Bluetooth technology to locate tools and equipment. When you buy Milwaukee power tools that include ONE-KEY technology, nothing more is needed. You can purchase electronic chips that attaches to other tools and equipment and emits a signal that Bluetooth receives.
Matson says Milwaukee doesn't charge customers for using their cloud site. One Key compatible power tools are sold at a premium cost and contractors pay for electronic chips for other equipment but otherwise the service is free and Milwaukee wants to keep it that way.
Like the other providers of asset management software reported here, Milwaukee uses data from their ONE-KEY tools to develop better tools, the data collection is anonymous and nothing is ever shared with other companies.
Milwaukee Tools is currently growing and developing ONE-KEY software to better serve cost accounting purposes.
Klorman Construction Company
Being able to cost account construction projects in real time is a goal for many middle to large size construction companies and no one has pursued this goal more than Klorman Construction Company based in Woodland Hills, California (located in the Los Angeles area). Their specialty is building structural concrete high-rise buildings and parking structures and often have several under construction at any given time. Bill Klorman, the company's president and CEO says this type of construction is highly competitive so profit depends on high productivity; real-time cost accounting helps them know how they are doing in time to make corrections if needed. For a project of this size today Klorman assigns approximately 800 cost account areas. To capture cost information the company uses several technologies to automatically track tools, equipment, and materials. These include:
Bar codes. Used mostly to identify materials, inventory and hand tools. Workers use smart phones to read them and track check-in and check-out by individual personnel, usage, location, maintenance, and which jobsite—information automatically sent to the current cost account.
Active RFID (radio-frequency identification) chips. Klorman attaches RFID chips to their concrete forms and related equipment. Their signals are picked up automatically by scanners located at jobsite "choke points" –when they arrive on a site and as they move from cost area to cost area as they are used. They also use RFID to track labor as move from one cost account area to the next.
WiFi. They use it widely on their jobs to transmit information
Bluetooth. Klorman says they use this technology but not for tracking tools
3D Laser Scanning. The company is currently using this technology more, especially for big model applications
Every Monday morning project managers at Klorman receive detailed cost account reports from the preceding week. Much of this information is automatically generated from several sources and it is analyzed by software created by the company—Klorman has computer programmers on their staff.
Klorman says he is currently interested in tracking tool performance. They would like to be able to track tool use and productivity rates
Managing assets
Tool manufacturers are working hard to develop products that will help contractors do a lot of things: organize their work more efficiently, keep maintenance records on equipment, minimize theft, and streamline the effort to cost account. The ultimate according to Klorman is to be able to produce cost account information in real-time so that productivity can be improved constantly. The technology is in its infancy but tool manufacturers and other industries are improving what it can do.