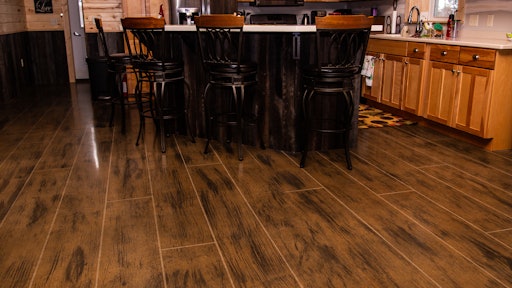 Mallory Ratke
Jeff Kasella, owner of Minnesota-based Polished Concrete Plus, has been involved in the concrete business since he was 13-years-old, helping his brother-in-law lay blocks and place foundations. He then went on to work for his dad during the summer months when he was 16. After Jeff's brother bought their father's business in 2002, Jeff began to look for something different following a hip replacement as a result of the hard work required when working with concrete.
Since he loved the concrete business, it seemed only natural for him to pursue the decorative-side of the business, allowing him to design finishes that would turn the utilitarian structure into a beautiful floor without the wear and tear of muscling concrete into a flat surface. If he needs flatwork on a project, he can always call in his brother for that.
"In 2013 (while working for a concrete contractor who had several different divisions, including Polish Concrete Plus), I started to take on decorative work, 50 percent for commercial customers and 50 percent for residential," Kasella recalls. "I was doing some tile pattern work and some logo work on floors. Then I tackled a couple of larger jobs, like a school gymnasium that doubled as a cafeteria. Most of it has been a pretty much a basic decorative concrete process.
"In 2017, I bought the name (Polished Concrete Plus), along with the website, phone number, and some of the equipment; along with some new equipment needed to create polished concrete projects," Kasella says. "Shortly after setting up shop I received my first commercial project, a Coborn's Cash Wise store near our St. Cloud location."
Coborn's is an employee-owned company with 120+ grocery, convenience, liquor and other retail locations throughout the Midwest. The different grocery store formats include Coborn's, Cash Wise, Marketplace Foods, Hornbacher's and Save-A-Lot.
Kasella has worked on several Coborn project since his initial project.
Finding the right mix of business
Eighty percent of Polished Concrete's work in square footage is commercial, with the remaining residential. One of Kasella's first jobs was on a 500,000 square-foot addition his father poured for a Fingerhut warehouse facility. Fingerhut is a catalog/online retailer of housewares, electronics, jewelry, clothing and more.
Kasella was hired to finish 4,500 square feet of floors, including four break rooms and a warehouse walkway that ran along a wall that documents Fingerhut's history, including when it was acquired by Minneapolis-based Bluestem Brands, Inc., the parent company to 13 dynamic eCommerce retail brands.
"That project was a make-or-break project for my dad, so it was special for me to have an opportunity to work on it," Kasella says. "Thirty years ago, my dad typically worked on 12,000-13,000 square-foot projects that I'm now polishing. One of my first projects was an older 10,000 square-foot floor in a former Coborn's store location that was being transformed into a truck dealership."
But Kasella knew he wanted to do more than standard polishing projects, so he began experimenting with wood grain patterns. After working on a small section in his garage, trying various techniques to achieve a realistic wood grain pattern, he convinced his mother to allow him to finish the concrete floor of her new "patio" home, a house built directly on a concrete slab. That first residential project has now grown to 10-15 patio home polish projects annually.
"The concrete overlay to create a wood grain finish is like a micro topping where you put down layers to achieve the result. You tape areas to control where you want the epoxy applications to be placed to achieve the color and grain pattern you're trying to achieve," Kasella says. "I've used my shop as a showroom with test samples designed to help customers explore the look and finish they want to achieve."
That has paid dividends for the decorative concrete contractor, who produced 13,000 more square feet of wood grain finishes with residential customers in 2018.
Tools of the trade
Kasella uses HTC Duratiq T8 polishers equipped with Ermator Vacuums.  As Kasella put it, "The HTC Duratiq T8 is a versatile machine that provides operators with the Heinz 57 of tooling, enabling us to utilize the best of HTC, SASE and JON-DON's technology to fit the specific needs of each floor. It is rare that I use the same tooling combination from one floor to the next."
As for his staining techniques, Kasella utilizes Ameripolish stains, densifiers and SR2 stain guard. Any repair work required is done using Metzger/McGuire products, i.e. SRG, Rapid Refloor and EP80 joint fillers. "I've really enjoyed playing around with wood grain pattern finishes," Kasella notes. "I've come a long way from my first job to what I'm capable of delivering today. Each project is unique because I hand stain each plank that makes up an individual floor design.
"My first (wood grain) project was 600 square feet and it took three guys six hours to complete," he adds. "Now, I can complete a 1,700 square foot section with three guys in six hours.
"I've been experimenting with different top colors to create more depth to my wood grain designs," he notes. "After I'm done staining a project, I apply the densifier, polish it, apply the stain guard and then buff polish to finish it off.
Kasella maintains a crew of seven, including himself, and adds several college students during the summer when he also works on outside decorative concrete projects.
"I have seven polishing machines to support three crews working on smaller residential projects, where two guys can handle a 4,000 square-foot job. But when we're on a 40,000 square-foot project, we'll run all seven machines around the clock," he says.
Whether it's installing polished concrete in new residential homes or restoring 50-year-old concrete on a commercial project, Polished Concrete Plus has the processes and techniques to transform a grey slab into a unique floor.
RELATED:
This article originally published on Feb. 6, 2019.