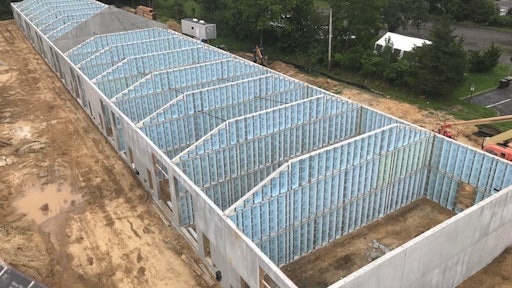 Northeast Precast
When time is of the essence on a large project, sometimes individually-placed concrete blocks just won't cut it. That's what Chris Boel discovered when construction started on his new 16-unit warehouse in Toms River, N.J. Instead, Boel turned to precast concrete panels. 
"Timing was critical on this project, so we ditched the concrete blocks and invested in Superior Walls Xi panels," says Boel, owner of TJM Realty, a real estate holding company in Wood-Ridge, N.J. "This is our first major project, and we wanted to do it right. I was amazed at how fast the Superior Walls products were installed. In 14 days, they had the entire structure completed, including interior separation walls."
Massive Custom Panels
The team at Northeast Precast, a New Jersey-based precast concrete manufacturer, took on the challenge of creating 217 custom-made precast concrete panels for the project. The warehouse, which is 384-ft. long and 60-ft. deep, has a demising wall every 24 ft. on center. The job required about 38,000 sq. ft. of panels and included gable ends and gable demising walls, three-stories of installed product and 21 days of product production time.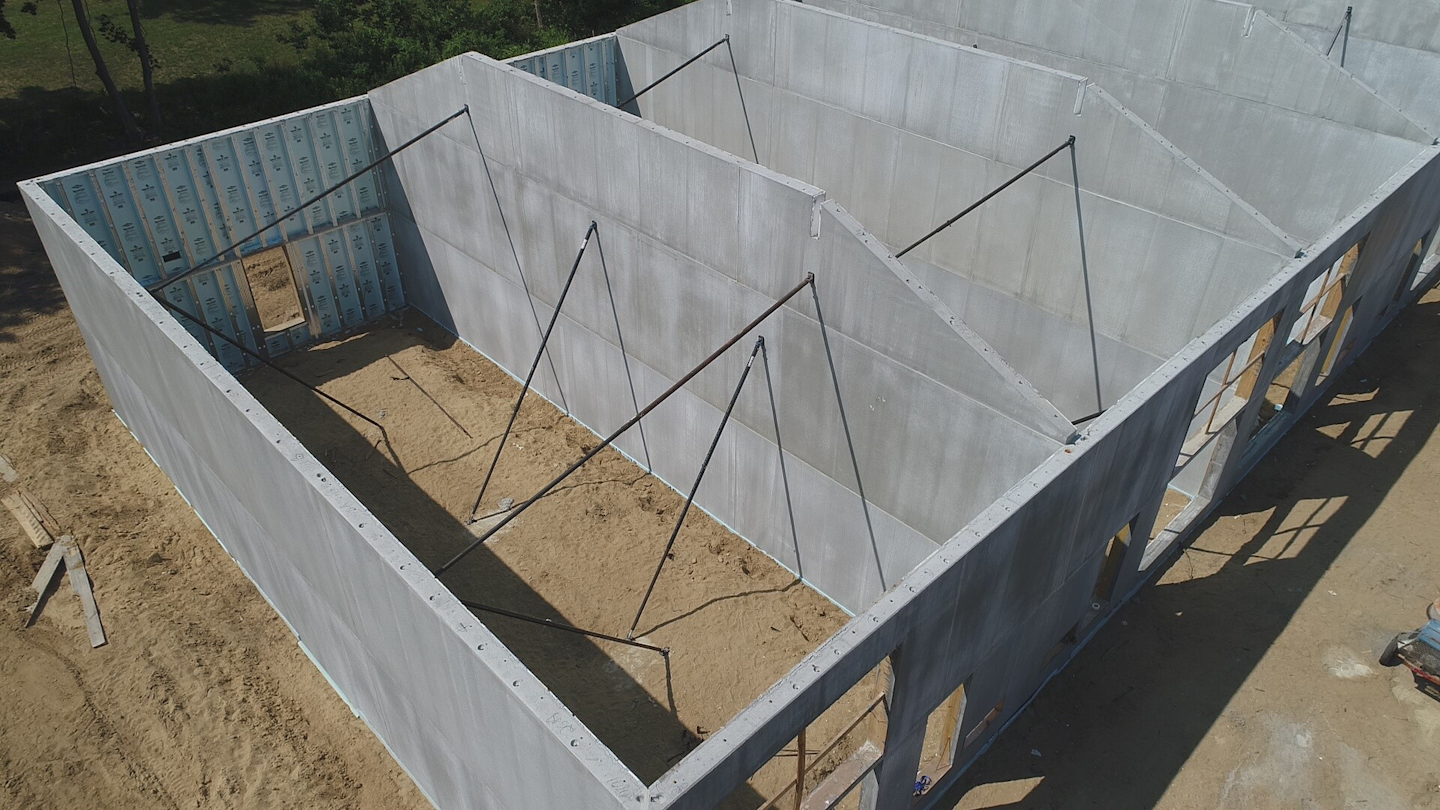 Northeast Precast "One of the key reasons we liked using these panels on the inside of the structure was fire resistance. We have more than 19,000 sq. ft. of precast concrete panels with a one-hour fire rating," says Boel.    
Superior Walls Xi wall panels feature steel reinforced concrete and insulation to create a barrier against sidewall water penetration. The panels were custom designed and constructed in a factory-controlled setting in Millville, N.J., operated by Northeast Precast. Unique features of the Xi wall panels include:
5,000+ PSI concrete
Steel-reinforced top bond beams, concrete studs and footer beams
Horizontal steel rebar inside top and bottom beams
Vertical steel rebar inside each stud
Insulated access holes for ease in wiring and plumbing
Galvanized steel stud facing ready for drywall finishing
Insulated corners, studs and bond beams 
Warehouse Times Two
Tenants are already lined up for the mixed-use warehouse, including a hardwood floor company, detailing motor shop, mechanic, internet sales and other businesses. Plans are even in the works for a second facility next door with 24 units. 
"Our plans definitely call for using Superior Walls products again. This is a product that makes sense in every way. It's dependable, custom-made and goes up seamlessly to help us get our businesses on track faster. That's a true win for us," adds Boel.            
Ed. Note: This feature was submitted by Northeast Precast.