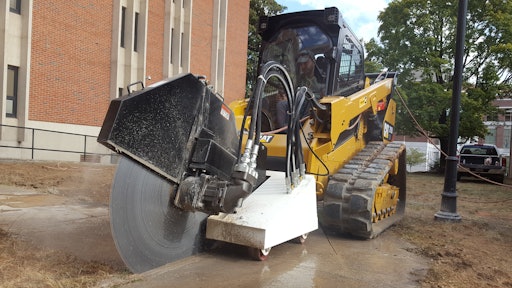 Cuts Inc.
If you were to ask a classroom full of third graders what they want to be when they grow up, chances are at least a third of them would say a YouTube star. Since its inception 14 years ago, finding fame on the video platform continues to grow. So, when Matt Hephner uploaded a video of a custom saw he and his son Matthew Hephner built for their concrete cutting and drilling company Cuts Inc., it shouldn't have been surprising how quickly it grew in popularity.
Almost every day, the elder Hephner says he fields at least one call asking for more information about the saw.
"I started getting a lot of people calling asking if we could build them, and so it has morphed into manufacturing. I have people calling almost daily from nothing more than that YouTube video," he adds.
The saw has been in production for two years. Last year, they sold about 10 saws, and today, there are 15 saws being used in the field.
The one-of-a-kind saw attaches to a skid steer and is compatible with any diamond saw blade — two pieces of equipment nearly every contractor already owns.
"We developed the saw 10 to 15 years ago for a project where we needed to do a tremendous amount of cuts in a short amount of time. We had to come up with a solution that was not yet available at that time, so we built this saw that attaches to a skid steer and finished the project ahead of schedule and under budget," recalls Hephner.
For the Average Contractor
The skid steer saw attachment is designed to cut flat surfaces. It can also cut some vertical surfaces as long as you don't go too high in the air, as well as things like concrete pipes, light poles and sewer and drainage pipes.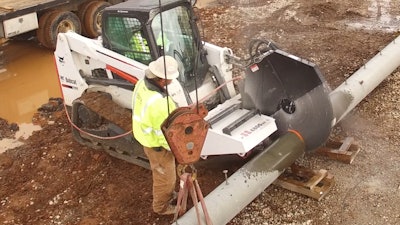 "Anything you'd normally put a diamond blade on to cut, that's what this does," Hephner says.
He adds that it's not concrete cutting professionals like himself that are buying the tool, but the average contractor.
"[The average contractor] doesn't want to spend twice as much on a floor saw that has much higher maintenance costs, whereas this is just an attachment that he can keep on the side and use as needed just like he might use his broom, bucket or forks on his skid steer," Hephner explains.
Today, it is primarily being used for remediation work that involves cutting and removing old concrete slabs. Some contractors, which Hephner calls road contractors, are cutting asphalt or concrete streets with it. Other customers are using the saw to mine blue stone or cutting other decorative slabs of stone. And one is using it to cut concrete panels.
These types of jobs today are typically done with a walk-behind saw, but "where walk-behind saws are limited to a hard, flat surface — they can't go across grass or gravel or mud — this is not limited. It can go anywhere a skid steer can drive," says Hephner.
The skid steer provides the hydraulic power necessary to run the saw. It also makes the saw completely mobile, allowing contractors to navigate any terrain.
"When it comes to that job where you really need more mobility, it really shines," Hephner adds.
Proven Results
The skid steer saw attachment was also used during a technology integration experiment by the U.S. Army Corps of Engineers. The RADR Technology Integration Experiment, conducted in August 2017, compared lighter and leaner equipment, materials and methods for small crater repairs on an airport runway to those used in the traditional crater repair process. While traditional crater repair equipment and materials are highly capable, they are large, expensive and logistically challenging.
According to Matt, skid steer use was at the center of this testing. The SS3600 and SS4200 concrete saw attachments from Cuts Inc. were chosen to compete against conventional concrete cutting tools. Testing criteria was for overall weight of the equipment, compactness for storage, daily maintenance, ease of use and most importantly speed.
"The SS3600 saw attachment ranked lighter and more compact with less daily maintenance, and most importantly, faster yielding cut speeds of 1.41 to 1.64 ft. per minute cutting 15- to 18-in. depth 8500 psi concrete," he adds.
Safety & Maintenance
The saw attachment provides a better level of comfort than a floor saw, where the intense manual labor required to operate it results in injuries such as strained back muscles.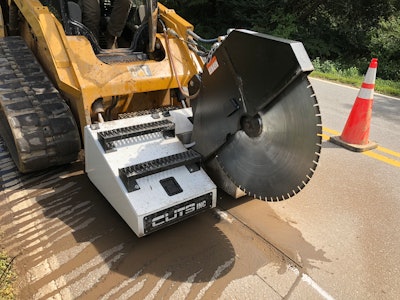 "There is so much less operator fatigue when you're running a skid steer versus out in the elements running a floor saw. One, you're protected from the weather elements. Two, you're protected from the noise," notes Hephner.
Because the skid steer uses water as a silica control method, it also doesn't create any dust unlike wheel saws that create an immense amount of dust.
"That's really going to be a big issue going forward," Hephner says. "[Silica dust] is the new asbestos."
Companies in this article