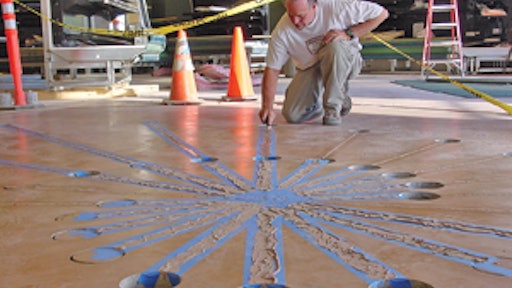 Recently on a two-week whirlwind teaching excursion, we ended up in Las Vegas for a week to help with a large faux finish event being held at Caesars Palace. This event consisted of 200 or so extremely talented artists that showcased their work from the previous year and, for a lucky few, even won awards for their hard efforts.
At this event I was asked to give several seminars on decorative concrete, which were very well received from the audience. Many of the artists we talked with expressed a recurring comment — that they were continually getting requests from their clients for beautiful decorative concrete floors to help complement their exquisite masterpieces on the walls and ceilings. For those of you who have visited the city of Las Vegas, you know that this city is a decorative concrete Mecca with virtually every product, color scheme and technique used throughout the interiors of casinos as well as for exterior pedestrian sidewalks and pool decks, to name a few.
One of the first major casinos to use highly detailed decorative concrete applications in a commercial setting was the very hotel we were staying in, Caesars Palace. The work performed in The Forum Shops gained worldwide recognition not only from the guests that were shopping and the occasional concrete junkie like me, but from the design community as well. It is hard not to fall in love with the beautiful stamped concrete, stained and template sandblasted graphics while walking under what appears to be a brilliant blue sky complete with cumulus clouds.
Someone who was an integral part of not only the design development but the actual construction of this impressive display of decorative concrete was my friend and peer — Mike Miller, known as "The Concretist." While we were in Las Vegas, I took the opportunity to ask some questions from the very guy that was responsible for much of the work performed at The Forum Shops. It was interesting to hear Mike's views reflecting back on the past and talking about the future.
How did you get your start in the decorative concrete field?
My father was a cement salesman. I grew up around a broad spectrum of cement users: ready-mix suppliers, concrete contractors, block manufacturers and precasters, etc. My father was really well respected and so that provided a comfy seat next to him and introductions throughout the industry.
Other than my father, while at Scofield, I was mentored by two great guys that really had an impact, Dick Hodson and Al Griffin. Dick was my technical inspiration and Al was my business model. Scofield, in general, was also very important. It encouraged my traveling and experiencing and experimenting with my seed ideas, while on the road.
I also became friends with the renowned concrete sculptor, Jacques Overhoff. Jacques was to pique my interest in exploring colors and texture just for the pure joy of it!

How are things different from when you first started compared to today relative to materials and trends?
Well, everybody has discovered that there is money in decorative finishes. This may seem hard to believe, but this wasn't true when I first started. This isn't necessarily a good thing. There are some really talented artists and technicians out there, but many more that should be selling shoes or delivering mail. It's more difficult to find your own voice today and to differentiate yourself in the marketplace. The same is true with materials. There are so many different products, books, videos and "training sessions" (I should call them sales opportunities) out there.
I think it's now more important than ever to find a mentor who will help you find yourself and find your way.
Over the years, The Forum Shops in Las Vegas has been one of the highest profile displays of architectural concrete utilizing a wide variety of decorative concrete applications. How was it to be an integral part of not only the design development but also the actual construction of this project? What is the most valuable insight you took with you as a result of this project?
This was an interesting project for a number of reasons. Just as everyone is now discovering there's money to be made in producing decorative concrete, casino management and owners realized there was money to be made as a result of decorative concrete assets. The themed concrete paving at The Forum Shops was an integral part of branding and of creating a sense of place. Maybe not actually Rome, but definitely someplace special that was a long way away from the traditional Vegas. This was the first project where I was extensively involved in developing and telling a story with my concrete. Broad strokes were important, as were details. The road paving is slightly crowned. The gutters are slightly concave. It was important to feel these things!
What is your evaluation of the Forum Shops floors today as we walk across them?
It still takes me someplace other than Vegas. I think a patina of age is a beautiful thing. It's best to design projects with the knowledge that they will eventually wear and to build the opportunity for graceful wear into the design. As an applied patina stain is replaced with an actual patina of wear and age, this is as it should be. I think the way the original Forum Shops has aged, when allowed to age naturally, is great. Where they tried to spruce it up (around The Festival Fountain, for example) by faux painting is hideous.
Reflecting back on your career as well as many of your colleagues, what if any changes do you foresee to the industry and what does the future hold for Mike Miller?
I am less excited by the technical possibilities and more excited by the venue that concrete provides. Our philosophy is to view concrete as a canvas of opportunities rather than limitations. Don't get too caught up in joints and cracks and minor spalling and other types of variegation. These things are just like the texture of the weave in fabric. Be more concerned with establishing a dialogue with the slab (or wall) and see where it leads.
Also, remember to take advantage of working at a construction scale. Don't be so concerned with creating a trophy that's hung on a wall for forced review. You have the opportunity to create a piece of art, an experience, that can be explored. Just like a walk through the woods or through the garden. Different things will be noticed on different days from different approaches. Work on creating pieces of depth — like an iceberg, with more beneath the surface than above.
Bob Harris is the founder and president of the Decorative Concrete Institute, Douglasville, Ga., which provides hands-on training in architectural concrete. He has personally placed or supervised the placement of more than 3 million sq. ft. of decorative concrete and is the author of a best-selling series of decorative concrete books. For more information, call (877) DCI-8080 or visit www.decorativeconcreteinstitute.com.