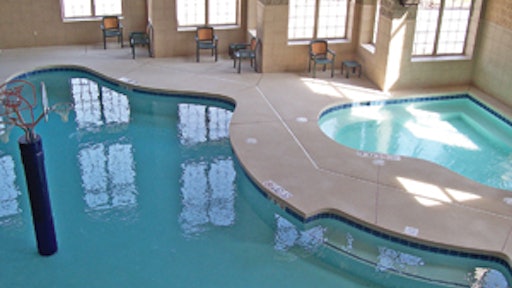 When people think of summer, they often imagine relaxing by a swimming pool. That experience can be even more enjoyable when the pool deck has been enhanced through the use of decorative concrete.
Why decorative concrete?
Decorative concrete is not the only available material for pool decks. But decorative concrete offers significant advantages. "Most people use it to save money," explains Mike Logsdon of Land Design, Boerne, Texas. "It's a budget-conscious alternative to laying natural stone or cut tile. If you lay cut stone, it can be $15 to $20 per square foot. I can do the same thing with decorative concrete for $6 to $8 per foot. It's also a quicker process. We can do a pool deck in half the time because we still have to pour concrete. If you use stone, you have to bring in a stone mason. Good subcontractors are hard to find. It takes more people, time and resources from materials to labor if you use another type of decorative material."
Mike Speach of Tropical Toppings, Winston, Ga., likes decorative concrete because "it's cool to the feet. It protects and seals your concrete, giving the concrete a longer life by putting a decorative coating over it." He also points out that tile breaks, while decorative concrete can be used to fix cracks or hide other problems in existing concrete.
Decorative concrete's durability and flexibility appeal to Cindy Coy of Showcase Concrete, Inc, Neenah, Wis. "You can create a real work of art using concrete," she says.
Mike Ganos of Ganos Decorative Concrete, Oconomowoc, Wis., points out the long-term picture. "It's permanent," he says. "There's little to no maintenance. It drains the water well, so no moss grows. It's a nice clean product."
A variety of techniques
Several different decorative concrete techniques can be used on pool decks. Most contractors offer color, which can be integral, acid stained or a color hardener on the surface. Unlike natural stone, which only comes in a few colors, decorative concrete can take on any color imaginable.
Techniques used to create the designs include stamping, texturing, saw cutting to create patterns and shapes, engraving and skinning without patterns. Results can look like brick, stone, abstract or geometric shapes, or even fanciful designs.
Speach often uses a technique called either knockdown or kooldek. He uses the biggest tip on a hopper gun to shoot out big dots of concrete on top of a plain slab. A second worker then flattens the dots with a trowel. The textured concrete is then covered with a xylene-based sealant containing color. Aggregate is placed on top of this to create a nonslip surface before a second coat of sealant is applied.
To create stone shaped or other patterns, a grout coat is placed in a base color using paper stencils for the design. Spraycrete is shot straight down over the entire surface. Speach says by doing it this way, the spraycrete does not run under the stencils and crisp lines are created.
Caution is required for retrofit jobs. "You have to be really careful with the removal of the existing concrete to be sure you don't wreck the pool," Ganos says. "You have to have the right machine for the job." He uses a mini-excavator with a thumb attachment.
A patented process just coming onto the market is called Lithocrete. This involves adding all types of materials into the concrete surface like shells, glass beads and colored aggregate which can be ground smooth. Logsdon sees this as the biggest current decorative concrete trend.
The market
There is demand for residential and commercial decorative concrete pool decks at most price points for both retrofits and new construction. "Most of my work occurs when someone has damaged concrete and needs it repoured," Speach says. "My products hide any imperfections and enhance the value of the house to the homeowner. Realtors will use me to go in and fix up a bad concrete slab."
His work ranges from low dollar to high dollar homes. Ganos says half of his work is new construction and the other half is retrofitting existing pools. His work is seen at homes starting at $300,000.
Logsdon works exclusively on new custom, high-end design build projects, primarily homes priced at $750,000 and up. He says demand is huge and growing, although there are too few skilled contractors. The increase in construction costs is helping steer clients toward decorative concrete pool decks.
"The pricing of everything has gone up," Logsdon says. "We've had huge inflation in construction. Many of my high budget clients are looking to value engineer." By saving on one aspect of their project, like using decorative concrete around their pool instead of stone, they have money they can spend elsewhere.
Indoor water parks are a fast-growing market in Northern states. These are either free-standing or part of a hotel. The work is done indoors, which extends the Northern season for decorative concrete work because sprayed-on concrete cannot be applied if it's below 50 degrees F overnight, Coy explains. Although most of their pool work is residential, her company just finished its third commercial pool job in two months and did a 25,000-sq.-ft. water park last winter.
Working with clients
While there are a few micromanaging clients who come with overly specific plans, most people have little idea of what they want in a decorative concrete pool deck. That means they rely heavily on the decorative concrete contractor for input. An educational process is required.
"You give them a brochure and have them look at the website," Coy says. "Since we've gotten our showroom, it's much better since they can see samples and touch and feel them. Then they get it. You have to explain everything."
Logsdon, who is a designer, enjoys brainstorming with his clients and likes passing on credit to them for their input when the job is done, although some still want him to pick everything. "We're about building a lifestyle for their living," he points out.
"Early on, people were not willing to experiment with color," says Speach. "They used to stay with the beiges and the whites, but when you start doing pool decks in pinks, blues and greens, they're beautiful." He sees more clients accepting a broader color palette now.
"I try to give them ideas that work from my experience, but they also have to have their own ideas and feel the ownership," says Ganos. "A lot of times I recommend a landscape architect to design the area so they use the space as wisely as possible. The landscape architect can suggest appropriate colors to go with the house and other buildings, as well as things that go well with the pool liner and any tile around the edge."
Concrete contractors looking for a new market might consider decorative concrete pool decks. Logsdon recommends getting good training and starting with small projects. "People get into this business and think it's easy," he says. "You need to stick with it and get good at it, be enthusiastic and believe in what you are doing. And if you screw up, take it out and fix it."
Properly done, the pool area can be one of the focal points of a home or resort. Decorative concrete is a big part of creating that perfect environment. "Any kind of dream can be reality with concrete because we can do anything with it," Ganos says.
Jean Feingold is a Gainesville, Fla.-based writer who frequently covers concrete and other construction-related topics.