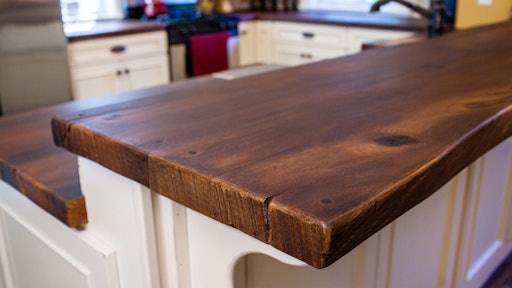 Decorative concrete flooring techniques such as acid staining and stamping have been around for many years and provide beautiful looks often inspired by earth tones and nature. More exotic flooring finishes such as metallic epoxies, intricate stencils, and brightly colored dyes introduce even more possibilities. Although integral pigments are sometimes used in decorative concrete flooring, most of these techniques use some kind of finish external to the base concrete. Polished concrete floors do often involve manipulating the concrete itself, to expose aggregate and/or polish to a high sheen.
When we enter the realm of concrete countertops, sinks, fire pits and furniture (what I call "creative concrete"), we find that the majority of finishing techniques are integral to the concrete itself. Examples are exposed aggregate, polished, troweled, cream, salt and pepper, and pressed.
Just when we thought that decorative concrete had endless possibilities, we discover that creative concrete adds even more! This article explores and illustrates some of those finishing techniques.
Pressed
Perhaps the quintessential look for creative concrete is the one developed by a founder of the industry, the inimitable Buddy Rhodes. His signature look is called "Pressed", and it involves manipulating a stiff, clay-like mix to leave voids and fissures that are then back filled with coordinating or contrasting colors of grout. The grout is a mix of cement, water and pigment with an acrylic polymer added to aid in bonding.

Note that the mix design and the casting technique are crucial to the success of this finishing technique. With concrete countertops and other forms of creative concrete, often the forming techniques, mix design, casting technique and finishing technique are all inter-related, requiring a great deal of planning and thought in order to achieve a particular look.
Cream
This technique refers to precasting the concrete and then leaving the thin layer of cement paste that remains on the outer surface. I often call this "pop a perfect slab," because the goal is to create a perfect mold with no defects in the casting surface. When you remove the concrete from the mold, it is also nearly perfect, requiring perhaps only a light honing with 400 grit wet-dry sandpaper to remove any texture left by the melamine.
In practice, this can be challenging to achieve, because tiny pinholes may lurk just below the delicate surface. Using GFRC (glass fiber reinforced concrete) with a sprayed-in mist coat can help achieve a pinhole-free surface. Using a fluid, aggregate-based mix and vibrating is another way to achieve this.
Note that the mix design, mold making technique and casting technique are critical to the success of this finishing technique.
Salt and Pepper
My go-to look is what I call "Salt and Pepper." To achieve this look, you hone off the thin layer of cement paste to expose the sand grains. Pinholes will be exposed as well, so you fill in with a color matched grout (using the same recipe as in the Pressed look).
This look captures the natural beauty and variation of concrete when the client desires a "solid" color. The risk is that if using an aggregate-based mix, too much cream could be taken off, exposing too much of the aggregate.
Exposed Aggregate
Going beyond Cream, then beyond Salt and Pepper, we arrive at Exposed Aggregate. In this technique, decorative aggregates are mixed in the concrete, and the cured concrete is ground down to expose the desired amount of aggregate. The aggregates are often stone and glass, but can also be more exotic items such as shells or even glow in the dark aggregate! 
Typically decorative aggregate is mixed in to a precast mix or it is sprinkled on or glued onto the mold before precasting.
 
Embedments and Knockouts
A wide variety of decorative items can be embedded in concrete to achieve very unique and personal looks. I've embedded glass tiles of many sizes, vertically sliced wine glasses, plate glass on edge and backlighted, various copper shapes, metal gears, bicycle chains, race car engine parts, intricate stainless steel logos that were water jet cut, geodes, turquoise, fossils, and even cuff links. Fiber optic cables could be considered a form of embedments too.
I've pressed leaves into the cast surface, capturing every vein on the leaves. I've used foam knockouts to block out lettering and logos. I've used trim molding as a knockout to create a floral patterned edge.
The possibilities truly are endless with embedments. The only restriction is not to use materials that expand and contract, such as wood, or react with the concrete, such as uncoated aluminum (add a coat of lacquer.)
Specialty
It's not possible to list every single look achievable with concrete. Many creative concrete artisans have developed their own unique looks using intricate and skilled techniques they developed.
Dusty Baker of Stone-Crete Artistry in Tennessee has developed a technique using texture and glazing to create a look that surpasses natural stone.
JM Lifestyles in New Jersey installs or ships their amazing Woodform Concrete creations all over the world.
As you've seen, various finishing techniques such as honing, grinding, polishing, glazing and more are used to create these looks, but mix designs, mold making techniques, and casting techniques are important as well.
Ed. Note: Jeffrey Girard, P.E., is the President of The Concrete Countertop Institute. For more information visit www.concretecountertopinstitute.com.