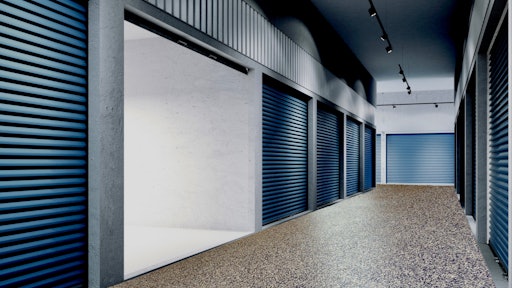 Surface2Surface Global
Epoxy flooring systems can transform ordinary concrete into a work of art. Whether its new construction or a floor that has seen better days, new resurfacing technologies are making the possibilities endless. 
Keith Kimberlin, owner of Surface2Surface Global (S2S), a U.S. liquid polymer and decorative concrete products manufacturer, and S2S DFW Dealership, a concrete resurfacing company and epoxy flooring installer, has seen great success in providing unique concrete flooring solutions. His work has been featured on the Discovery Channel television series, Garage Rehab, with Richard Rawlings, where struggling automotive shops are transformed into beautiful and functional spaces. Kimberlin was also be featured in an episode of Cash Pad, a TV series where Bachelorette alum JoJo Fletcher and Jordan Rodgers partner with homeowners who hope to turn their properties into short-term rentals.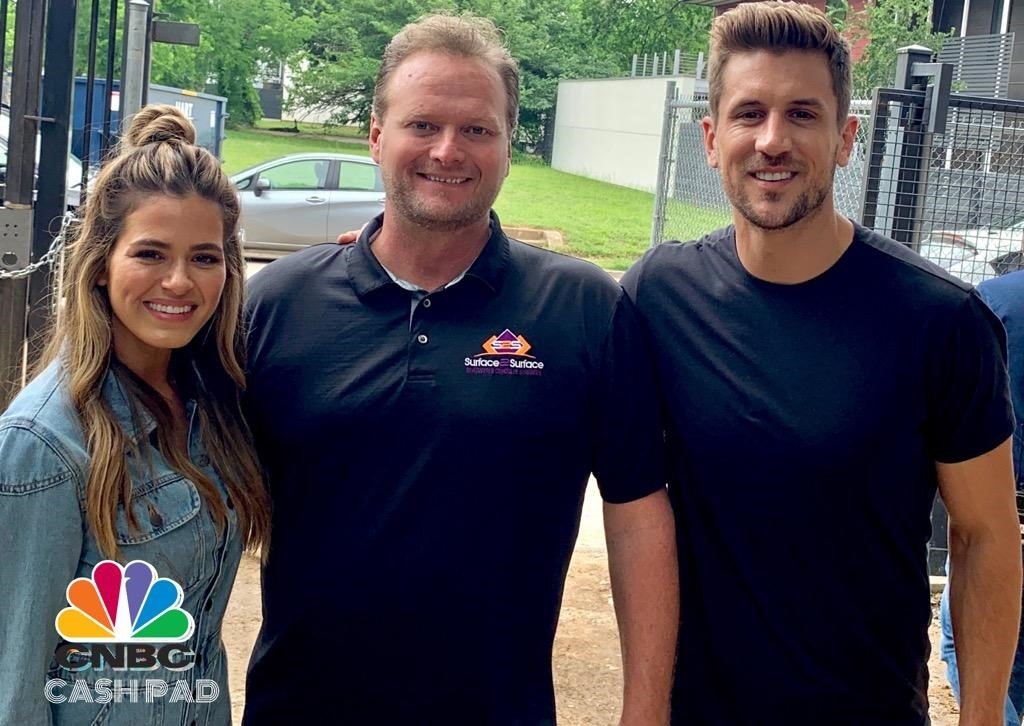 The popularity of epoxy flooring systems is growing thanks to exposure on TV shows such as Garage Rehab and Cash Pad. From left, JoJo Fletcher, Keith Kimberlin and Jordan Rodgers on the set of Cash Pad.Surface2Surface Global
Products manufactured and used by S2S are born from Kimberlin's own formulas, which for years he kept to himself. Following the success of Garage Rehab, however, demand for his services has skyrocketed, leading him to launch a global dealer network to train concrete resurfacers throughout the country on his methods.
"I realized one company can't cover it all. The only way to do this is to distribute my products through our new dealership network model and teach people how I do what I do with my products," says Kimberlin. "It took me 23 years to create these methods and techniques that are very sound. I'm now at the point that I want to share everything I know."
This spring, S2S worked on numerous projects involving its advanced floor systems to mitigate recurring problems, revitalize old spaces and improve overall aesthetics.
Typically, there are five things people look for when they are considering these types of systems, Kimberlin says, which include:
Cost
Aesthetics
Longevity
Durability
Maintenance (short and long term)
"When people are making the decision on which floor system to go with, it's basically done on those five components," he says.
A Breathable Solution
In May 2019, S2S applied its Endura-Top 550 system at Raytheon Intelligence and Information Systems in Springfield, Va. The nearly 10,000-square-foot facility was completed in two phases, taking 9-10 days to finish.
Endura-Top 550 is a four-part self-leveling polymer modified urethane concrete system that goes down 3/8 in. thick. It is typically used by people whose concrete surfaces are exposed to extreme conditions.
"People use this in extremely aggressive environments when they need a floor system that is highly impact resistant, abrasion resistant, chemical resistant, resistant to thermal shock and where there may be a concrete moisture issue," explains Kimberlin.
In addition, it is often used on damaged floors that owners want to make new again by removing surface imperfections and damaged areas caused by years of wear and tear.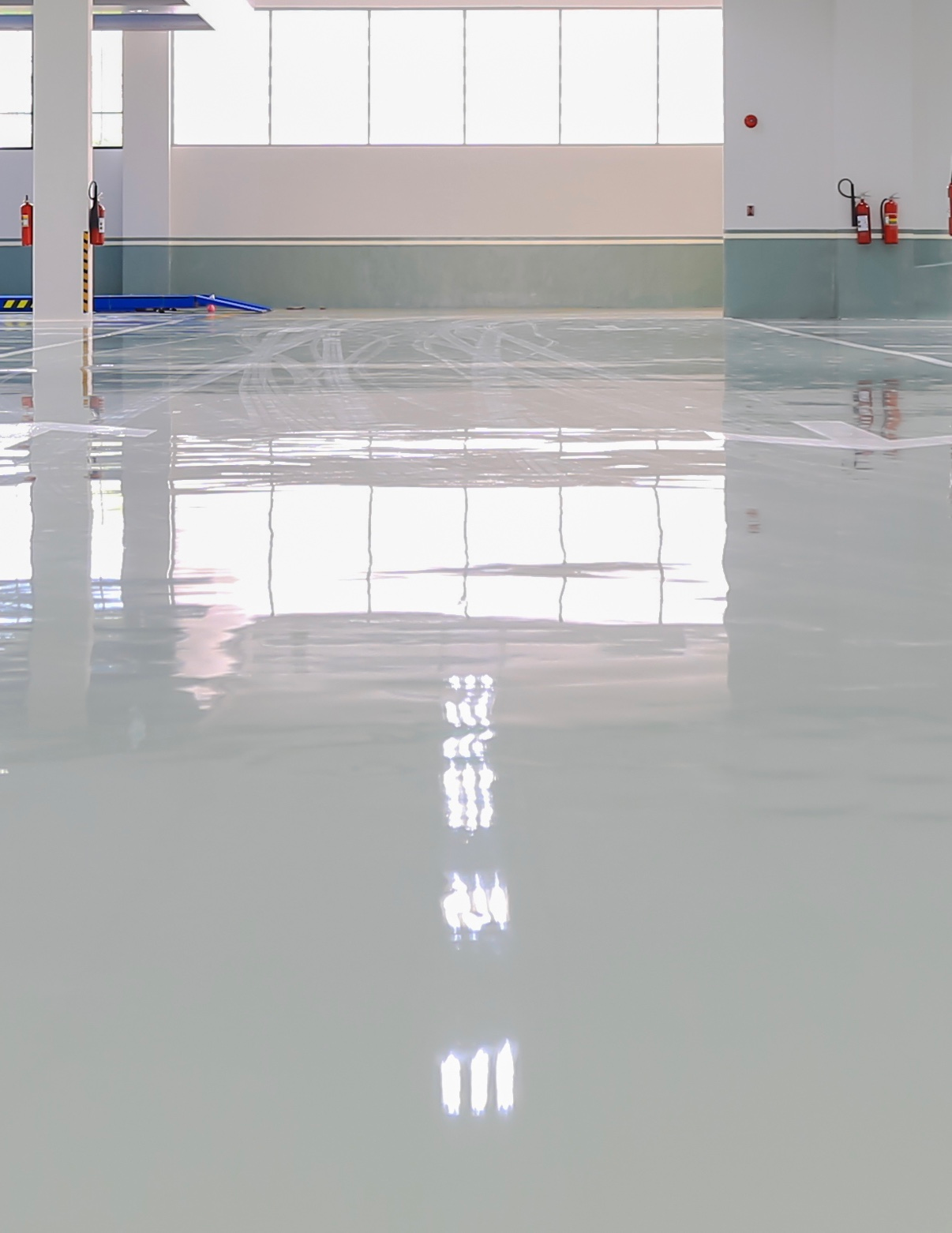 S2S's Endura Top 550 system can repair concrete surfaces that have been damaged by extreme conditions.Surface2Surface Global
"We come in and fix and patch cracks, and then we apply our Endura-Top over that. Essentially, it's a polymer modified urethane cap that replaces the top of the existing concrete," says Kimberlin.
The coating is applied using a gage rake, which distributes the product at the correct thickness, and then is broadcast with No. 30 sand to refusal. This process provides much of the systems strength, while also providing a slip resistant surface profile. The overlay is then sealed with a polyaspartic urethane topcoat.
"That's another thing that sets us apart from others who install broadcast media floor systems," says Kimberlin. "They don't use polyaspartic; they use the cheaper urethane and old technology topcoats. The polyaspartic is the newest, latest and greatest technology."
The appeal of Endura-Top for Raytheon was not so much about the looks as it was about mitigating an ongoing moisture problem. They enlisted the expertise of S2S after its third coating failure.
"At Raytheon they have a known moisture problem, and we know that because the coating they had was literally coming off the floor in sheets," says Kimberlin. "And as you pulled the material from the floor, you could see standing water beneath where the coating failed."
Kimberlin explains that concrete is like a giant sponge that absorbs water, and if the concrete mixture is slightly off or it is placed directly on grade without a protective vapor barrier, moisture from the ground will eventually travel through the top of the concrete.
If you have a moisture problem, he further explains, moisture and water vapor migrate to the surface of the hardened concrete floor, bringing calcium hydroxide along with it. When the calcium hydroxide reaches the surface of the concrete, it combines with carbon dioxide in the air to produce calcium carbonate. This process produces a white powder referred to as efflorescence, which can break the bond between a traditional epoxy coating and the concrete.
"I had to create a product that would be resistant to that environment," Kimberlin says.
Endura-Top is that product. Unlike traditional flooring systems, which Kimberlin calls "lock out" systems that suffocate the concrete, his product has unlimited moisture vapor emission resistance (MVER), making it breathable. This means that if there is a moisture problem, Endura-Top allows the moisture to move through it rather than bubbling under the surface.
At Raytheon, they also took an extra step, applying S2S CPT-3500, which was developed by the chemists at Aquron Corporation International. When sprayed over the surface, the product soaks into the concrete and, when moisture hits it, turns the moisture into a gel that blocks the water from emerging to the surface.
"If they don't do a system like this, they will have a failure 100% of the time. The only option is to apply a penetrating moisture mitigating primer or something that mitigates or blocks hydrostatic pressure," adds Kimberlin. "Raytheon has had multiple coating failures in their space due to moisture propagation, and they called Surface2Surface to save the day."
High-tech Floor for a High-tech Facility
One of S2S's most high-tech flooring systems was also recently applied to a new 12,000-sq.-ft. automated self-storage solution in Spring, Texas, called EZ Werks Self-Storage that operates through an app you download on your phone. All transactions take place through that app much like choosing your seats on an airline. The app shows you all available units and prices, and you select the unit you are interested in and purchase through the app. When you arrive at the facility, the gate will automatically open for you based on the GPS location sensor in the app. Your individual unit opens by punching in a code via the app.
S2S Metalloid Epoxy was applied to the building's lobby, and a micro-blend flake system was used throughout the remainder of the common areas and hallways.
Metalloid Epoxy is a proprietary dynamic flow 3-dimensional metallic epoxy floor coating that gives ordinary concrete a multi-dimensional appearance. It is typically used in showrooms, schools, universities, retail businesses, office spaces, residential spaces, sports arenas and museums.
Metalloid is applied 3/16 in. thick and is considered a high-build 100% solids epoxy. It has a special metalloid pigment added to the system that gives the concrete a multi-color acid stain. It can be applied in multiple colors.
"When we install Metalloid Epoxy, it's usually showrooms, art galleries and fancy restaurants. It's really a high-end flooring solution," says Kimberlin.
The micro-blend epoxy is a 100% solids base coat epoxy, with a 1/8-in. polymer flake broadcast into it.
"[The owner] wanted something that was going to be durable and easy to clean and maintain. The whole point here was he wanted it to look really good, but he wanted it to be easy to take care of and something that was going to be impact resistant and durable," explains Kimberlin.
"That's what our micro-blend systems provide—the ultimate protection against chemical exposure, impact and abrasion," he adds.
Micro-blend or flake floors are popular choices because they hide the day-to-day dust and dirt that easily collects on commercial floors.
"Long- and short-term maintenance are critical components to any floor system. If it's hard to maintain, you don't want that floor and that's why a lot of people will go with a micro-blend or flake floor because it's easier to maintain and clean," Kimberlin says.
Proper Preparation
No matter the floor system, however, the key to applying epoxy coatings is proper preparation.
"Without a properly prepared surface, you're not going to have very good success," says Kimberlin.
Before applying epoxy, S2S evaluates the overall condition of the concrete, patching cracks and damage where necessary. S2S floor systems require a Concrete Surface Profile (CSP) or surface roughness of at least two in order to achieve the full bonding benefit. To achieve that surface texture requires the use of industrial grinding equipment or a shot blaster. 
The correct CSP allows the coatings to properly adhere and is the foundation to a successful application. CSPs are graded on a scale of 1 through 9 and generally correspond to the method used in the preparation of the surface.
Typically, S2S uses diamond grinders to open up the concrete and achieve the correct CSP. When concrete is first placed, it is power troweled to achieve a smooth, even finish, and the more it is troweled, the harder the concrete gets. Epoxy floor coating cannot bond to that hardened surface, so contractors must use grinders or shot blasters to achieve the necessary openness.
The correct CSP is also important because S2S's epoxy has a chemical that when the proper surface profile is applied creates a migratory response or wicking technology. The epoxy wicks its way into the floor like an oil lantern, and when the concrete is opened, it allows this chemical to actuate the migratory response of the system.
"Most products on the market, they're stuck to the top of the surface. Our product becomes an integral part of the top of the concrete, so it soaks into the floor versus sitting on top of the floor. That's the big difference between a really good epoxy and the stuff you can buy at Home Depot," explains Kimberlin.
And while he acknowledges that surface preparation is important no matter the product, it is mission-critical to the way S2S applies its products.