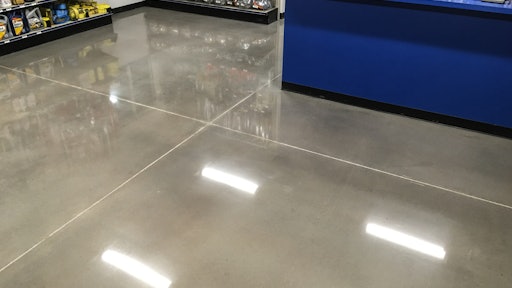 Intellicents/Wikimedia
You wrap up a beautifully polished concrete floor, and a year later your client calls complaining of visible wear. While low maintenance often is the top reason a client chooses a polished concrete floor, it doesn't mean there is no maintenance. Until the industry is able to communicate that effectively, contractors will continue to receive callback after callback for floor failures.
In fact, maintenance is one of the more difficult things the industry sees, says Greg Cabot, digital marketing manager for Ameripolish, a manufacturer of architectural concrete products.
"A lot of times there is a gap between maintenance and polishing," he notes. "Janitorial crews will come in and ruin a tremendous floor. Contractors will often get called back because the maintenance team is using something that's not suited for the floor."
But, whose really at fault? The maintenance staff that used the wrong products on the floor, or the contractor and floor owner who failed to properly communicate the maintenance requirements and provide the proper system to care for the floors? It's likely a mix of both.
This gap between contractor and custodian can be a challenge, but proper maintenance of polished concrete does not have to be expensive or difficult. It simply needs to be addressed and implemented—and the sooner in the process the better.
"A neglected floor will eventually turn into a failed floor and lead to unhappy floor owners," warns Jon Hughel, a polished concrete industry veteran, in a series of polished concrete maintenance articles.
Polished Concrete Maintenance Part II
He adds that pairing the floor owner with a polished concrete system that meets their aesthetic requirements and fits with their maintenance capabilities—while fully informing the owner of what the maintenance requirements of that system will be—is critical to the floor owner's long-term satisfaction, but it is rarely done.
"It is important to be able to tailor the floor as installed to meet these factors and avoid the temptation to provide a cookie cutter, one-size-fits-all approach," he says.  
For example, a clothing retailer and an industrial warehouse will have very different needs. The clothing retailer will require very high aesthetics but have light foot traffic and limited capability to provide their own maintenance. Thus, a highly refined polish level (3000 grit+) with a guard stain protector will fulfill the high aesthetic requirements, and a maintenance system incorporating minimum input from in-house staff (daily dust mopping, weekly spot mopping) and quarterly periodic maintenance from an outside vendor would be appropriate.
An industrial floor with low aesthetic requirements but heavy traffic and low maintenance staff would be better suited to a floor refined to 400 grit, protected with a penetrating stain protector, and a maintenance system that has in-house personnel auto scrubbing the floor with appropriate cleaner and pads weekly and bi-annual reapplication of the impregnating stain protector.
"It can take some creativity and forethought to make the correct match of floor system with owner requirements and capabilities, and it can be difficult to ensure that the floor owner understands what the appropriate maintenance system for the floor provided requires. However, the payoff is customers that are satisfied long-term and the reputation and recurring business that stems from that," says Hughel.
Maintenance Basics
Communication ultimately is the key to proper maintenance of polished concrete, but a general understanding of the basics always comes in handy.
Maintenance of dyed polished floors is very minimal so long as you do it correctly, says Tyler Balch, vice president and principal at Texas Bomanite, a contractor that specializes in architectural concrete.
Because concrete is porous and easily absorbs moisture, timely cleanup of any spill is critical even when a stain protector has been installed. Balch advices his clients to mop polished concrete with a neutral PH cleaner, and once every few years, re-varnish the floors using a propane varnisher with a diamond impregnated pad, which heats up the guard and renews the shine.
Balch also recommends floor cleaners that contain a little bit of densifier and guard in them, which further protect the floor and acts as a sealer.
With these products, "every time you mop the floor, you're putting sealer back on the floor," he explains.
Rather than relying on daily mopping, Cabot suggest the use of an auto scrubber once or twice a day to get any spillage off the floor as quickly as possible.
"Particularly in a school setting, it's a perfect case scenario for putting someone on an auto scrubber and doing daily maintenance instead of getting multiple people out there mopping," he says.
Reapplying the stain protector is also an important factor in stain prevention. Hughel notes that both guard and penetrating type stain protectors will wear over time, thus the manufacturer's recommended reapplication schedules should be followed.
"All guards will wear, especially in high-traffic areas," adds Cabot. Worst case scenario, a guard would need to be replaced bi-annually, but in a lower traffic setting Cabot recommends reapplying a guard once a year, so that the wear is on the guard itself and not the concrete surface. 
If the surface is treated with a penetrating stain protector rather than a guard, Hughel recommends incorporating cleaning pads with specifically engineered abrasives that will re-refine the surface and repair any damage incrementally, before there is significant deterioration in the aesthetic appearance of the floor.
"If this is not done, then the damage to the floor will eventually be so great that an intensive restoration is required, and in the most extreme cases, necessitates a full regrind and polish," he warns.