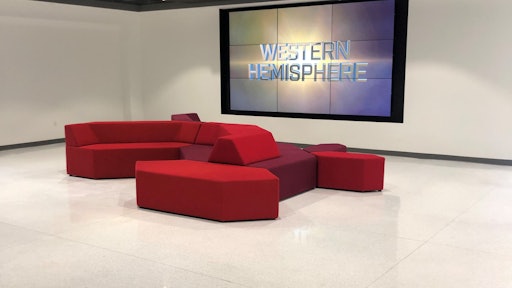 Bart Rockett
The demand for polishable overlays continues to grow, but the market is not for everyone. Job owners are attracted to the look and performance the flooring systems offer, which compares to terrazzo but at a lower cost.
While cheaper than terrazzo, polishable overlays are still expensive, and there is little room for error. The equipment and products needed are expensive, not to mention the hefty labor costs. Installation requires highly skilled contractors qualified in installation of self-leveling or trowel-grade overlays, as well as expertise in polishing.
Bart Rockett, owner of Philadelphia Polished Concrete, recognized that challenge when developing his own overlay system, which uses 100% recycled post-consumer glass chips to achieve that much-desired terrazzo look. He plans to take the method national this year through the carpenters' union, beginning with a pilot program in Philadelphia to teach other contractors how to utilize this method on their own projects. 
After working on the formula for months, Rockett developed a mix made up of three different types of glass.Bart Rockett
This training program, he says, is essential to the success of the system. In his experience, most overlays fail not because of the product but because of how the flooring system was installed. The pilot program will provide a year of training that ensures that every installer is on the same page and performs the process the same way every time.
"The company's we are working with understand that a lot of these overlays that fail are due to miseducating the installer. Having a grassroots installation team with skilled guys who are very thorough and have a regiment of training, that's where you can succeed," Rockett says.
Comcast Project
At a third of cost of terrazzo, the telecommunications conglomerate Comcast took an interest in Rockett's flooring system when designing its new engineering building in Newark, Delaware.
Completed in the spring of 2019, the nearly 10,000-square-foot job won the grand prize in the polished concrete category of Sika Schofield Decorative Concrete Awards.
"We're around 30% less expensive than terrazzo and we're faster because we're not setting metal. So you're getting the benefits of polished concrete—non slip and water scrub clean—faster and without the price," Rockett says. "That makes a big difference, especially when you're doing 5,000 feet and we're $8 less. We just saved you $40,000, and we're going to turn around and do it faster."
But looks aren't everything. The patent-pending overlay system also boasts a 20-year warranty. Something Rockett says no other system can claim.
The standard warranty for most overlays in the current market is about 2 to 3 years. For corporations and schools spending hundreds of thousands of dollars on a floor, the limited warranty is not worth the risk.
"They're not comfortable given a 3-year warranty and spending $300,000," explains Rockett.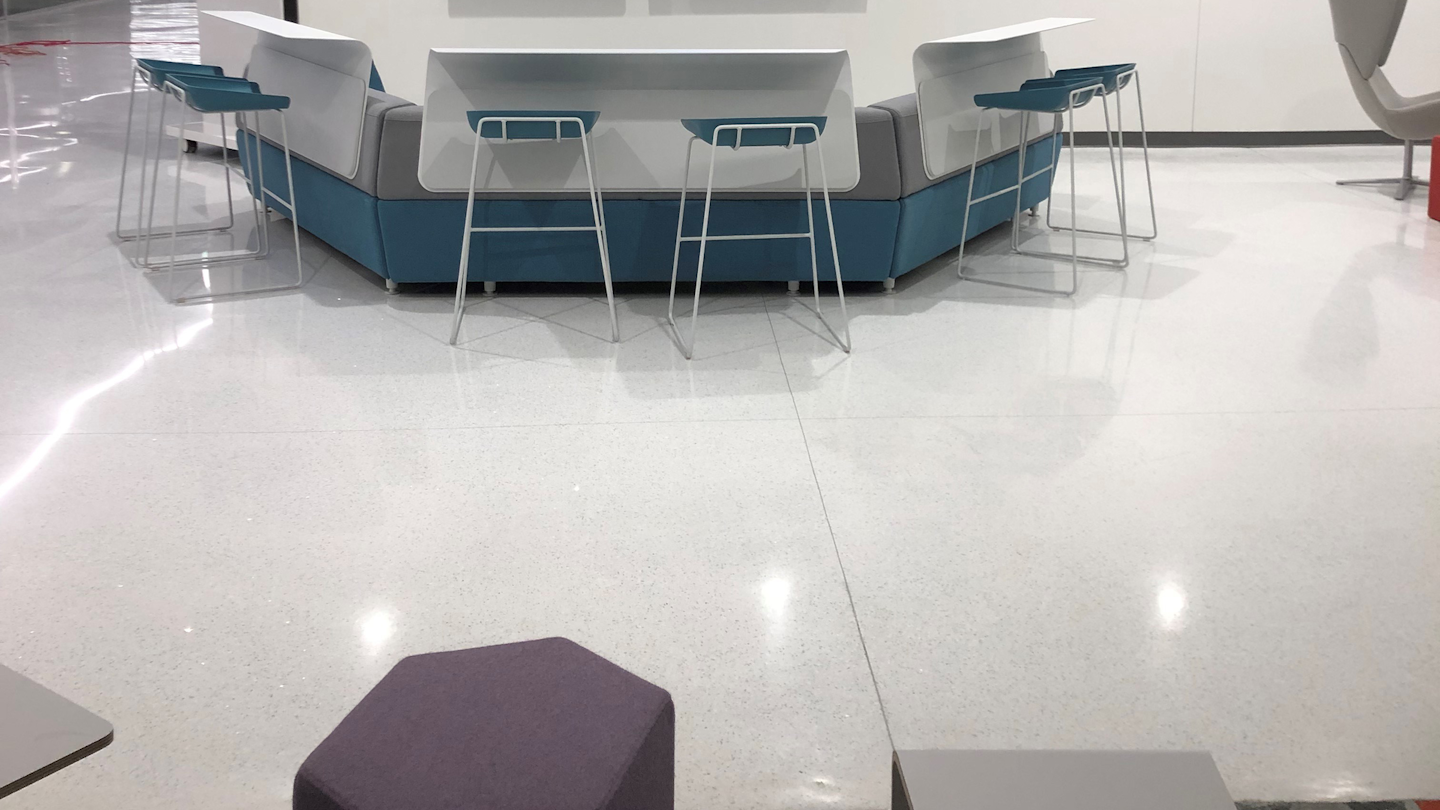 Rockett's installation of the overlay for Comcast won the grand prize in the polished concrete category of Sika Schofield Decorative Concrete Awards.Bart Rockett
This was true when Comcast approached Rockett about developing the overlay system for their project.
"They wanted to feel comfortable with what they were because this overlay is a new technology," Rockett notes.
Being the only system in the business with a 20-year warranty backed by adhesive manufacturer H.B. Fuller is one of the factors enabling Rockett to work with customers like Comcast. He has also done floors for retailers such as Burlington Coat Factory and Target.  
Meticulous procedural steps that include a supervised maintenance program are also essential to guaranteeing the 20-year warranty.
"If you're spending $300,000 on a floor, we're going to set you up and ensure that you have the proper tools to clean this floor, or we're going to talk to your maintenance people at the facility to make sure you're using the right pads and neutralizing floor cleaner."
The Secret Sauce
Like a lot of projects, the Rockett Concrete Overlay system was created following an architect request.
"Norr International Architects wanted to know if we could mess around with some glass, so I spent two months in my garage every day figuring out rations of glass," Rockett recalls.
After some trial and error, he developed the perfect mix with three different types of glass that could create a 6400 PSI floor with a 3/8 thickness.
"It's not going look like pyrite. but the method can create an area that can be sparkling and modern or traditional per the customer's request," Rockett says.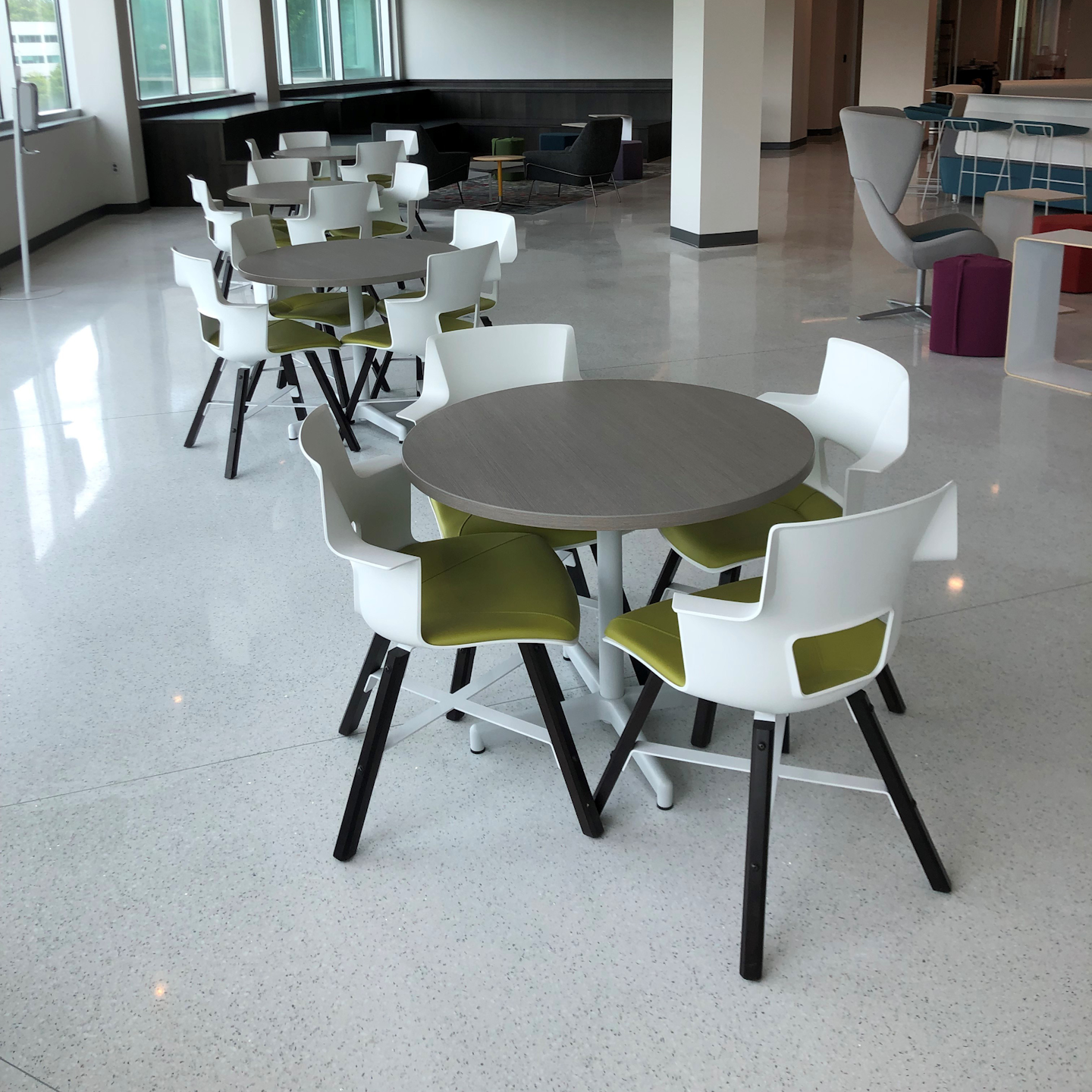 The polishable overlay also boats a 20-year warranty, something no other product on the market today can claim.Bart Rockett
But finding the right glass to concrete ratio wasn't the hardest part. Rockett says it took hundreds of hours to figure out how to grind it and then blend the overlay from the edges to the middle.
"It's not a conventional grind or how you even do a normal overlay because the glass is so hard," Rockett says. But, he adds, that once you've figured it out, doing the same process consistently "is a piece of cake."
Because the overlay is patent pending, Rockett kept many of the details of the process to himself, but he notes that it is not that different from a conventional polished floor.
"We basically came up with a formula for having consistent glass mixed around the floor, rather than a broadcast which doesn't work for achieving evenness," Rockett explains.
The decorative saw cuts are where Rockett's process begins to differ, however. "It's like mini concrete pours. Half-inch concrete pours with aggregate but on a smaller scale," he says.
The benefit of keeping the squares small is that if there is a problem, just the one square can be repaired rather than an entire floor. In a test, Rockett says he saw cut out a small square, poured a new one, and feathered it in without leaving a trace.
Finally, the system calls for a total densification.
But more than anything, Rockett reiterates how important having the proper team in place is to the installation of polishable overlays.
"Having a little execution team with a nice resume of consistent, great looking work is the basis of any successful business," he says, adding, "It's very labor intensive, and the necessary products are relatively expensive, but the floors are ultimately less costly than others in the market, achieve a luxury look and offer lifetime benefits that reduce expense in the long run."